Grab this tech pioneer on its way up
Cyber-security is a big business and only getting bigger. Palo Alto Networks is leading the way.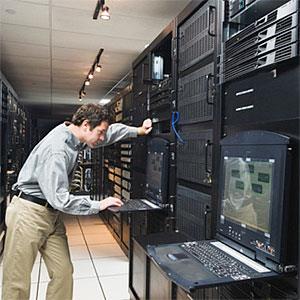 By Karen Canella
The Who sang about "My generation,"
PepsiCo
(
PEP
) gave us "The choice of a new generation," and the technology industry has long been abuzz about "next-gen" everything.
"Next-gen" basically refers to any disruptive game-changing, legacy-crushing breakthrough in applications, software, hardware and anything else data-related. (The phrase isn't exclusive to IT, but techies seem to take it more literally than others.)
Any time a technology comes along that renders a legacy system useless, it's a very big deal.
Any time a company is referred to as the pioneer of that technology and a Forrester Research analyst says its competitors are "stuck in a rut," it's a very, very big deal.
Any time a product is tied so closely to the well-being of corporate America, consumers and national security. . . well, you get the idea.
The very big next-gen technology I'm talking about is a new firewall already on the verge of moving from a revolutionary breakthrough to a mainstream adoption.
A firewall prevents malware from getting into computer systems and sensitive data from leaking out. It acts like a doorman at a club, giving access only to those on the guest list.
Before the Internet threw curveball after curveball at networked computer systems, legacy firewalls worked fine. They are not, however, designed to protect against the number of devices and networks that millions of people use on a daily basis at home and in the office.
The combination of that changing landscape and lagging security has resulted in more than 600 million breached records in nearly 3,800 incidents since 2005, with an average total cost of $5.4 million for U.S. companies. Organizations across every sector face unprecedented challenges to secure data, eliminate breaches and mitigate losses.
Enter
Palo Alto Networks
(
PANW
), which is up 20% over the past 12 months.
The biggest difference between next-gen firewalls and their predecessors is that they manage applications and people instead of ports (entry points between networks and the Internet).
Therefore, instead of allowing or disallowing all traffic to enter though a typical Web port, next-gen firewalls can distinguish between specific applications (for example, Twitter versus Salesforce.com) and then apply unique business-based rules.
At the core of Palo Alto's technology is the ability for security managers to see applications, users and content traffic on the network at the same time, allowing them to identify and manage threats on the spot. They can even let certain people use an application while blocking or limiting access for others.
For example, hosting tools that let people share photos, videos, text and so on online -- like Dropbox -- are nightmares for companies. One solution is to simply block such tools, but Palo Alto's firewall makes them safe and eliminates the worry of attached malware.
While the $4.3 billion company competes with
Cisco Systems
(
CSCO
),
Juniper Networks
(
JNPR
),
Check Point Software
(
CHKP
) and
Hewlett-Packard
(
HPQ
), it is growing by leaps and bounds. Palo Alto added more than 1,000 new customers in the third quarter, bringing its client base to a total of 13,500.
Palo Alto had nearly $400 million in sales in its 2013 fiscal year, more than double the previous year and up from a mere $13 million in 2009. Revenue in its most recent quarter rose 49% from the prior year. Another big increase is expected this year, as revenue is expected to climb to nearly $560 million.
Considering the strong demand for security solutions, there's plenty more upside in store for the company. In a survey by Infonetics Research, nearly 60% of respondents said they plan to spend $500,000 or more in 2014 to upgrade their firewalls. The security software publishing and IT industries are expected to grow rapidly this year, by 3.7% and 6.8%, respectively.
In addition, tech research firm 451 Research's 15th Information Security Study showed a multi-year growth spurt for next-gen use, rising from 26% in 2010 to 33% in 2012. Nearly 10% of all installations in the study used Palo Alto's offerings, leading all competitors.
Risks to consider:
One impediment to growth for Palo Alto may come as a result of a lawsuit filed by Juniper, which alleges Palo Alto infringed on a firewall-related patent. Palo Alto is countersuing, so a settlement is likely a ways off.
Actions to take:
Palo Alto's recent acquisition of cyber-security newbie Morta Security sent shares of PANW up 7%, to $60. I'd wait a little for the exuberance to calm down and buy at $57.

Karen Canella does not personally hold positions in any securities mentioned in this article.
StreetAuthority LLC does not hold positions in any securities mentioned in this article.

More from StreetAuthority

Really? With ZERO reconciliation and regulatory supervision over such aspects AND the legitimacy of hackers in BIG of all sorts, it's a fool's premise. We have security and firewalls, but not mandatory use protection. The very elements that make this an enterprise, cause the premise.
The best investment will be our own frustration with rackets, and then anti-racket enterprises.

There are lots of ways you can work at home and earn good money
For example, marketing via e-mail to tangible products and electronic products
Digital products and the marketing of products and companies take a commission rewarding and much much more
But you need to take the right path and a good plan and the most important thing do not despair
Unfortunately a lot of people give up and get bored quickly
This work needs patience to see in your mind and your heart to what you love and work in what is witty
Will fail in the beginning do not give up because the first is the failure continued success and continued whatever the circumstances
And you will reach your goal, God willing, finally luck to you and all .
Here are some ways to find market and ideas that will help you :
<a href="">The Graphics Firesale</a>
<a href="">FREE INCOME APP</a>
<a href="">Golden Goose Method</a>
<a href="">Commission Jailbreak</a>
<a href="">The Magic Of Making Up</a>
<a href="">Make Money With Meghan</a>
<a href="">CB Passive Income</a>
<a href="">Rocket French</a>
<a href="">Weight Loss Program</a>
<a href="">Affiliate X</a>

Are you sure you want to delete this comment?
DATA PROVIDERS
Copyright © 2014 Microsoft. All rights reserved.
Fundamental company data and historical chart data provided by Morningstar Inc. Real-time index quotes and delayed quotes supplied by Morningstar Inc. Quotes delayed by up to 15 minutes, except where indicated otherwise. Fund summary, fund performance and dividend data provided by Morningstar Inc. Analyst recommendations provided by Zacks Investment Research. StockScouter data provided by Verus Analytics. IPO data provided by Hoover's Inc. Index membership data provided by Morningstar Inc.
ABOUT
Top Stocks provides analysis about the most noteworthy stocks in the market each day, combining some of the best content from around the MSN Money site and the rest of the Web.
Contributors include professional investors and journalists affiliated with MSN Money.
Follow us on Twitter @topstocksmsn.