Handful of CEOs reap huge rewards
Median chief executive pay rose by 5.5% to $11.4 million last year, and the top 10% of bosses earned an outsized 23% of the total compensation for all CEOs.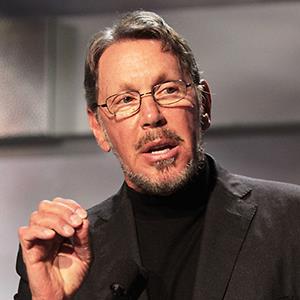 By Theo Francis and Joann S. Lublin,
The Wall Street Journal
For most CEOs at big companies, pay is rising moderately and awards are increasingly tied to future financial performance. But that doesn't apply to everybody.

The Wall Street Journal's annual compensation survey found that, for all the debate around high CEO pay, the biggest rewards go to a relative handful of executives at the very top, and that their pay doesn't necessarily correlate to their company's size or results.
This year's survey looked at 2013 compensation for CEOs at 300 large, U.S.-traded public companies. It found the top 10 percent by pay earned 23 percent of the total compensation, while the bottom 30 percent accounted for just 13 percent of the total.
The three highest-paid CEOs -- Oracle's (ORCL) Larry Ellison (pictured), CBS Corp.'s (CBS) Leslie Moonves and Liberty Global's (LBTYA) Michael T. Fries -- made a total of $188 million, more than the combined pay of the 50 CEOs at the bottom of the same list.
Pay across the survey rose by a median 5.5 percent to $11.4 million, nearly two-thirds of which was tied to performance.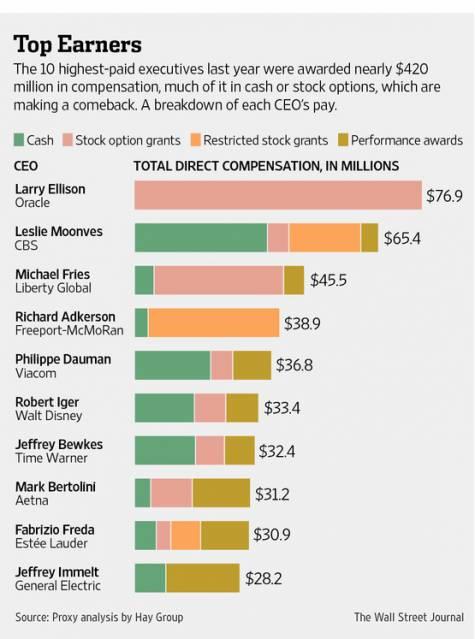 The increase trailed the companies' median profit rise of 8 percent and median total shareholder return of 34 percent, which includes stock gains and dividends. It did, however, outstrip growth in compensation for ordinary employees. Wages and salaries for U.S. private-sector workers rose an average of 1.8 percent in 2013, according to the Labor Department.
The survey results come from an analysis of proxy statements by the Journal and consulting firm Hay Group.
The top ranks were dominated by many of the same names that regularly appear among the highest-paid executives. Mr. Ellison, last year's best-paid CEO, with $76.9 million in total direct compensation, was in the top 10 for the fourth time since 2010.
Mr. Moonves, at $65.4 million; Viacom's (VIA) Philippe Dauman, at $36.8 million; and Walt Disney's (DIS) Robert Iger, at $33.4 million, also made their fourth appearances among the top 10 in the Journal's rankings.
Total direct compensation includes salary, annual incentives, the value of grants of stock options and restricted stock and performance-based incentive awards.
None of the companies with the 10 best-paid CEOs ranked in the top 10 percent by 2013 performance. CBS and Viacom came closest, at 29th and 53rd, respectively, out of the 267 companies whose chiefs have presided over at least a year of results. Oracle came in 152nd, and Disney ranked 165th, both in the lower half of the field.
Taking three-year performance into consideration, the leading earners did a little better, with three ranking among the top 10 percent: CBS, with an annualized return of 51.4 percent; Liberty Global, which posted an annualized return of 35.1 percent and paid CEO Mr. Fries $45.5 million; and Estée Lauder Cos. (EL), with an annualized return of 35 percent and whose CEO, Fabrizio Freda, was paid $30.9 million last year.
Oracle said in a filing that it ties Mr. Ellison's pay to company performance. Last year, his compensation fell 19 percent. Shareholders have balked at Mr. Ellison's pay, but the company has said significant changes aren't warranted.
A Liberty Global spokesman said the company bases its CEO's pay on performance, with the "vast majority" tied to its stock.
A CBS spokesman said Mr. Moonves's pay reflected strong leadership and the company's 69.1 percent shareholder return last year, which CBS said was the highest among major media companies and near the top for the S&P 500.
Mr. Dauman's pay reflects a one-year shareholder return of nearly 60 percent, a Viacom spokesman said, and 90 percent of his pay is tied to company or stock performance.
A Disney spokesman cited a shareholder return of 202 percent from Mr. Iger's appointment as CEO in the fall of 2005 through last September, the end of the company's most recent fiscal year.
An Estée Lauder spokeswoman said Mr. Freda's pay "reflects his leadership in driving success," and that 90 percent is based on the company's financial or stock performance.
Irv Becker, Hay Group's national practice leader for executive compensation, said media CEOs began appearing among the top paid more frequently after financial-services concerns -- which accounted for four of the top five spots in the 2007 survey -- reined in pay during and after the financial crisis.
"Due to the scrutiny around financial-services pay during the financial crisis, banks left the door open for the media companies to rise to the top," he said.
Two other CEOs made their second appearance since 2010 in the Journal's top 10: Time Warner's (TWX) Jeffrey Bewkes, at $32.4 million, and Freeport-McMoRan Copper & Gold's (FCX) Richard Adkerson, at $38.9 million.
A Freeport-McMoRan spokesman said nearly all of Mr. Adkerson's pay came from a deal to buy out a severance agreement the CEO could have triggered after an acquisition last year.
The new arrangement saved the company about $11 million of the $46 million he would have been allowed to collect, and replaces the original cash reward with a stock grant the CEO can't collect until six months after he retires, said spokesman Eric Kinneberg.
Time Warner spokesman Keith Cocozza said Mr. Bewkes' spot at No. 7 on the latest list reflects a good year for Time Warner shareholders. The company's earnings rose 26 percent in 2013, and shareholder return was 49 percent. Some 93 percent of Mr. Bewkes' target pay fluctuates with company performance, Mr. Cocozza added.
The returns fueled by the soaring stock market mean the broader shift to performance-based pay is working out well for CEOs, Mr. Becker said. The real test will come when the market and economy turn.
Poor performers already are doing relatively worse than their peers. Of the worst-performing 10 percent of CEOs in the survey, half had their pay stagnate or decline, and several ranked among the worst-paid 10 percent.
But variations in performance do little to explain the distribution of pay more broadly. The CEOs of the best-performing companies together received about as much pay as the CEOs in the middle of the pack -- and only slightly more than those heading companies with the worst performance.
Companies typically set pay with an eye on their competitors, and the baseline for pay in some fields, such as media, is richer than in others. That fact helps explain why pay doesn't closely track performance.
The best-performing 10 percent of CEOs together collected about 10 percent of the compensation paid out to the 267 CEOs with at least a year of results under their belt. That is about what would be expected if pay was distributed randomly. The top-performing 50 percent of companies accounted for 54 percent of CEO pay.
Of all the CEOs ranking in the top 10 percent of pay, only two also ranked in the top 10 percent by shareholder return: Ameriprise Financial's (AMP) James Cracchiolo, who made $20.7 million and ranked 11th in performance, with a shareholder return of 88.3 percent; and Bristol-Myers Squibb's (BMY) Lamberto Andreotti, who made $20.1 million and ranked 27th in performance, with a shareholder return of 70 percent.
But the best-paid CEOs did get bigger raises. For the top 10 percent, the median pay increase was 17 percent, more than triple the median for the 267 companies.
At the other end of the spectrum from Mr. Ellison were three founders who were among the lowest-paid CEOs, earning effectively nothing: Whole Foods Market's (WFM) John Mackey, Kinder Morgan's (KMI) Richard Kinder and Google's (GOOG) Larry Page.
Their returns were mixed, but Google's, at 58 percent, were strong enough to land the technology company in the top 20 percent.
An Ameriprise spokesman noted that the company's executive-pay plan received 97 percent shareholder support this spring, but declined to comment further.
Whole Foods limits cash salary and bonuses for top executives to 19 times the average pay of full-time workers and, in a book he co-wrote, Mr. Mackey has extolled the virtues of restraint and fairness in executive pay, a spokeswoman said.
The Wall Street Journal-Hay Group survey covered public companies with revenue exceeding $8.7 billion and which filed proxy statements between May 1, 2013, and April 30, 2014.
More from The Wall Street Journal

Why not let SHAREHOLDER's worry about how they are SPENDING their money?   Of course, I guess if you think the shareholders should instead receive the money you should buy some shares and vote them.   But in circumstances should an extra dime be given to the hired help.
If they want a share of the stockholders money, BUY shares.


Yesterday the AP ran a story about CEO pay. Today the WSJ. At least the WSJ included company performance. If we had a media in this country we would analyze company performance vs. CEO pay and investors could use this data to influence investing and CEO pay. This would include a broad spectrum of publicly traded companies rather than just the top two or three hundred. I suspect the the results would be unremarkable. Much of what the media publishes is emotional drivel, particularly in regard to CEO pay. When I read these articles, I expect to see; how dose that make you feel children?

The struggle between the have nones (poor), have somes (middle class), and have almost everythings (Very Rich) have existed for all human time in all cultures. The make up of each group has varied among different cultures for different reasons ( depending on Race, Age, Gender, Family, Religion and Location). A truly capitalistic nation should attempt to eliminate all these biases and create a meritocracy ( those best qualified advance). CEO selection and pay can be a good example of this but too often CEO's can collude with board members to give themselves more money and trade favors ( ex.Other board of directors positions) for favorable pay packages. The best CEO's should make a lot of money but there should be more shareholder oversight (Not government oversight) to make sure that shareholders interests are first priority and not enriching the few at the top at the cost of everyone else in the company.
Are you sure you want to delete this comment?
DATA PROVIDERS
Copyright © 2014 Microsoft. All rights reserved.
Fundamental company data and historical chart data provided by Morningstar Inc. Real-time index quotes and delayed quotes supplied by Morningstar Inc. Quotes delayed by up to 15 minutes, except where indicated otherwise. Fund summary, fund performance and dividend data provided by Morningstar Inc. Analyst recommendations provided by Zacks Investment Research. StockScouter data provided by Verus Analytics. IPO data provided by Hoover's Inc. Index membership data provided by Morningstar Inc.
ABOUT
Top Stocks provides analysis about the most noteworthy stocks in the market each day, combining some of the best content from around the MSN Money site and the rest of the Web.
Contributors include professional investors and journalists affiliated with MSN Money.
Follow us on Twitter @topstocksmsn.