Has market's IPO fever finally broken?
We know things have cooled by the dearth of new offerings and the nonstop sliding of newer techs. When a stock like GrubHub is the beacon, that's not a good sign.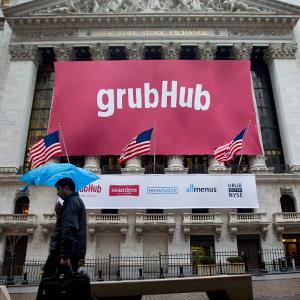 Once you brand a market with the curse of the 2000 Nasdaq market top, you immediately have to see whether things are staying on course toward tech-stock apocalypse or whether they will naturally right themselves.
On this front, there's good news for the bulls: In the past 48 hours, we've seen some attempts to halt the rendezvous with destiny that's now becoming common currency.

What are the signs that we don't have to end in oblivion? First, have you noticed that the IPO fountain has turned into a trickle?
We had been getting two, three, four deals a day routinely as the weeks progressed. And the type of deals seemed to be the same: cloud-based, software-as-a-servic​e to some part of the enterprise. A few weeks ago we had so many software-as-a-servic​e IPOs coming that we seemed to have one or two go public almost every day -- hence why I started saying these deals had become software-as-a-disser​vice to your portfolio, or SAAD, instead of software-as-a-servic​e, or SAAS. There were way too many to keep track of.
In fact, there were a couple of sessions when the things were so chaotic from all of the IPOs that some couldn't even be declared effective on the morning they were supposed to go. Plus, consider the hoopla we saw: characters dressed as food -- GrubHub (GRUB) -- characters dressed as, well, characters -- King Digital (KING) -- and piles of food --Zoe's Kitchen (ZOES). It all made you feel as if you were seeing a top right in front of your eyes. They always say there's no bell that signals the top. Not true: The opening bell of the New York Stock Exchange foretold all you needed to know.
It's gotten so negative out there that this week we saw postponements in not one, not two, but three of the biggest prospective IPOs: the $10 billion troika of AirBNB, DropBox and Box. I say "softly" because there are so many rules around IPOs that it's almost as if you can't really talk about them once a deal has been filed. Let's put it this way, though. The reports seem pretty darned thorough that those deals, all of which were putatively valued at $10 billion in the last round of financing, have been shelved.
I can't stress how important these postponements are. While the frenzy in the public markets has been well-documented, the fundraising in the private market has been pretty darned insane. These $10 billion valuations for two data-storage companies, and a website for renting your own house out, were predicated on an extremely robust red-hot IPO market.
The sizzle is now gone. With that, perhaps, this lunacy -- companies with little to no profit but fast revenue growth being valued at $10 billion in the last round of financing -- could, at last, be cooling. Never forget the process. The venture capitalists back new companies at repeatedly higher rounds of valuation. The VCs know that they can either flip these startups to public companies desperate for growth or they can tap the insanely hot public markets.
If the latter has cooled, then the process will go on hold and the stock market will be able to digest all of the new merchandise. Of course, we know that things have cooled by the dearth of new IPOs and the nonstop sliding of the newer techs and biotechs and everything that has come with them. When GrubHub, the food-delivery company, is the beacon -- the stock that's held up the best after its IPO -- it doesn't say much for the market. That's especially given that the company looks eerily like the stuff that got jammed down our throats back in 2000 or, alas, never even had a chance to go public because of the stock market's collapse.
Nevertheless, this $10 billion troika of delayed IPOs can come right back at the drop of a hat, so don't get too enthused. And believe me, the Alibaba deal will cause lots of top chatter if it ever comes.
Finally, we saw a new pattern Wednesday night with the trading in Yelp (YELP) after the company's quarter was announced. Ever since Salesforce.com (CRM) announced its quarter at the end of February, the post-earnings pattern for almost every one of these newbies has been a huge share jump after hours and then a crash to earth by midmorning. Yelp's stock immediately headed down after its earnings announcement, then jumped back up in after-hours trading. New pattern? We'll have to see whether Yelp holds.
Any divergence from the 2000 apocalypse would be most welcome for the bulls. We finally got a couple of them. But it's a total stay-tuned situation.
Jim Cramer's Action Alerts Plus: Check out this charitable trust portfolio to see the stocks Cramer thinks could be winners.
More from TheStreet
DATA PROVIDERS
Copyright © 2014 Microsoft. All rights reserved.
Fundamental company data and historical chart data provided by Morningstar Inc. Real-time index quotes and delayed quotes supplied by Morningstar Inc. Quotes delayed by up to 15 minutes, except where indicated otherwise. Fund summary, fund performance and dividend data provided by Morningstar Inc. Analyst recommendations provided by Zacks Investment Research. StockScouter data provided by Verus Analytics. IPO data provided by Hoover's Inc. Index membership data provided by Morningstar Inc.
ABOUT
Top Stocks provides analysis about the most noteworthy stocks in the market each day, combining some of the best content from around the MSN Money site and the rest of the Web.
Contributors include professional investors and journalists affiliated with MSN Money.
Follow us on Twitter @topstocksmsn.