Here's how to play the rest of the year
So far, 2014 has been unusual in many ways. The data suggests the bull market is not over yet.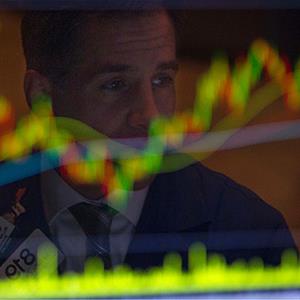 By Tim Clift,
MarketWatch
For years, we've expected interest rates to rise. That day is now in view. 

Earlier this month, the Federal Reserve said it will wind down its quantitative-easing program and cease buying Treasury bonds and mortgage-backed securities as soon as October. In the past, Fed Chairwoman Janet Yellen has testified that she would consider raising rates as soon as six months after the end of quantitative easing.
So how should investors be thinking about the second half of 2014? Is this a trial balloon for the markets? And how much of an effect is the end of easing likely to have on individuals' portfolios?
This year has already had some unique characteristics. Investor expectations for the first half of 2014 focused on a stronger economy, which led to earnings growth (good) -- but that can also lead to inflation and higher interest rates (not so good). The textbook reaction from equity investors in this kind of environment is to pile into economy-sensitive growth stocks, which would respond favorably to a marketplace that's heating up.
But, during the first half of the year, the expected growth and follow-on rise in interest rates did not materialize. In fact, the opposite happened: The economy did not grow, hurt by the bitter winter, and interest rates tumbled. First-quarter real (inflation-adjusted)​ gross domestic product (GDP) registered an annualized drop of 2.9 percent, the biggest quarterly contraction in five years. 
At the same time, long-term interest rates plunged, with 10-year Treasury yields dropping about 50 basis points (one-half of a percentage point) to a little over 2.5 percent. As for the stock markets, the Standard & Poor's 500 Index ($INX) registered a respectable total return of 7.1 percent for the first half.
The biggest risk to a bull market has always been overheating, as most end when investors become euphoric and push prices to unsustainable levels. Now, as the stock markets continue their rise -- after a 30 percent-plus gain in 2013 -- prices are no longer cheap and at least fairly valued. The significance of the stock market behavior during the first half of this year is that it is a very healthy, much-needed cooling of investor excitement, preventing stock prices from jumping out of control. 
Here's why 2014 is unusual, and why the data suggest that the bull market is not over yet.
1. This year has had a weak start
In a typical year during a bull market, stock markets start strong and are driven by momentum, thanks to investor excitement. What's unique about this year so far is that the stock market had a weak start. Investors were skeptical and markets moved sideways, showing few signs, if any, of a top.
January is often seen as a harbinger of the year's overall stock performance, but this January was anything but. The S&P 500 Index declined nearly 4 percent in January versus 4 percent and 5 percent gains in January of 2012 and 2013, respectively. Then it came back with a bang.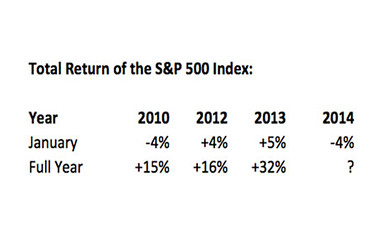 There was no January Effect in small-cap stocks, either. Typically, small-caps have boomed in January as investors deploy cash. This year, the Russell 2000 Index, which tracks small-company stocks, slid about 3 percent during the month, versus 7 percent and 6 percent gains to start off 2012 and 2013, respectively. 
For a similar performance, you need to go back to 2010, when the S&P 500 Index overcame a 4 percent loss in January to end the year with a 15 percent gain. Interestingly enough, in both 2010 and 2014, the weak January return came right after a very strong year: The S&P 500 shot up 26 percent and 32 percent, respectively, in 2009 and 2013. The weak January of both years could be interpreted, therefore, as inevitable consolidations after big gains.
2. A whipsaw market
After plunging nearly 4 percent in January and sliding another 2 percent in early February, the S&P 500 rebounded sharply during the rest of February to erase all of the losses earlier in the year and get back to record territory. However, there has been no forceful follow-through since then and the S&P 500 Index has very much fluctuated around break-even in March and April. It did advance again in May and June, with 2 percent gains each month, but lacked the momentum usually seen among typically strong, trending markets.
The movement of the Nasdaq Composite Index ($COMPX) most clearly demonstrated the sideways nature of the market. After peaking in early March, almost exactly 14 years after the bursting of the dot-com bubble, the Nasdaq Composite Index plunged more than 8 percent in only a month, driven by sell-offs in high price-to-earnings (P/E) in speculative stocks among such industries as social media and biotech. 
Just when the index was about to sink below the psychologically important 4,000 mark in early April, it snapped back and jumped about 10 percent to erase all the losses earlier in the year and reached a 13-year high, driven mostly by "old-generation" technology stocks like Intel (INTC) and Microsoft (MSFT). (Microsoft owns and publishes Top Stocks, an MSN Money site.)
3. Large caps outperformed small caps, and value beat growth
During the first half of the year, the S&P 500, which favors the largest companies, gained 7.1 percent, more than double the 3.2 percent gain for the  Russell 2000 ($TOMX) Index of small-company stocks. A similar pattern between value versus growth has emerged: The Russell 1000 Value Index outperformed the Russell 1000 Growth Index, 8.3 percent versus 6.3 percent. For stocks in similar industries or sectors, larger and cheaper stocks are generally more economically defensive and less volatile. As a result, in a strongly rising market, they are usually less favored as investors take more risks to seek Godzilla-sized returns.
The popularity of large caps speaks to two investor needs: income and security. Low interest rates continue to make high-dividend-paying​ stocks look attractive, and the slow rise envisioned by Yellen and friends won't change that for quite some time. 
The popularity of value over growth suggests that investors have recognized that price itself is important: It's the first half of that "buy low, sell high" rule we are all so fond of breaking. When you look at what you pay for a company's earnings, sales or even assets, large, value-oriented stocks are generally less expensive than small, growth-oriented shares.
4. Global factors drove the market
Earlier in this decade, events in Washington roiled the markets on a regular basis. In 2011, it was the debt-ceiling crisis; in 2012, it was the fiscal cliff; in 2013, it was the taper talk and government shutdown. In 2014 so far, except for recent comments by the Fed's Yellen, Washington has almost disappeared from market news.
It has been geopolitical events, from the crises in Ukraine and Iraq that ruled the headlines and swayed the markets. While lower long-term rates can be attributable to weak economic growth in the first quarter, tumbling European sovereign bond yields have also played an important role. The sovereign bond yields of these still-struggling (and relatively high-risk) nations are so low that they make U.S. Treasuries look like a bargain: For example, as of June 27, Italy's 10-year sovereign bond was yielding 2.83% percent, Spain's 2.64 percent and Ireland's 2.34 percent, versus 2.54 percent for 10-year Treasuries.
The midterm elections are coming up, so the end of the year could get volatile. Let's hope not. Nevertheless, the stock market has successfully handled far more significant disruptions during the past several years. From the sovereign credit crisis to the fiscal cliff and the government shutdown, investors have proved their ability to bounce back.
Looking ahead
Rising interest rates will come sooner or later, whether because of the end of quantitative easing, rising inflation, strengthening economic growth or some unforeseen factor.
Even though the first half of 2014 does not fit the markets' typical pattern, that's no reason to be overly concerned. The 2.9 percent contraction in economic growth in the first quarter was a one-off event and an outlier, caused by severe weather and lower-than-expected health-care spending due to confusion about the Affordable Care Act (Obamacare), and even the most cynical or audacious pundits are not mentioning the R word (recession).
Geopolitical events have not had a lasting impact on the equities market over the past few years. (If the U.S. gets drawn more deeply into geopolitical events, defense spending could rise, helping to push up long-term interest rates.) Last but not least, while the Fed can successfully control short-term rates like the federal funds rate, it has limited impact on long-term market rates, such as corporate borrowing rates and mortgage rates, which are far more important to the economy.
We believe that the Fed is likely to keep short-term interest rates low through early 2015, given that the eurozone, Japan and many other countries are still in an easing cycle. But with U.S. economic growth likely to take off, temporary disruptions notwithstanding, rising interest rates could be a much bigger threat to equity investors than a slowing economy. Investors should be on alert and well-prepared when interest rates resume their ascent after a temporary pause.
--Tim Clift serves as chief investment strategist at Envestnet | PMC, and is responsible for the development of investment strategies for client portfolios as well as for manager and fund strategist selection methods.
More from MarketWatch
DATA PROVIDERS
Copyright © 2014 Microsoft. All rights reserved.
Fundamental company data and historical chart data provided by Morningstar Inc. Real-time index quotes and delayed quotes supplied by Morningstar Inc. Quotes delayed by up to 15 minutes, except where indicated otherwise. Fund summary, fund performance and dividend data provided by Morningstar Inc. Analyst recommendations provided by Zacks Investment Research. StockScouter data provided by Verus Analytics. IPO data provided by Hoover's Inc. Index membership data provided by Morningstar Inc.
ABOUT
Top Stocks provides analysis about the most noteworthy stocks in the market each day, combining some of the best content from around the MSN Money site and the rest of the Web.
Contributors include professional investors and journalists affiliated with MSN Money.
Follow us on Twitter @topstocksmsn.