Here's what Carl Icahn told Tim Cook at dinner
The billionaire investor says he sat down with Apple's chief executive and pushed hard for a share buyback.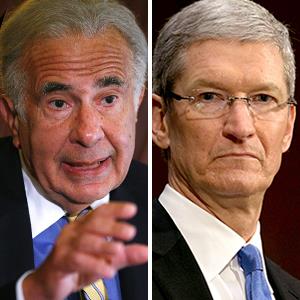 By Jim Probasco
We're not sure if Carl Icahn was gifted a free iPhone after his dinner with Tim Cook (pictured, at right), but we definitely know that it happened.
Icahn (pictured, at left) has made headlines recently for praising Apple products and for using Twitter to alert followers to his plans with the company's CEO, but more importantly for owning at least $2 billion worth of Apple stock.
He took to Twitter again on Tuesday, this time to send out the following message:
"Had a cordial dinner with Tim last night. We pushed hard for a 150 billion buyback. We decided to continue dialogue in about three weeks."

Tim, of course, is Apple (AAPL) CEO Tim Cook. The $150 billion buyback is 33% more than the amount Apple promised in April when it said it would cough up $100 billion by the end of 2015. Apple said $60 billion would be in the form of a share buyback program. The company also raised its dividend 15%, according to CNBC.
In a follow-up interview on CNBC, Icahn reiterated his position that the $60 billion buyback figure is excessively low. The conversation got testy when talking about the Apple board and a bigger buyback. At one point Icahn said, "The board isn't God."
In the CNBC interview Icahn made it clear he "won't go away" when it comes to Apple.
Saying his company owned close to $2 billion worth of Apple stock, Icahn said he planned to keep the dialogue going with Tim Cook and with Apple.
Apple shares were up almost $12 to $488.70 immediately following the Icahn interview on CNBC Tuesday. Shares closed the day up more than 2% to $487.96.

From Icahn's perspective, Apple is missing a golden opportunity by not issuing a large share buyback. The activist investor indicated he intends to represent the shareholders and their wishes, even if the board disagrees with spending more money.
"I feel very strongly about this," Icahn told CNBC. "I can't promise you the stock will go up and I can't promise you they will do the buyback, but I can promise you that I'm not going away until they hear a lot more from me concerning this."
CNBC's Jim Cramer took Icahn's side back in August when he said he thought the company should give the investor a seat on its board.
Cramer said, "Maybe he wants a seat at the table. Would I give him a seat? Yeah. I think Icahn is the single best investor in America today, so yes I would."
The main source of Icahn's frustration seemed to be the fact that he sees Apple stock as undervalued and notion of a large buyback as a "no-brainer." In August, Icahn told Reuters, "Apple has the ability to do a $150 billion buyback now by borrowing funds at 3%."
In that same interview, Icahn said that if the company did the buyback and earnings increased at 10%, the stock would trade at $700 a share.
At the time of this writing, Jim Probasco had no position in any mentioned securities.

More from Benzinga

Investors buy a stock to make money. Sometimes it just a quick trade. So no, the vast Majority of investors shouldn't be trusted in telling Apple how to run it Business. Apple is doing extremely well and they hardly need some wet behind the ears Icahn to tell them how to do it. Carl even admitted he knows literally nothing about the Business. The same could stated for most investors regardless of how many shares they own. Since Carl actually stated he doesn't know jack about the Business, he should shut the blip blip blip, UP.


Yes, we know companies like Apple and MSFT have tons of offshore CASH. We also know about the tax issues. That hardly means companies like Apple should be DUMB enough to borrow money just to finance some bogus blip blip blip $150Billion Dollar Stock buyback. The economy can turn on a DIME, then Apple would be loaded down with over $150Billion in Debt they never needed. Icahn is in it for himself period. This guy has a God Complex.


Would seem to be a simple solution by increasing the buyback but certainly not to the tune of $150 billion for all the reasons you should not do it for the long term and uncertainty of the future economy.  But, a compromise is certainly likely say around $90 billion.  Three weeks just happens to be after earnings are announced and it is certainly not a coincidence that the date is around there.  Suspect there is some announcement along with earnings to this subject but we will see.  Apple is going higher on revenue and profit increases that go along with new market exposure in China and Japan along with data carriers.  This is not that hard to figure out. 
Are you sure you want to delete this comment?
DATA PROVIDERS
Copyright © 2014 Microsoft. All rights reserved.
Fundamental company data and historical chart data provided by Morningstar Inc. Real-time index quotes and delayed quotes supplied by Morningstar Inc. Quotes delayed by up to 15 minutes, except where indicated otherwise. Fund summary, fund performance and dividend data provided by Morningstar Inc. Analyst recommendations provided by Zacks Investment Research. StockScouter data provided by Verus Analytics. IPO data provided by Hoover's Inc. Index membership data provided by Morningstar Inc.
ABOUT
Top Stocks provides analysis about the most noteworthy stocks in the market each day, combining some of the best content from around the MSN Money site and the rest of the Web.
Contributors include professional investors and journalists affiliated with MSN Money.
Follow us on Twitter @topstocksmsn.