Hewlett-Packard is fighting an uphill PC battle
HP's lack of exposure to the rapidly expanding tablet and smartphone market doesn't bode well for long-term growth.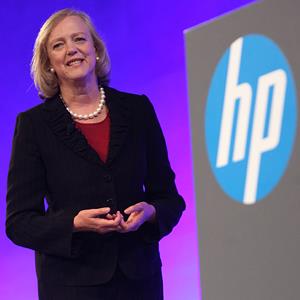 By Richard Saintvilus
NEW YORK (TheStreet) -- In an interview Wednesday morning on CNBC, Hewlett-Packard's (HPQ) CEO Meg Whitman defended her decision to keep desktop computers as part of HP's long-term growth strategy. She insisted that "desktops are not dead." Quite a claim given that a recent report from Gartner suggested that global desktop shipments have sunk to their lowest level in five years.
I suppose until global desktop shipments reach zero, Whitman is technically correct. But it doesn't appear as if Hewlett-Packard's recent results support her optimism -- at least not where it matters most. This prompted me to call Hewlett-Packard a value trap back in September, in an article that caused quite a bit of controversy over my harsh criticism of management.
Although HP was then coming off what I considered a decent but not great quarter, I still believed there was at least $3 upside to the stock, which was then trading near $22. That said, I had no confidence that current management had what it takes to harvest any meaningful value out of the stock on a long-term basis.

Fast-forward three months later. The stock is trading around $27.30, or 10 percent higher than my fair-value target of $25. The company's better-than-expected​ fourth-quarter earnings were a surprise. At the same time, I don't believe HP is in better position today than it was three months ago or even a year ago. Rather, the company just high-jumped over a low bar. And I would caution about getting excited here as it seems management has already broken a recent promise.
First and foremost, let's compare HP to Dell, Intel (INTC) and Microsoft (MSFT), which are all considered PC-dependent businesses and perpetually accused of dying. I won't deny that HP stock, despite having gained 95 percent on the year, has always been cheap. That was my argument three months ago when HP's then-P/E of 6 assumed that the company wouldn't grow at all.
Plus, after Cisco's (CSCO) horrific first quarter, which included nightmarish guidance, the Street was eager to glorify HP's beat, making it appear bigger than it really was. The stock, which was already cheap, seemed even more attractive.
But as the Street has been known to do, it has conveniently forgotten why shares of HP became so depressed in the first place. And contrary to popular opinion, I don't believe this sudden rash of excitement in the stock is because HP is on a new path to long-term growth.
I expect HP investors will disagree. I also anticipate I will get more flak for this. But before you send in your irate emails, stop for a second and realize that as you applauded the 4 percent revenue beat of $29.1 billion, this still represent a year-over-year decline of 3 percent.
I will grant that the 73 cents per share profit (on the basis of generally accepted accounting principles) was a significant improvement from the $3.49 per share loss reported last year. But let's not forget that last year's loss was the result of the embarrassing $8.8 billion writedown HP absorbed from the botched acquisition for Autonomy -- a deal for which HP still faces several lawsuits from shareholders suing the company for failure to conduct due diligence.
What's more, look at the non-GAAP basis, where fourth-quarter earnings did meet Street expectations at $1.10 per share. That, too, represented a year-over-year decline of 13 percent. And when you consider that cash flow from operations was down more than 30 percent year over year, I really don't see what there is to get excited about, especially when margins declined year over year by more than a full point (1.4 percent). Interestingly, though, even when there's a portion of the business that does well, it somehow turns into a disadvantage.
For instance, while HP continues to lead the PC market share (by shipments) at 27 percent, which more than doubles Apple's (AAPL) market position at 13 percent, HP's Personal Systems business still posted a 16 percent decline in profits. What this means is that HP is virtually giving away each PC it sells since that business generates only 3 percent operating margin.
Last but not least, despite my recent criticism of Meg Whitman, the one thing that I have always appreciated about her is that she has always been forthright about the company's situation. Unlike her predecessor, Whitman has never tried to make HP appear better than it really is.
However, while promising investors that it would take five years to turn around the company, Whitman also said that growth would return in year three. That's right around the corner. But following the recent conference call, she told analysts not to expect growth in 2014. Inexplicably, the stock jumped 9 percent.
And given that research firm Canalys projects that tablets will account for more than 50 percent of all PCs sold in the coming year, HP's deficit in personal devices will only loom larger, especially when margins are on the decline. All told, given the across-the-board revenue and profit declines, this was (at best) a quarter that was less bad than expected. Accordingly, I wouldn't jump on this stock right here.
At the time of publication, the author was long AAPL.
More from TheStreet.com
·         Cramer: The real tale of oil tape
·         Find yield In real estate in 2014
·         Apple Inc. iWatch, Square IPO: 10 tech predictions for 2014
DATA PROVIDERS
Copyright © 2014 Microsoft. All rights reserved.
Fundamental company data and historical chart data provided by Morningstar Inc. Real-time index quotes and delayed quotes supplied by Morningstar Inc. Quotes delayed by up to 15 minutes, except where indicated otherwise. Fund summary, fund performance and dividend data provided by Morningstar Inc. Analyst recommendations provided by Zacks Investment Research. StockScouter data provided by Verus Analytics. IPO data provided by Hoover's Inc. Index membership data provided by Morningstar Inc.
LATEST POSTS
Meet Alibaba's new billionaires
Despite its size, the IPO will create just two new members of the 10-figure club from its executive ranks. A few others could net hundreds of millions.
ABOUT
Top Stocks provides analysis about the most noteworthy stocks in the market each day, combining some of the best content from around the MSN Money site and the rest of the Web.
Contributors include professional investors and journalists affiliated with MSN Money.
Follow us on Twitter @topstocksmsn.