Hit $1,000-a-day drug has insurers panicking
Sales of the hepatitis C treatment Sovaldi are soaring, and insurance companies could see a double-digit cut to profits as a result.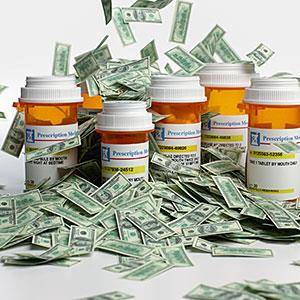 By Jonathan D. Rockoff,
The Wall Street Journal
A hepatitis C pill from
Gilead Sciences
(
GILD
) that costs $1,000 a day is on track to notch among the biggest sales ever for the first year of a newly approved drug, showing just how hard it is for insurers to curb the use of pricey life-saving medicines.

The drug, called Sovaldi, is the first in a new generation of hepatitis C therapies that promise to cure more patients than older therapies. It could ring up $5 billion in U.S. sales this year if current prescription patterns hold. Some analysts say the figure might reach $9 billion. 
By comparison, AbbVie's (ABBV) Humira, a treatment for rheumatoid arthritis, was the biggest-selling drug last year with $10.7 billion in world-wide sales.
Such heavy sales for Sovaldi, so soon after the drug's approval just last December, threaten the bottom lines of many insurers, analysts say. Several insurers could see their earnings per share hit by double-digit percentages this year, according Wells Fargo Securities analyst Peter Costa. He figures that hepatitis C treatments will cost the 10 largest publicly traded insurers $798 million more than they did in 2013.
Sovaldi carries a list price of $84,000 for a 12-week course of treatment. The cost has spurred pushback among some payers and public officials, who say the price is too high for a drug with such a broad potential market. 
Some 3.2 million people in the U.S. are believed to carry hepatitis C -- many of whom contracted it through intravenous drug use. Chronic infections that go untreated kill 15,000 Americans each year, and are a leading reason for liver transplants in the U.S., according to the Centers for Disease Control and Prevention.
Molina Healthcare (MOH) -- which Wells Fargo says is most exposed among insurers because of its large business managing Medicaid for states -- is trying to reserve the drug for the sickest patients and is asking the states to take on more of the cost.
 Pharmacy-benefits manager Express Scripts (ESRX) is checking with doctors on whether some patients could wait for treatment until rival drugs reach the market and help to push the price down -- a first for the company.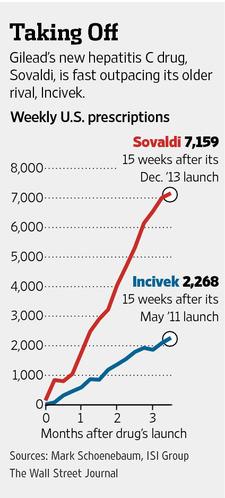 And in March, three congressional Democrats asked Gilead to justify Sovaldi's cost; Gilead said its executives met Monday with congressional staffers to address their concerns.
Gilead says doctors and patients seeking Sovaldi have gotten "tremendous access" to the drug through their health plans, despite the concerns some insurers have voiced about the price, because the drug works so well.
Critics "have focused on the per-pill cost or per-bottle cost, but that is really not relevant here. It's how much it costs to cure your patient," said Gregg Alton, Gilead's executive vice president of corporate and medical affairs. 
By that measure, he said, Sovaldi's price is comparable to older therapies that don't cure as many patients, and is less expensive than liver transplants costing $175,000 or more.
Sovaldi is an especially difficult target for insurers because it is highly effective and has as of yet no rivals.
Sovaldi promises to cure 90 percent of its targeted patients, who would likely develop liver cancer or require liver transplants if untreated.
Absent new drugs that give them leverage in price negotiations, insurers have few tools to control spending. They can require doctors to prove that a patient truly needs the drug and impose high out-of-pocket charges on patients. But it is difficult for payers to deny coverage of a drug that a doctor says will help a patient.
"There's nothing they can do" until more hepatitis C treatments get approved, said Rhonda Greenapple, a consultant who advises pharmaceutical companies on gaining drug reimbursement.
Other new drugs are in the pipeline from AbbVie, Bristol-Myers Squibb (BMY) and Merck & Co. (MRK), but they aren't expected to start winning approvals until next year.
For Sovaldi, "there's an enormous price tag," but the drug is too effective to try to restrict access, said Leslie Fish, vice president of clinical programs and pharmacy services at Fallon Health, in Worcester, Mass. Instead, she said, Fallon wants to make sure its spending isn't wasted, so it is working with doctors to make sure members given prescriptions don't skip out on treatment.
During Sovaldi's first 12 weeks on sale, 33,672 prescriptions were filled in the U.S., more than three times the number for Incivek, a hepatitis C drug that was approved in 2011 and previously was one of the biggest drug launches, according to ISI Group analyst Mark Schoenebaum. Incivek costs $68,000 for a 12-week course but has a lower cure rate, according to Vertex Pharmaceuticals (VRTX), which makes Incivek.
About 12 percent of the hepatitis C patients in the U.S. are on Medicaid, the government health-insurance program for the poor, according to actuarial consulting firm Milliman Inc.
States are exploring ways to contain the cost to Medicaid programs, but they have "fairly limited" options at this point because federal law requires they cover every approved drug, said Matt Salo, executive director of the National Association of Medicaid Directors.
Molina would take the biggest hit among insurers this year, with earnings declining 18 percent if the drug has $6 billion in sales, according Wells Fargo. Molina, which covers 2.1 million Medicaid beneficiaries in 11 states, has been among the most vocal critics of Sovaldi's cost. It has asked state Medicaid directors to either pay for the drug directly or reimburse Molina for its cost. 
"If was a much smaller amount, we could absorb" Sovaldi's cost, said CEO Mario Molina. "But it's not." Molina said Molina Healthcare didn't plan for Sovaldi to cost so much and be so widely used.
Steve Miller, chief medical officer at Express Scripts, said it has talked with the pharmaceutical companies that are working on rival drugs about potential pricing.
Meantime, Express Scripts is asking a number of doctors like Mauricio Lisker-Melman whether some of their hepatitis C patients can wait until the rival drugs reach the market.
Lisker-Melman, director of the hepatology program at Washington University School of Medicine in St. Louis, said it is trying to distinguish between patients who need treatment right away because of the progression of their infections, and patients who could wait nine months or longer for the new regimens in development.
Nevertheless, the program hasn't faced pushback from health plans after prescribing Sovaldi to more than 100 patients. "The patients we tried to treat," he said, "we were able to treat."
More from The Wall Street Journal
DATA PROVIDERS
Copyright © 2014 Microsoft. All rights reserved.
Fundamental company data and historical chart data provided by Morningstar Inc. Real-time index quotes and delayed quotes supplied by Morningstar Inc. Quotes delayed by up to 15 minutes, except where indicated otherwise. Fund summary, fund performance and dividend data provided by Morningstar Inc. Analyst recommendations provided by Zacks Investment Research. StockScouter data provided by Verus Analytics. IPO data provided by Hoover's Inc. Index membership data provided by Morningstar Inc.
ABOUT
Top Stocks provides analysis about the most noteworthy stocks in the market each day, combining some of the best content from around the MSN Money site and the rest of the Web.
Contributors include professional investors and journalists affiliated with MSN Money.
Follow us on Twitter @topstocksmsn.