How about a Detroit ETF?
This may seem like a long shot, given the city's recent bankruptcy, but a basket of local publicly traded companies has served investors quite well this year.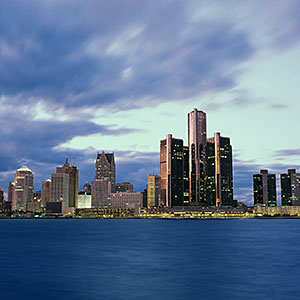 By 
The ETF Professor
The Nashville Area ETF (NASH), courtesy of LocalShares, commenced trading Thursday, marking the debut of the first city-specific ETF in the U.S. After just one trading day, it is too early to pass judgment on NASH.
It may have surprised some that Nashville, Tenn., would be the first city to get its own ETF, but there are plenty of companies in the region with which to build an ETF. NASH constituents include familiar names such as Dollar General (DG), HCA Holdings (HCA) and Louisiana Pacific (LPX), according to issuer data.
At this point it is just speculation, but if NASH is successful, that could spark the creation of some other city-specific ETFs. In the wake of the largest municipal bankruptcy in U.S. history, Detroit may not appear to be a likely candidate to get its own ETF, let alone see that ETF deliver good returns.

However, a basket of Detroit-area publicly traded companies has served investors quite well this year. Using a quasi-equal weight approach where prospective holdings of the theoretical Detroit ETF, which we will give the ticker "MOTR," are capped at 8% could have yielded impressive results.
Detroit is the "Motor City," and that means Ford (F) and General Motors (GM) must be included in MOTR's lineup. Those stocks combine for nearly 13% of the weight of the First Trust NASDAQ Global Auto Index Fund (CARZ), something that has worked out very well for that ETF this year (Benzinga).
Auto parts suppliers BorgWarner (BWA), Lear (LEA) and TRW (TRW) will need to be included as well. Again, not a bad thing as all three are flirting with new highs.
Sticking within the realm of old-line U.S. companies, Whirlpool (WHR) is not based too far from Motown. Up almost 21% in the past three months, the appliances maker hit a new high Thursday.
Assuming we cap all of MOTR's holdings at 8% and make some slight tweaks based on market value, it would be conceivable that the six stocks just mentioned would combine for 35 to 40% of the Detroit ETF's weight.
Dow Chemical (DOW), nearly 8.5% of the Materials Select Sector (SPDR), needs to be in MOTR, too, and arguably merits a weight of about 8%. Let's get some staples exposure to lower MOTR's beta a bit and another 8% to Battle Creek-based Kellogg (K), which is up 15% year-to-date.
How about some health care exposure? Medical device maker Stryker (SYK), the fourth-largest holding in the iShares U.S. Medical Devices ETF (IHI) fits the bill. Stryker shares have surged 27.2% this year and hit a new high Thursday.
Don't forget financial services. Shares of Midland-based Chemical Financial (CHFC) are up 25.2% year-to-date. Sure it is a micro-cap, but Alma-based Firstbank (FMBI) merits a slice of MOTR's financial services pie. After all, that stock is up 56% this year. Small-cap bank Flagstar (FBC) has been a laggard this year, but has soared over 30% in the past three months and could also occupy a small spot in MOTR's lineup.
And there we have the first ever ETF devoted exclusively to the greater Detroit area. Ticker: MOTR.
More from Benzinga

Got lost in Detroit once trying to find a company; took a wrong turn. Ended up driving past blocks and blocks of bombed out, burned out houses. Looked like pictures I'd seen of Dresden after WWII. Didn't want to stop and ask directions because the thugs on every street corner looked armed and dangerous.  Detroit is past the point of salvation, all the good people have left, leaving only the dregs of society.
Many of the companies mentioned in this article do not actually reside within Detroit. They left for the 'burbs years ago. And some are actively looking to leave the area entirely.
No thanks; I'll pass on a Detroit ETF.

of the 18$ billion debt, 9.2$ billion is in underfunded and unfunded pension and pension related goodies. the bankruptcy template calls for a 41% haircut to these pensioners. as of last year the federal governments underfunded obligations were a whopping 85$ trillions. i will get my s.s. without the haircut. you younger people in your 20's and 30's need to ask if you can dodge the detroit bullet 30 and 40 years from now?

As I recall there was something just like what you're proposing offered in Detroit some time back, when shares of K-Mart were offered out in-front of their remaining stores by some of their more-dedicated remaining employees!
Anyone remember how that attempt to re-invigorate the company went?  Those shares aren't even worth the cost of the paper that they were printed-on now!!!
A much more-intelligent investment would be buying-up shares of the Green Bay Packers IF any more shares are ever offered again!
Are you sure you want to delete this comment?
DATA PROVIDERS
Copyright © 2014 Microsoft. All rights reserved.
Fundamental company data and historical chart data provided by Morningstar Inc. Real-time index quotes and delayed quotes supplied by Morningstar Inc. Quotes delayed by up to 15 minutes, except where indicated otherwise. Fund summary, fund performance and dividend data provided by Morningstar Inc. Analyst recommendations provided by Zacks Investment Research. StockScouter data provided by Verus Analytics. IPO data provided by Hoover's Inc. Index membership data provided by Morningstar Inc.
ABOUT
Top Stocks provides analysis about the most noteworthy stocks in the market each day, combining some of the best content from around the MSN Money site and the rest of the Web.
Contributors include professional investors and journalists affiliated with MSN Money.
Follow us on Twitter @topstocksmsn.