How Bank of America's settlement affects you
It isn't a huge payout compared to others, but it shows that the Consumer Financial Protection Bureau means business.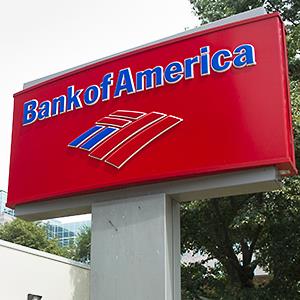 By Eric Volkman, The Motley Fool
Well, that settles it. Bank of America (BAC), the latest bank to hammer out a deal with a regulator, has agreed to pay out roughly $772 million to retire allegations of deceitful business practices. 

The Consumer Financial Protection Bureau -- the government's watchdog for customers of financial institutions -- claimed that Bank of America engaged in "deceptive marketing of their [credit card] add-on products." 
Let's dig in to the settlement a bit to see what it means for both the lender and its affected customers.
What exactly are the CFPB's allegations?
For years, Bank of America assertively hawked a series of credit card payment add-ons. Two of these, Credit Protection Plus and Credit Protection deluxe, promised the cancellation of a certain amount of card debt in the event of awful circumstances such as the customer being fired from a job.
Apparently, though, salespeople would promise the first 30 days of coverage free of charge, when in fact the customer was being levied fees for the service from the beginning of enrollment, says the regulator. It also claims that Bank of America representatives were less than honest about the enrollment process itself, claiming that it involved a number of steps but in actuality signing customers up for the program immediately.
As for the benefits of the programs, the CFPB says that in some cases the company exaggerated the period of time customers were eligible for them, and misled clients into thinking they would automatically be entitled to a $25,000 death contingency (actually, they could only qualify through a formal submission and approval process).
The regulator also says that Bank of America played shady games with its identity protection add-ons. Allegedly the bank charged for services never received by enrolled customers of  the products, which bear the reassuring titles Privacy Guard, Privacy Source, and Privacy Assist. Apparently the company also levied what the CFPB characterizes as "unfair" fees for the products, which in a number of instances led to clients exceeding their credit card account limit . . . in turn, generating penalty interest and more monies for the bank.
According to the CFPB figures, around 1.4 million Bank of America customers were affected by the "deceptive" marketing claims, while 1.9 million were improperly charged for services they did not receive.
And who's getting that money?
Nearly all of the settlement amount -- up to $727 million -- will be paid to the affected customers in the form of refunds and "additional redress" paid as credit to their accounts or by check. How much they get depends on the product(s) they were enrolled in, the length of time enrolled, and whether or not they filed a formal request for benefits or a complaint regarding same to the bank or the CFPB.
Bank of America has already gotten the ball rolling. According to the CFPB, almost 1.4 million clients who purchased the credit protection add-ons have already been compensated, or will be in the future, to the tune of at least $250 million in total. 
The company will also have to fork over piles of dough to the Feds. It is to pay a $20 million civil money penalty to the CFPB, and a $25 million to the Office of the Comptroller of the Currency.  
Bank of America will not only be coughing up cash for the settlement. It has also agreed to a set of enforcement actions, namely to stop marketing credit protection and monitoring add-ons until it submits a compliance plan to the regulator for approval. Almost needless to say, it will also cease the "unfair" billing practices the CFPB found so irksome.
Will other big banks be investigated by the CFPB?
Most likely, yes. Since it began life in 2011, the CFPB has been active in going after financials it believes engage in manipulative or unfair practices with their clients. And it certainly hasn't shied away from the big guys in doing so; in a similar case to Bank of America, last September it ordered two subsidiaries of JPMorgan Chase (JPM) to refund approximately $309 million to more than 2 million customers for unfair billing of credit monitoring services that were never provided.
That was a little over a year after the regulator's first enforcement action, a collective $140 million in refunds it obligated Capital One (COF) to pay around 2 million of its customers in order to compensate for, yes, deceptive marketing practices for credit card add-ons.
The Bank of America settlement isn't a huge one by the incumbent financial's standards -- it's dwarfed by the roughly $9.5 billion pact the bank agreed with the Federal Housing Finance Agency in late March over the sale of mortgage-backed securities. The credit card case does, however, indicate that the CFPB means business, and has the will and resources to come after financials it believes don't play fair with their customers. Considering that, we should expect more such investigations -- and settlements -- in the future from this determined regulator. 
Your credit card may soon be completely worthless
The plastic in your wallet is about to go the way of the typewriter, the VCR, and the 8-track tape player. When it does, a handful of investors could stand to get very rich. You can join them -- but you must act now. An eye-opening new presentation reveals the full story on why your credit card is about to be worthless -- and highlights one little-known company sitting at the epicenter of an earth-shaking movement that could hand early investors the kind of profits we haven't seen since the dot-com days. Click here to watch this stunning video.
Disclosure: Eric Volkman has no position in any stocks mentioned. The Motley Fool recommends Bank of America, and owns shares of Bank of America, Capital One, and JPMorgan Chase. 
More from The Motley Fool
DATA PROVIDERS
Copyright © 2014 Microsoft. All rights reserved.
Fundamental company data and historical chart data provided by Morningstar Inc. Real-time index quotes and delayed quotes supplied by Morningstar Inc. Quotes delayed by up to 15 minutes, except where indicated otherwise. Fund summary, fund performance and dividend data provided by Morningstar Inc. Analyst recommendations provided by Zacks Investment Research. StockScouter data provided by Verus Analytics. IPO data provided by Hoover's Inc. Index membership data provided by Morningstar Inc.
ABOUT
Top Stocks provides analysis about the most noteworthy stocks in the market each day, combining some of the best content from around the MSN Money site and the rest of the Web.
Contributors include professional investors and journalists affiliated with MSN Money.
Follow us on Twitter @topstocksmsn.