How long can the S&P 500 keep 2,000?
The Federal Reserve and Congressional politics threaten to rain on the market party.

By Anthony Mirhaydari
The bulls have roared out of early August lows in one of the smoothest, most powerful V-shaped rebounds in market history.

And on Tuesday, after flirting with the level the day before, the Standard & Poor's 500 Index ($INX) closed above the 2,000 level for the first time ever -- albeit by the slimmest of margins at 2,000.02. Overall, the index is up more than 5 percent from the low set on Aug. 7.
The big question is: Will the gains continue . . . or is it time to sell?
Last week, I listed three big reasons why the S&P 500 would cross the 2,000 threshold and recommended investors and clients prepare for the rise. All three are still in play.
For one, geopolitical tensions in Ukraine and Iraq were easing -- a dynamic that continues. The whitewashed Russian humanitarian convey didn't end up being the Trojan horse many feared. And President Obama, fresh off his vacation, seems determined to keep the pressure on Isis Sunni extremists in Iraq and Syria.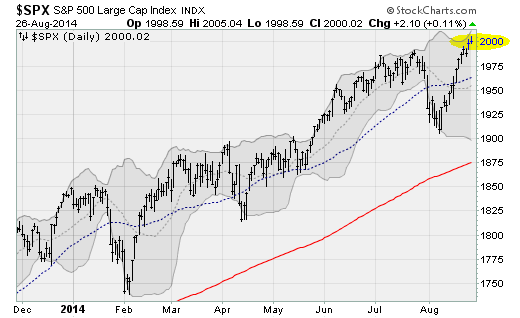 Also, concerns that the Federal Reserve was set to raise short-term interest rates in the early part of 2015 given strong economic data (particularly on jobs) has faded somewhat as more recent data (on inflation, particularly) has been soft. Dovish policymakers at the Fed have capitalized on this to push back against the more hawkish members, who were making a lot of noise in late July and early August about the risks of delaying an interest rate hike -- which hasn't happened since 2006.
And the technicals were turning around with market breadth -- or the percentage of stocks participating to the upside -- flashing its first solid buy signal since April.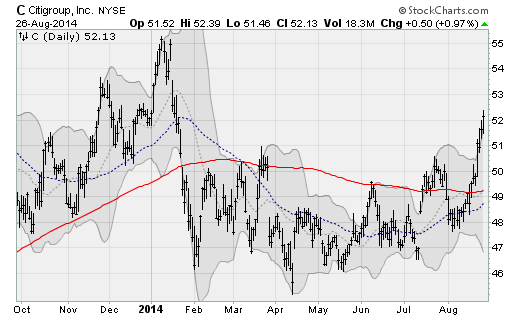 I recommended picks like both common shares and call options in JCPenney (JCP) and options contracts in Bank of America (BAC) and Citigroup (C) to capitalize on the move. This came after a number of profitable trades to the downside as stocks bottomed in early August, including a near-350 percent gain in Sprint (S) Aug $8 puts and a 204 percent gain in ConocoPhillips (COP) Aug $84 puts.
JCP common shares are up nearly 9 percent since recommended on Aug. 19 while the Sep $10 calls are up some 175 percent since recommended to Edge Pro clients.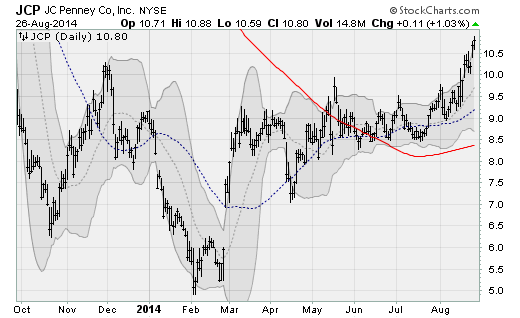 All still look good for further upside, as the market looks like it has the momentum and the support to keep rising into late September.
But after that, a number of new hurdles could stop the party.

Standing in the S&P 500's way
For one, there's the likelihood that the Federal Reserve ends its QE3 bond purchase stimulus in October, assuming the economy remains robust. The program has been in place since late 2012 and has kept selloffs during this time short and sweet. Prior periods of no QE activity in 2010 and 2011 were associated with harrowing market corrections.
Any severe acceleration in the economic data, especially inflation, also could bring back the hawkish chatter out of the Fed.
And let's not forget that the sure-to-be-contentio​us Congressional mid-term elections loom in November. With a GOP takeover of the Senate the more likely outcome at this point, according to Nate Silver at FiveThirtyEight, we could be on the cusp of a fresh round of budget battles between Congress and the White House. We haven't seen a fiscal faceoff since late 2012. The specter of debt defaults and additional credit rating downgrades isn't going to be good news for investor confidence.
Finally, while the stock market rebound out of the early August lows has been powerful, it hasn't exactly been flawless. Volume has been weak; Tuesday's rise to a record occurred on the lowest volume of the year. The bond market has been less enthusiastic, with high-yield credit basically flat-lining since Aug. 19.
But for now, new opportunities beckon as the more aggressive, more cyclical areas of the market lead the charge higher, including biotechnology, banks, industrials and retail stocks.
New opportunities include National Bank of Greece (NBG), which is lifted not only by the general interest in bank stocks right now but the rebound eurozone stocks are enjoying thanks to rising expectations of fresh stimulus out of the European Central Bank.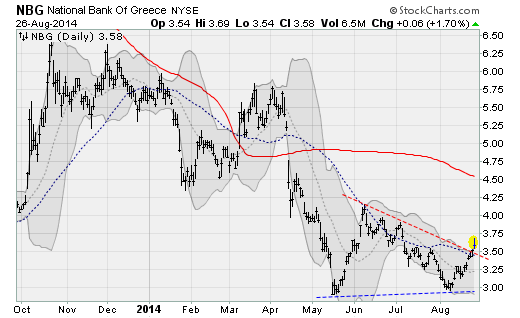 I recommended NBG shares to Edge Letter subscribers early on Tuesday.
More from InvestorPlace
Anthony Mirhaydari is founder of the Edge and Edge Pro investment advisory newsletters, as well as Mirhaydari Capital Management, a registered investment advisory firm. As of this writing, Anthony had recommended JCP and JCP calls, BAC and C calls, and NBG to his clients.


Funny, I don't remember Tony the Timid Mirhaydari predicting anything other than doom and gloom the last 8 years. Of course, he has been wrong repeatedly. I heard his clients only use him because they need losses as a tax write-off. Investors, the only thing you need to know is this market will continue to go UP until the last day that President Obama is in office. I predict S&P 2200 soon. Stay long in ticker SCHD and other S&P500-based ETFs and look for a rise in ticker BX as they begin selling off profitable assets in the second half. Lord, I wish I had a GED like Tony so I could sit in an air conditioned office fleecing the elderly all day but some of us have to work for a living. Better hope they don't read this blog because I heard Federal prison is getting bad, Tony.

You don't ever short a massively manipulated Global Stock Market yet that's is exactly what some folks continue to do. By doing so, the Markets can rise far higher then what would be otherwise possible. The Question really isn't how long this Level or higher will be held, the Real Question is what will be the price later for anyone buying and Holding to Infinity a Front Loaded Market juiced by Corrupted Central Bankers.

The other question, why was my previous post deleted. Apparently the Stock Market Gains aren't the only thing in Jeopardy, seems free Speech is as well. There wasn't any copyright violations or foul language. Guess some folks don't want others to hear the truth.


as long as the so called investors are greedy and never want to spend their own money but they just leave them for the big mean rich to exploit the other peoples money the so called investors and the saver. money not spent are moneys used and owned by the big mean rich greedy bunch of ($$$$$$).

Are you sure you want to delete this comment?
DATA PROVIDERS
Copyright © 2014 Microsoft. All rights reserved.
Fundamental company data and historical chart data provided by Morningstar Inc. Real-time index quotes and delayed quotes supplied by Morningstar Inc. Quotes delayed by up to 15 minutes, except where indicated otherwise. Fund summary, fund performance and dividend data provided by Morningstar Inc. Analyst recommendations provided by Zacks Investment Research. StockScouter data provided by Verus Analytics. IPO data provided by Hoover's Inc. Index membership data provided by Morningstar Inc.
ABOUT
Top Stocks provides analysis about the most noteworthy stocks in the market each day, combining some of the best content from around the MSN Money site and the rest of the Web.
Contributors include professional investors and journalists affiliated with MSN Money.
Follow us on Twitter @topstocksmsn.