How to profit from the inevitable sell-off
Downturns are a fact of life -- even in bull markets. But for smart investors, it's an opportunity to profit.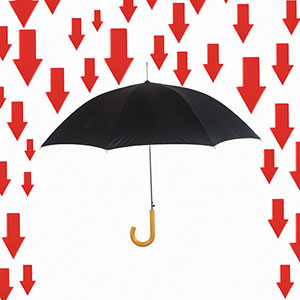 By David Goodboy                                                                        

The stock market has been on a wild roller-coaster ride recently.
Political posturing, the government shutdown, debt default fears and an earnings smorgasbord have all hit stocks at the same time -- but despite the bumpy ride, the action has been textbook for experienced investors.
We witnessed the fear of a government default knock shares lower for several weeks, and then rumors of a solution sent markets surging higher. However, when the final-hour solution was finally announced, stocks slumped. This sell-off may have left many investors dumbfounded on why stocks sold to great news -- but it happens often in the financial markets.
This is a classic example of the "buy the rumor, sell the news" effect. Hype and perception have a more powerful effect than reality on short-term stock price movement. In other words, the excitement associated with the possibility of a bullish event is the true bullish price driver. When the actual event occurs, the bullish excitement is gone, and the big-money investors take profits, sending the market lower. It may seem counterintuitive that perception matters more than reality for short-term stock price movements, but that's the typical pattern.
Many other factors can cause stock prices to drop. Macroeconomic fears affect the broad market in a negative way, and individual stocks can get knocked down for dozens of reasons: missed earnings estimates, poor quarterly results, negative rumors, management shenanigans, even simple profit-taking.
The good news is that savvy investors can profit from this inevitable negative stock market action in three primary ways.
1. Shorting shares
The most popular way to profit from a down market or stock is through shorting. This means you place a trade in anticipation of the price falling rather than appreciating. I know it sounds complicated, but it's actually quite easy.
The way it works is, your broker loans you the shares at a certain price. The goal is to sell the shares back to your broker at a lower price, and you get to keep the difference between the loaned (short) price and the price that you sell the shares back to your broker.
Selling the shares back is called covering. Shorting can be done with individual stocks or exchange-traded funds (ETFs). An ETF such as the
SPDR S&P 500
(
SPY
) can be shorted to participate in broad market sell-offs. You need to have a margin account and be approved for short selling at your broker in order to sell short.
2. Put options
While there are all kinds of different option strategies for a wide variety of stock market conditions, buying a put is the simplest way to profit from a decline. A put option is a bet that the stock or ETF will fall in price within a certain time frame. It climbs in price as the share price drops.
Buying a put limits your downside risk to the price you paid for the option. However, puts are very time-sensitive. This means that not only does the underlying share price need to drop, but it needs to drop within the lifespan of the put. Most puts expire on a monthly basis, and they all decrease in value as the time to expiration draws closer.
Puts are highly effective tools for betting on a particular known event's effect on price. If you anticipate the earnings report will be bad for a particular stock, buying puts to benefit from the resulting price drop makes sense.
3. Inverse ETFs
ETFs have opened new markets to investors.
Today, investors can access markets, indexes and complex trading ideas with the same ease as purchasing a share of stock through ETFs. A certain breed of ETFs known as inverse ETFs earns profits when the underlying instruments drop in value. This is accomplished by a complex mixture of future contracts and other derivatives to obtain the inverse movement in the ETF. Fortunately, as investors, we don't need to fully understand the mechanics of how inverse ETFs actually work. Our job is to understand how to use them for maximum profit.
Inverse ETFs are available on a variety on underlying stock indexes. There are even inverse ETFs that leverage the underlying index as much as three times. In simple terms, 3X leveraged inverse ETFs move 3 points for every 1 point the underlying index moves. This leverage makes them extremely volatile, and they're designed to follow the daily motion of the index not the long-term motion. This makes leveraged inverse ETFs only suitable for shoort-term, sophisticated investors who fully understand the risks and how they work.
Examples of inverse ETFs include
ProShares' Short Dow 30
(
DOG
),
Short S&P 500
(
SH
) and
Short MSCI Emerging Markets
(
EUM
). Leveraged inverse ETFs include
Direxion's Daily Large Cap Bear 3X
(
BGZ
),
Daily Real Estate Bear 3X
(
DRV
) and the aptly tickered
Daily Health Care Bear 3X
(
SICK
), among many others.
Non-leveraged inverse ETFs can be bought and held just like any stock. They are ideal for catching long-term down trends in whatever the underlying instruments are.
Risks to Consider: Shorting stocks goes against the long-term upward trend of the stock market. However, it can be a highly effective tool for profiting from negative events and other sell-offs. Theoretically, your risk is unlimited should a shorted stock keep going against your position without you taking the loss. However, in reality, stocks don't move upward forever. Regardless, shorting stocks is risky, requiring timing and experience. Buying a put or using non-leveraged inverse ETFs is a much simpler way to profit from an expected sell-off. If you are able to time the selling, a triple-leveraged inverse ETF makes sense for a short-term holding period. Be prepared for heavy volatility.
Action to Take: Practice shorting stocks in your demo account. Most brokers have a demo platform that allows you to practice various investments and trades. Try a leveraged inverse ETF and buying a put in your demo account as practice before using real money. Note how the investments move relative to the underlying instrument, as well as how much margin is required to short directly. If you take the time to practice shorting, your chances of not making rookie mistakes with real money increases exponentially.
David Goodboy does not personally hold positions in any securities mentioned in this article.
StreetAuthority LLC does not hold positions in any securities mentioned in this article.
More from StreetAuthority
DATA PROVIDERS
Copyright © 2014 Microsoft. All rights reserved.
Fundamental company data and historical chart data provided by Morningstar Inc. Real-time index quotes and delayed quotes supplied by Morningstar Inc. Quotes delayed by up to 15 minutes, except where indicated otherwise. Fund summary, fund performance and dividend data provided by Morningstar Inc. Analyst recommendations provided by Zacks Investment Research. StockScouter data provided by Verus Analytics. IPO data provided by Hoover's Inc. Index membership data provided by Morningstar Inc.
ABOUT
Top Stocks provides analysis about the most noteworthy stocks in the market each day, combining some of the best content from around the MSN Money site and the rest of the Web.
Contributors include professional investors and journalists affiliated with MSN Money.
Follow us on Twitter @topstocksmsn.