If Spirit's fees are so bad, why is the stock up 91%?
The airliner is leading a sector in which most major players' shares gained at least 30% this year.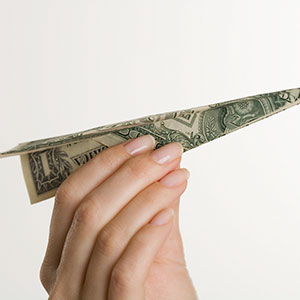 By Ted Reed
The first half of 2013 has been a good time for airline stocks, but it's been a great time for shares of Spirit (SAVE).
Spirit's stock has gained 91% through Wednesday to lead the sector in which most big carriers show gains above 30%.
Spirit often makes news for the wrong reasons: Its high fees invite coverage from a segment of the media that seeks to attract eyeballs by displaying outrage. For instance, one recent TV story was titled, "Five Outrageous Spirit Airlines Fees," while another was called, "Spirit Airlines Criticized for Charging Customers 70 Different Fees."
Perhaps it's a benefit that Spirit shares come at an all-in, clearly defined price -- at Wednesday's close they were at $33.87.
Nearly every airline has a good story to tell this year, and not just because of the industry backdrop of rising demand, diminished capacity, rational growth and newly found fee revenue. Delta (DAL), leading the industry resurgence, is up 68%. US Airways (LCC) is up 37% on merger expectations, and United (UAL) is up 44% as it is recovering from a clumsy operational merger.
Southwest (LUV), which quadrupled its dividend, is up 33%. Alaska Airlines (ALK), which follows Wall Street's playbook chapter by chapter, is up 43% (TheStreet).
As for Spirit, it keeps cost low, pushes the envelope of revenue sources and keeps growing profitably. The carrier plans to grow about 22% this year and 15% to 20% over the next several years.
Avondale Partners analyst Fred Lowrance has an "outperform" rating on the stock and a $37 price target. On Tuesday, he raised his second-quarter earnings estimate to 62 cents a share, in line with consensus from analysts surveyed by Thomson Reuters. Spirit will report earnings next Wednesday.
"With its unbundled fare, ultra-low cost model, Spirit is able to profitably offer significantly lower fares than its competition could possibly match for any extended period of time," Lowrance wrote. "As such, Spirit stimulates demand, principally among leisure travelers who also tend to opt-in for multiple high margin ancillary product offerings.
"As an airline with a truly unique product, we believe the number of addressable markets and route pairs is much larger than Spirit's current network -- supporting profitable growth for many years to come."
Lowrance noted that Spirit trades at a 12% discount to Allegiant (ALGT), its closest competitor, based on full-year 2014 earnings per share.
However, Wolfe Research analyst Hunter Keay worries that shares may have peaked. "Spirit continues to execute well above peers, but sentiment is as bullish as it has ever been in our view," Keay wrote in a recent report. "We caution that Spirit has had slip-ups in the past, and the risk/reward of Spirit's current valuation makes it hard for us to justify an outperform rating at this point. We would become more interested on a pullback."
In 2012, between Sept. 12 and Sept. 18, Spirit shares lost 20% after the carrier reported lower-than-expected revenue per available seat mile in August, raising doubts about the business model. "Sentiment in the name now feels even better than it did in the first half of 2012 before the stock declined," Keay wrote. Any potential hiccup could be exacerbated given the still somewhat unproven nature of the business model."
Another troubling note: While the assumption is that Spirit passengers are happy with the airline's peculiarities, they seem to complain quite a bit. In May, according to the U.S. Transportation Department, Spirit had 80 customer complaints, the third highest total, even though Spirit is the 11th largest airline. Top five for complaints included United with149, American with 136, US Airways with 62, and Delta with 55.
More from TheStreet.com
ABOUT
Top Stocks provides analysis about the most noteworthy stocks in the market each day, combining some of the best content from around the MSN Money site and the rest of the Web.
Contributors include professional investors and journalists affiliated with MSN Money.
Follow us on Twitter @topstocksmsn.