Ignore the stubborn gloom-and-doom cabal
That cohort of naysayers never dies no matter what the market shows us.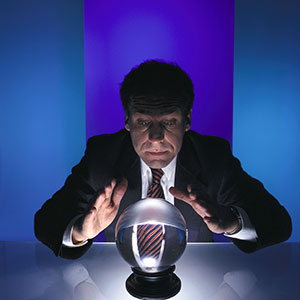 It's giving you every reason to sell off. Somehow, even though Black Friday obviously can't

have been as strong as Black Fridays of the past because stores opened on Thanksgiving, the press has pronounced the holiday season a bust.
Somehow, despite a wholesale shift in spending to online, we don't bother to account it in holiday spending. Somehow we have decided that the consumer is, once again, tapped out -- and, no matter how many times the consumer hasn't actually been tapped out, the press has ruled she has been.

If you believe these stories, then just go short Target (TGT) and Wal-Mart (WMT). They are the two that stand for this weakness. Dump some J.C. Penney (JCP), too. I think these are sucker trades, as they reflect a ton of gloom, but there's always someone out there who didn't get the memo.
Another reason the market can sell off is that interest rates are still inching higher. The further away Treasuries go from 2.5%, the more we will have the pernicious discussion of Fed tapering/lost control/worthless money, et cetera, that has bird-dogged us for ages. Every time I see Marc Faber of Gloom, Doom and Boom fame, I am reminded that this cohort never dies -- these people who consistently think that this is the market's last breath.
This man has had big shoes to fill, having to take up the space left by both Meredith Whitney and Nouriel Roubini. Sometimes I wonder: If his newsletter weren't so catchily named, would we would have to deal with this man's prattle ever again? In all of the years I have known or read him, in almost ever critical juncture, he's been negative -- the boom a prelude only to gloom and doom -- that I am amazed that he is still in the Rolodex of the bookers out there. It doesn't matter. There's always bear fodder, so we might as well trot out this cynic and let him ramble on about the world's end. It's a gloomy job, and someone has to do it.
The market can sell off because the headlines about health care are as grim as ever, and we are finally seeing exactly what little testing the government did on the website before they took this thing live. Still, Oracle (ORCL) is the only big company that has come up as being part of the problem initially: The New York Times snuck in a little mention of it in the paper's investigation of the story. The lovers and apologists for Oracle will conveniently overlook that alleged screw-up. I kept looking for Caterpillar (CAT) and Cisco (CSCO) in there as two companies that botched things. But, then again, I don't think they were involved, not that a nexus is needed for these guys to blow it.
Lost in all of this gloom, doom and kaboom is, alas, the kaboom, because we keep getting some pretty darned good earnings. This is something that never seems to fit into the calculus of Faber and the others who get ginned up when we need to verify how bogus the whole market rally is.
I parsed through Hewlett-Packard's (HPQ) numbers over the weekend and, dare I say, this company is back and it's starting to really turn. The stock is very inexpensive, and the forthcoming year-over-year comparisons will be easy. I can't wait until this company invents the ultimate 2-D printer -- it has the technology in its Israeli division -- so we don't have to hear about Voxeljet (VJET) anymore. You can say it was all made with headcount cuts. I could come back and say that HP CEO Meg Whitman had to cut heads before the company could grow. That's how all successful turnarounds are done, and she's just finishing stage one.
There were no flies on Tiffany (TIF) or Workday (WDAY) last week, either. When the worst quarter you get is from Cracker Barrel Old Country Store (CBRL), whose shares were already up 70% going into the quarter, you can't really reach a lot of negative conclusions about the market, even as I see people contort themselves into doing so pretty much on an hourly basis.
So let's see what this extended market brings in this new month. To me it will bring price breaks that will be quickly met by buying. That's simply because we only have five more shopping weeks until those who subscribe to the gloom and doom but not the boom start getting their assets stripped away, as surely as a mine is stripped on pretty much a daily basis.

Jim Cramer's Action Alerts PLUS: Check out Cramer's multi-million dollar charitable trust portfolio and uncover the stocks he thinks could be HUGE winners. See it FREE today!
DATA PROVIDERS
Copyright © 2014 Microsoft. All rights reserved.
Fundamental company data and historical chart data provided by Morningstar Inc. Real-time index quotes and delayed quotes supplied by Morningstar Inc. Quotes delayed by up to 15 minutes, except where indicated otherwise. Fund summary, fund performance and dividend data provided by Morningstar Inc. Analyst recommendations provided by Zacks Investment Research. StockScouter data provided by Verus Analytics. IPO data provided by Hoover's Inc. Index membership data provided by Morningstar Inc.
ABOUT
Top Stocks provides analysis about the most noteworthy stocks in the market each day, combining some of the best content from around the MSN Money site and the rest of the Web.
Contributors include professional investors and journalists affiliated with MSN Money.
Follow us on Twitter @topstocksmsn.