In earnings, the tone makes the music
A good quarter is a good quarter. Don't hide it under a blanket of worry, and don't accentuate the negative.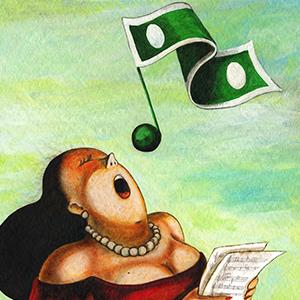 Does tone matter? Should we care about inflection and word choice on conference calls?
You bet we should. Here's why.
When Honeywell (HON) and Domino's (DPZ) reported their quarters Friday and today, both stocks flew higher on their better-than-expected​ numbers and good commentary. Both CEOs, Dave Cote and Pat Doyle, played it straight, giving the highlights and then telling their stories. In each case, the confidence they had about the future ran throughout the calls. Most important, they gave very little reason to sell because, alas, there weren't really any reasons to sell.

But go back a previous quarter. In each case both men spent an inordinate amount of time talking about the negatives -- or at least, as I would describe it, telling you things they might be worried about or weren't happy with.
In both cases the reaction was instantaneous. The caveats struck home and caused sellers to come in, sellers who I think felt less positive about the story going out than they did going in.
If you go back and read the transcripts of those last quarters, here's what you will discover: They are entirely consistent with what was reported this quarter. For example, I thought that on the last quarter Domino's really pressed the issue of higher cheese prices. Given that it's a franchise model, frankly, I thought it was an over-the-top negative discussion. I like Domino's because it is a franchise power house that's not dependent on raw cost variables like cheese.
But people really got freaked out and sold, and sold Domino's hard. There was a lot of chatter that this great story was at last over and had run its course.
This time, though, raw costs weren't emphasized at all, except to talk about some supply chain issues. You really had to be a negativist to take action on that. Plus, Doyle was uniformly upbeat and totally into telling a positive story. There was no puffery, no exaggeration. The facts spoke for themselves. The relevant facts. And that's what mattered. So the stock soared 3 points.
In the previous Honeywell call, back in April, Dave Cote told a good call but he wrapped it all up in a statement saying that "we are cautiously optimistic." It seemed out of place to me. The whole story was terrific. Why not just say "we are optimistic"? Without a caveat. No wonder the stock fell from $93.90 when the call began to $92.20 when Cote wrapped up.
Now, go over this call. The caveats are gone. The headwinds people are always so worried about? Cote said "they are nearly behind us." This time, instead of being cautious, Cote said "we remain confident in our outlook." It made all the difference in the world. The stock opened up and then never looked back. 
Confidence vs. caution. Inflation headwinds vs. typical supply chain management. Just subtly different ways, but ways that are more accurate in telling the story, which was good, both in the April quarter and in this.
After the downturn we have been through, no one can blame a CEO for being cautious or negative or even pessimistic at one point or another. However, if the story is good, just tell the story. Don't stress a negative. Don't worry about jinxing yourself by not expressing caution.
A good quarter is a good quarter. Don't hide it under a blanket of worry, and don't accentuate a negative that isn't going to really impact the story. That's the lesson of two excellent back-to-back quarters at both Honeywell and Domino's, but only one of each shone through.
Jim Cramer's Action Alerts Plus: Check out this charitable trust portfolio for the stocks Cramer thinks could be winners.
More from TheStreet

"A good quarter is a good quarter. Don't hide it under a blanket of worry, and don't accentuate the negative."
Well it's rare that a CEO will ever allow anyone to accentuate the negative from their own camp. If anything, they are always over selling a given quarter. All this nonsense of beating Bogus estimates has to be the biggest Scam going these days concerning Analyst.

Just give the year over year and quarter over quarter results and that basically speaks for itself. Everybody claims you can't predict the Future so Analyst and CEO types should stop behaving as if they are gifted to do otherwise. Most Can't.
The Tone is the Massive amount of Corporate Buybacks and the continual Cheap Crack-Dollars funding it. When that starts to Fade so will the markets. Most Companies will be left with buying their own overpriced Shares while Companies that actually invested in Cap X are eating their Cake. Meanwhile the actual Workers are still getting the Finger.

Are you sure you want to delete this comment?
DATA PROVIDERS
Copyright © 2014 Microsoft. All rights reserved.
Fundamental company data and historical chart data provided by Morningstar Inc. Real-time index quotes and delayed quotes supplied by Morningstar Inc. Quotes delayed by up to 15 minutes, except where indicated otherwise. Fund summary, fund performance and dividend data provided by Morningstar Inc. Analyst recommendations provided by Zacks Investment Research. StockScouter data provided by Verus Analytics. IPO data provided by Hoover's Inc. Index membership data provided by Morningstar Inc.
ABOUT
Top Stocks provides analysis about the most noteworthy stocks in the market each day, combining some of the best content from around the MSN Money site and the rest of the Web.
Contributors include professional investors and journalists affiliated with MSN Money.
Follow us on Twitter @topstocksmsn.