Inside Wall Street: US Airways winging up
With its planned merger blocked by the Justice Department, shares have been grounded -- enhancing the allure of the stock.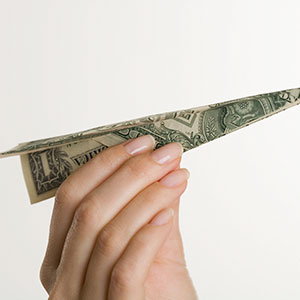 The pummeling that US Airways (LCC) suffered after the Department of Justice filed a lawsuit to block its proposed merger with AMR (AMR), parent of American Airlines, is a godsend to opportunistic investors.
The stock has fallen precipitously, to $15 a share from nearly $20 within a few days after the government's surprise decision to thwart the combination. But that has only enhanced the allure of US Airways' shares. The stock has since edged up to over $16.
What the the stock's sharp decline did was to take out the premium that the proposed merger had created. It didn't eliminate the stock's attraction based on its fundamentals; it simply made US Airways' valuation much more attractive.
Here's why. It's not at all certain that the government will succeed in killing the merger. US Airways management vowed to fight back, asserting that only a federal judge can stop a merger. But even if the Justice Dept. succeeds in blocking the proposed deal, it puts the stock on a new premier class: It's clear that US Airways is now in play, either as a takeover target or a merger candidate.
That scenario should only boost the stock's price as arbitrageurs and traders would be enticed to come back to the stock. A stock gets heated whenever the merger pros take over trading in a stock.
Equally important, the fundamentals surrounding US Airways have improved, according to industry analysts. They expect the stock's valuation to be enhanced based in part on analysts' projection of increased demand for airline stocks.
One industry analyst who has maintained his "buy" recommendation on the stock despite the government's negative reaction to the proposed merger is Jim Corridore of S&P Capital IQ.
"Our positive outlook on the shares reflects what we see as good demand for air travel, along with our view that airline stocks, including US Airways, are likely to benefit from increased investor interest n the sector," said Corridore. And the proposed merger with American, he added, would solve US Airways' international problem and allow it to compete head-to-head with other U.S. global network carriers.
He expects the company's revenues to rise 3% in 2013 after a 6% increase in 2012. One other fundamental positive: The airlines are expected to further raise fares because of increased travel as the economy picks up more steam. The industry's capacity cutbacks over the past three years have also been helping the airlines to boost fares.
Analyst Jeffrey A. Kauffman of investment firm Sterne Agee, who has also remained bullish on US Airways, has raised his 2013 earnings forecast to $3.80 a share from $3.62. For 2014, the analyst expects the airline to earn $4.20 a share. Part of the reason behind his increased estimates is projected lower fuel costs. The company's recent lower fuel price guidance, he says, more than offsets the weakness in corporate travel resulting from the sequester.
Kauffman has also raised his price target for the stock, to $26 a share from $23, regardless of whether or not the merger goes through.
And if the combination with American gets the green signal, the stock should even climb much higher as analysts scramble to raise their forecasts on earnings and a potentially much higher price stock valuation.

Gene Marcial wrote the column "Inside Wall Street" for Business Week for 28 years and now writes for MSN Money's Top Stocks. He also wrote the book "Seven Commandments of Stock Investing," published by FT Press.
More on TopStocks
MSN Money on Twitter and Facebook
Like us on Facebook: MSN Money and Top Stocks
Follow us on Twitter: @msn_money and @topstocksmsn

"The airlines are expected to further raise fares because of increased travel as the economy picks up more steam"...hmmm, to me, this economy is barely getting by. Jobs are continually being shipped overseas, our country is slowly deteriorating, as wages are not keeping up with inflation, as well as many other issues. The government can't seem to get a grasp on fixing what's wrong with this economy, and keep kicking the can down the road. Fuel is the biggest expense for airlines, and if the middle east continues as is, there could be major disruptions, and those fuel savings now, can go out the window in a matter of days. The airlines will be back to losing money, and one of the airlines here in the US will go out of business.
  Still too many domestic carriers here in the USA, and I believe USAIR will be the one looking for the empty chair. Now that American was able to stick it to their employees through a false BK filing, they will be the one to prosper. USAIR is basically a domestic carrier, and they will get squeezed. If Southwest wants to put the squeeze on them, they can easily pressure USAIR. This article states that they could be bought out, but, who in the heck can do it? Southwest would be the only one.
  USAIR was an airline a few years back, that was so close to going belly up. BK saved them, as well as all the airlines for that matter. I would shy away from USAIR stock, and lean toward American, as soon as something finally comes out on the merger. The stock market is basically Vega$$, but a bad bet in USAIR  stock would not be my choice. We shall see, but, much better companies to invest in..
Are you sure you want to delete this comment?
DATA PROVIDERS
Copyright © 2014 Microsoft. All rights reserved.
Fundamental company data and historical chart data provided by Morningstar Inc. Real-time index quotes and delayed quotes supplied by Morningstar Inc. Quotes delayed by up to 15 minutes, except where indicated otherwise. Fund summary, fund performance and dividend data provided by Morningstar Inc. Analyst recommendations provided by Zacks Investment Research. StockScouter data provided by Verus Analytics. IPO data provided by Hoover's Inc. Index membership data provided by Morningstar Inc.
ABOUT
Top Stocks provides analysis about the most noteworthy stocks in the market each day, combining some of the best content from around the MSN Money site and the rest of the Web.
Contributors include professional investors and journalists affiliated with MSN Money.
Follow us on Twitter @topstocksmsn.