Investors overreacted to Yellen's comments
The Fed chair's statement was hedged to within inches of meaninglessness. The last thing she wanted to do was make news.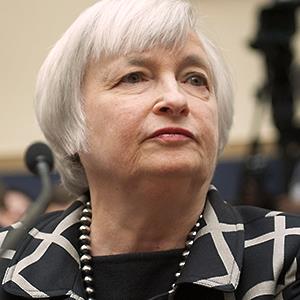 By Rob Garver, The Fiscal Times
For a Federal Reserve Board chair, there are many rites of passage. There's the first rude question from a lawmaker during a confirmation hearing. There's the first Federal Open Market Committee meeting. And of course, there's the first market-shaking slip of the tongue. 

Janet Yellen (pictured) rattled the markets for the first time on Wednesday in her first post-FOMC press conference. 
She suggested that the Fed might consider raising interest rates "around six months" after it winds down its current practice of purchasing Treasury and mortgage-backed securities sometime later this year. And stocks tumbled, with the S&P 500 index ($INX) dropping by more than a full percentage point before recovering to close 0.61 percentage points off the open. Bond yields spiked as investors anticipated higher interest rates. 
To be clear, this was silly. Yellen's statement, taken in context, was qualified, hedged and caveated to within inches of meaninglessness. But when a Fed chair speaks, the combination of media hype and a market that appears to have only passing acquaintance with rationality makes for reactions that are swift, decisive and frequently wrong.
Just think back to last May. Ben Bernanke, Yellen's predecessor, made comments in testimony before Congress that the markets interpreted as signaling a change in the central bank's asset purchase program. Bernanke's comments at a press conference the next month reinforced those impressions. Interest rates on home mortgages spiked, and the Fed had to spend a considerable amount of time assuring the market that it wasn't planning any dramatic moves, which it wasn't. When the Fed finally did begin tapering asset purchases, the market barely reacted at all. 
Should Yellen have said something as concrete as "around six months?" No, probably not.

"The more experienced Bernanke knew to avoid clarifying deliberately vague statement language," J.P. Morgan economist Michael Feroli wrote afterward. But that doesn't make the market overreaction to her statement any more sensible. 
Given the fragile state of the U.S. economic recovery, here's a good rule of thumb for listening when Fed chairs talk: If you think they said something surprising, consider whether you misunderstood them or they misspoke. The last thing Yellen intended to do in her press conference Wednesday was make news. In fact, she stressed multiple times that nothing that she was saying should be taken to mean the FOMC was changing its policy outlook in any way whatsoever. 
In the documents released along with the standard FOMC statement, the Fed included a bar graph showing when FOMC members believed it would be appropriate to begin the process of "policy firming." One member voted for 2014, 13 members voted for 2015, and two members voted for 2016. Compare that to December, when 4 members voted for 2014, 13 for 2015, and one for 2016, and you could make an argument that the FOMC is marginally less hawkish, on the whole, about when to firm up rates. 
Here's another reason why it might be premature to stress out about when the Fed will raise rates: Yellen was very clear that "if inflation is persistently running below our 2 percent objective, that is a very good reason to hold the funds rate at its present range for longer."
The members of the FOMC, on average, expect inflation to remain below 2 percent through 2015 and not a single one of them predicts inflation above 2 percent at year-end 2016. 
Ironically, Yellen's "six months" comment came in the context of an FOMC meeting in which policymakers purposely removed a key quantitative measure from the forward guidance they provide the markets. In 2012, the FOMC said that it would treat 6.5 percent unemployment as a threshold beyond which it would consider raising interest rates. 
Yellen explained that the committee believed that the 6.5 percent threshold had outlived its usefulness. "Progress in the labor market has been more rapid than we anticipated," Yellen said, "while the rate of inflation has remained lower than the committee expected."

The indication the FOMC gave yesterday is that it will move to more qualitative forward guidance, meaning that "around six months" might be the last quantitative statement we get out of Yellen in a long time. 
More from The Fiscal Times
DATA PROVIDERS
Copyright © 2014 Microsoft. All rights reserved.
Fundamental company data and historical chart data provided by Morningstar Inc. Real-time index quotes and delayed quotes supplied by Morningstar Inc. Quotes delayed by up to 15 minutes, except where indicated otherwise. Fund summary, fund performance and dividend data provided by Morningstar Inc. Analyst recommendations provided by Zacks Investment Research. StockScouter data provided by Verus Analytics. IPO data provided by Hoover's Inc. Index membership data provided by Morningstar Inc.
ABOUT
Top Stocks provides analysis about the most noteworthy stocks in the market each day, combining some of the best content from around the MSN Money site and the rest of the Web.
Contributors include professional investors and journalists affiliated with MSN Money.
Follow us on Twitter @topstocksmsn.