Investors pulling the plug on fuel cell manufacturer
Shares of Plug Power took a beating Tuesday after an analyst listed the fair value of the stock at 50 cents.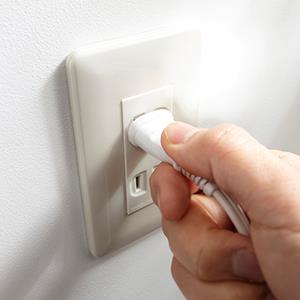 By Joel Elconin

It's fine and dandy to be long momentum stocks when they are on their parabolic moves higher. However, once the tide turns, it can get really ugly in a hurry.
There is no better example of this price action than Tuesday's activity in the fuel cell sector, Plug Power (PLUG) in particular. The issue, which began the year at $1.56, reached $11.72 in Tuesday's trading before the longs pulled the plug. The flurry of selling has taken the issue down over $4.00 from its intraday high to $7.11.

Perhaps the decline can be attributed to a delayed reaction to a scathing report issued by well-known short seller, Citron Research. The firm's analysis is pretty straightforward: during its decade of existence, the solar company has lost close to $850 million, has developed no intellectual property or shown meaningful revenue growth. In their opinion, the fair value of PLUG may be $0.50.
That conclusion was based on a blended average of all of PLUG's recent capital raises. 
More importantly, Citron reveals that PLUG's own management was mysteriously absent from a capital raise with $0.15 warrant. In other words, the company's own management would not even buy the stock at $0.15 just one year ago.
Although the company has attracted Wal-Mart and FedEx as customers over the past years for their fuel cell forklifts, the reason for this is obvious: the companies simply want to take advantage of the 1063 Treasury Program that gives tax credits for renewable energy. By using PLUG and other similar products, these multinationals are reducing their tax liabilities.
In 2016, however, these incentives will get taken away. Interestingly, PLUG has still not been able to make a profit or grow revenue with the subsidies in place. Imagine what may happen when these subsidies are eliminated. Furthermore, if fuel cell forklifts do become more popular, there are other better-financed companies that could easily bring a product to market if the demand increases.
Despite Alternative Energy and Clean Technologies being heavily covered by Wall Street analysts, only one analyst covers PLUG. That being Cowen, which has assigned a lofty $5.50 price target based on its current financials. It should be noted that Cowen recently facilitated an offering for the company.
Another contributing factor to the parabolic rise and the dramatic fall was the limited float for the issue. With the issue already heavily shorted at much lower levels, there was very little stock to loan out to short, as the issue reached ridiculous levels. This, coupled with current shorts scrambling to cover, created an upward vacuum that was not interrupted until the Citron tweet at 11:33 a.m.
Even after the initial tweet, the issue lingered around $11.00 for nearly 30 minutes until it started to decline. And it was not until the issue breached the $10.40 level around 12:45 p.m. that the heavy selling took the issue to $8.30 in the next 30 minutes.
So what now for shareholders of PLUG? For one thing, investors should be aware that the company recently did a secondary offering on March 6 for 22.4 million shares at $5.74. Therefore, company officials themselves decided to take chips off the table well ahead of the recent surge in price.
Finally, Citron's research going back four years reveals a company that issues guidance that is rarely met when earnings are officially announced. Also, with no discernible increasing revenue stream and fluctuating orders for its product, investors may want to find other alternatives for their funds if they choose to invest in this volatile sector.
More from Benzinga:
Are you sure you want to delete this comment?
DATA PROVIDERS
Copyright © 2014 Microsoft. All rights reserved.
Fundamental company data and historical chart data provided by Morningstar Inc. Real-time index quotes and delayed quotes supplied by Morningstar Inc. Quotes delayed by up to 15 minutes, except where indicated otherwise. Fund summary, fund performance and dividend data provided by Morningstar Inc. Analyst recommendations provided by Zacks Investment Research. StockScouter data provided by Verus Analytics. IPO data provided by Hoover's Inc. Index membership data provided by Morningstar Inc.
ABOUT
Top Stocks provides analysis about the most noteworthy stocks in the market each day, combining some of the best content from around the MSN Money site and the rest of the Web.
Contributors include professional investors and journalists affiliated with MSN Money.
Follow us on Twitter @topstocksmsn.