IPO canceled after 6 days of trading
The rare event is a black eye for the bankers behind Vascular Biogenics' debut. 'We've never seen anything like this happen before,' one market watcher says.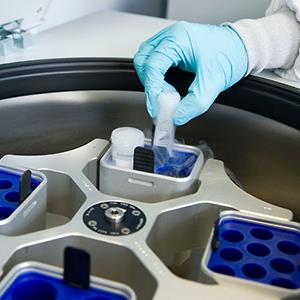 By Telis Demos, Scott Patterson and Chris Dieterich,
The Wall Street Journal
It was the IPO that wasn't: A biotech firm hit the market and traded for six days, only to announce Friday that it wasn't issuing shares after all, thanks to a key investor's failure to follow through on a commitment to buy stock.

That meant all the investors who thought they had bought or sold shares in Vascular Biogenics Ltd. since it began trading hadn't.

The highly unusual cancellation of a deal days after the shares began trading is a black eye for lead underwriters Deutsche Bank AG (DB) and Wells Fargo (WFC) and an unwanted headache for any buyer or seller of the stock. It also is a major setback for the money-losing biotechnology company, which had planned to use the proceeds of the $65 million offering to fund drug development.
Vascular Biogenics, an Israeli drug-development company, said Friday that its underwriters at Deutsche Bank and Wells Fargo had voided the IPO. In a 104-word statement, the company said an unidentified, U.S.-based Vascular Biogenics shareholder didn't pay for shares it had agreed to purchase.
"It could be considered a failure of the underwriters," said Matt Kennedy, an analyst at Renaissance Capital, an IPO research-and-investm​ent firm.
Wells Fargo and Deutsche Bank representatives declined to comment. Vascular Biogenics didn't respond to requests for comment.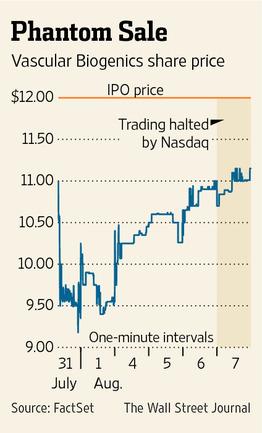 Vascular Biogenics hasn't reported any sales in the 14 years since its inception and said in regulatory filings this year that it faced a risk of running out of money.
The company, which is developing drugs to fight cancer and other disease, first filed plans to go public in March, submitting them confidentially under the Jumpstart Our Business Startups Act, which allows small firms to file discreetly. The deal proceeded with little fanfare or notice, and, on July 30, Vascular Biogenics announced it had sold 5.4 million shares to the public at $12 each, below the company's expected pricing range.
The shares tumbled as low as $9.02 after trading on the Nasdaq Stock Market ($COMPX) began July 31. They were halted Aug. 7 at $11.15.
On Friday morning, Aug. 8, the company said "no shares will be issued" under its registration with U.S. regulators, citing the failure of the unidentified shareholder, meaning the IPO and all subsequent trades would be canceled.
Nasdaq, which listed the stock, notified traders at 1:28 p.m. Eastern time Friday that it had begun reviewing all trades in Vascular Biogenics.
On Monday, market officials began combing through trading records of the stock and contacting trading firms as they began to unwind the transactions and refund investors. Officials at the National Securities Clearing Corp., where stock trades are finalized, handled the unwinding process.
The failure of a large investor to buy the shares struck observers as unusual.
"We've never seen anything like this happen before," Renaissance Capital's Mr. Kennedy said. "With the investor not transferring payment -- I don't think we've seen that."
At least four pre-IPO investors agreed to buy shares in the offering, according to the prospectus.
Among those was Jide Zeitlin, a director at Vascular Biogenics who is identified as president of New York investment firm Keffi Group Ltd.
Keffi owned 24 percent of Vascular Biogenics before the offering and would have boosted its stake to 30.6 percent, according to the prospectus -- an increase that would have entailed buying more than two million shares in the offering.
Mr. Zeitlin was a partner at Goldman Sachs (GS) between 1996 and 2005, the filings said, and is lead director of Coach (COH). 
"I have no comment, other than to say that we have extended ourselves and made every effort to support VBL," said Mr. Zeitlin, who has served on the board since 2008.
Other buyers identified in the prospectus include venture-capital firm Aurum Ventures MKI Ltd. and director Jecheskiel Gonczarowski. People affiliated with Pitango Venture Capital, also a venture-capital firm, agreed to buy shares as well, the prospectus said.
"Aurum Ventures did commit to buy shares in the IPO, and we did in fact fund our obligation," said Dan Gelvan, managing director for life sciences at Aurum. The other investors couldn't be reached for comment.
Banks typically agree to purchase IPO shares from the issuer, expecting to quickly sell the securities to buyers.
Traders struggled to recall similar incidents. In March 2012, computerized stock-exchange company BATS Global Markets Inc. canceled its IPO after a software glitch sent its shares plunging to a fraction of a cent in a matter of seconds.
Eagle Computer's 1983 IPO was canceled when the company's chief executive was killed in a car crash as the deal got under way. Eagle Computer refunded investors' money and later held another IPO.
Normandy America rescinded its 1995 IPO after a big price drop, said Jay Ritter, a finance professor at the University of Florida. He said two other deals, Mokan Productions in 1987 and Wilt Chamberlain Restaurants in 1993, were pulled after "a few days."
Vascular Biogenics made its initial offering filings under the JOBS Act, a 2012 law aimed at addressing concerns that small companies were constrained by regulation. Under these rules, so-called "emerging-growth companies," those with less than $1 billion in annual revenue, are allowed to keep their filings confidential until they are ready to market the shares to potential investors.
Vascular Biogenics, which is based in Or Yehuda, Israel, was founded in 2000 by Dror Harats, the chief executive, and Jacob George, its chief scientific officer. The company employs 32 people, it said in securities filings this year.
It has reported no revenue since its inception and had an accumulated deficit at Dec. 31 of $109.8 million.
Vascular Biogenics said in its most-recent initial-offering documents that the continuing losses "raise substantial doubt about our ability to continue as a going concern."
The company said completing the IPO as expected could give it financing for 36 months but cautioned that "our operating plan may change as a result of many factors currently unknown to us, and we may need to seek additional funds sooner than planned."
—Dan Strumpf contributed to this article.
More from The Wall Street Journal 

This is very disturbing from an investor stand point.  You bought something real and were given a receipt for the transaction only to be told the thing you bought was only real if other parties met their obligations.  I would think people should have learned their lesson from the Facebook IPO disaster.  Wall Street has very little credibility today amongst the average investor and should do a better job regulating their incestuous offerings.
Are you sure you want to delete this comment?
DATA PROVIDERS
Copyright © 2014 Microsoft. All rights reserved.
Fundamental company data and historical chart data provided by Morningstar Inc. Real-time index quotes and delayed quotes supplied by Morningstar Inc. Quotes delayed by up to 15 minutes, except where indicated otherwise. Fund summary, fund performance and dividend data provided by Morningstar Inc. Analyst recommendations provided by Zacks Investment Research. StockScouter data provided by Verus Analytics. IPO data provided by Hoover's Inc. Index membership data provided by Morningstar Inc.
ABOUT
Top Stocks provides analysis about the most noteworthy stocks in the market each day, combining some of the best content from around the MSN Money site and the rest of the Web.
Contributors include professional investors and journalists affiliated with MSN Money.
Follow us on Twitter @topstocksmsn.