Is Facebook for real?
The social media giant's management has learned how to monetize the site.
Facebook (FB) has been not only a social media phenomenon but also one of the most widely followed stocks.
I don't want to get into whether the initial public offering was fair. IPOs are risky and are a two-sided coin.
The underwriters have a job to bring the stock to the market at a high price so the pre-IPO stockholders and venture capital angels can monetize their investment. The sales group is supposed to introduce the investing public to stocks that have bright futures for the long haul and are fairly valued.
Sometimes, one does the job better than the other. Both parties are supposed to be happy, but more often than not one party thinks it was sold down the river.
The stock was brought to market in May 2012 at $38 along with first-week trading glitches, and it immediately tanked to an eventual low of $17.55 in mid-September. The stock has since had its ups and downs but now trades slightly above its offering price.
The analysts, public and institutions have had ample time to peruse the numbers, so either it should be at its true value or someone is not doing his job correctly.
Let's try to see what numbers should be important to you.
In the past year, the stock seems to have found its legs and has actually outperformed the market as measured by the Value Line Index. While the market is up just 28%, Facebook has recovered and gained 107% for the same period. (Read "delayed dead-cat bounce.")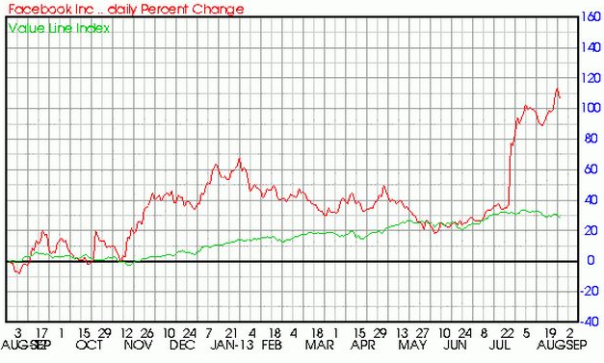 Fundamental factors: Facebook is now not just a dream but is making a profit.
The stock has a market cap of $96.95 billion and a price-to-earnings ratio of 109.59. Revenue is projected to increase by 43.80% this year and another 30.30% next year. Earnings are estimated to grow by 34% this year and additional 33.80% next year and continue to increase annually by 29.59% for at least the next five years. Its financial strength is a solid B+.
Technical data and charts provided by Barchart: The stock has 88% technical buy signals, as well as a Trend Spotter buy signal.
It is trading above its 20-, 50- and 100-day moving averages and gained 107% in the last year, 64% in the last quarter and advanced in seven of the last 20 trading session for a monthly gain of 17.11%.
The stock has a relative-strength index of 68.33% and a computed technical support level of 39.98. It recently traded at 39.83 with a 50-day moving average of 31.25.
Investor interest: The issue is well followed by both professional and individual investors. Thirty-four Wall Street brokerage firms have assigned 39 analysts to monitor the numbers, and they issued 11 "strong buy," 16 "buy," 11 "hold" and one "underperform" recommendations for the stock. Institutions hold 51% of the stock. Short-sellers are stable, shorting about 26 million shares near the beginning of the year and near 36 million shares recently.
That is not an alarming number since the stock is currently trading around 61 million shares a day.
TheStreet rates this a C- issue. I look to Motley Fool to gauge individual investors' sentiment and 65% of 1,915 readers thought the stock would beat the market. The more experienced All Stars voted similarly, with 71% seeing a market- beater.
Facebook has stood up well against its competition and in the past 12 months gained 107%, while Google (GOOG) gained 26%, Baidu (BIDU) gained 13% and LinkedIn (LNKD) gained 121%: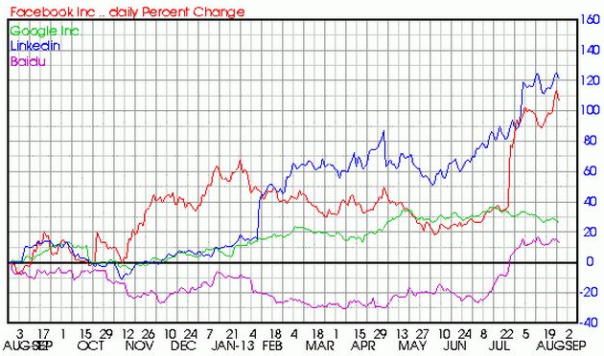 Google -- Market cap $282.88 billion with a P/E of 25.50. Revenue projected to grow 17.00% next year and earnings estimated to increase 14.52% annually for the next five years

LinkedIn -- Market cap $26.11 billion and a P/E of 559. Revenue predicted to increase 41.40% next year and earnings expected to grow 59% annually for the next five years.
Baidu -- Market cap $47.91 billion with a P/E of 28.73. Revenue expected to grow 31.90% next year and earnings to increase 20.66% annually for the next five years.
Summary: The analysts and public have now had 15 months to look at the company as a going concern. Management has learned to monetize the site and even make a profit. The P/E of 109.59 is still very high for a stock that has an annual projected earnings growth rate of around 30%.
This is why I think the stock should still be viewed using technical indicators. Watch the moving averages and turtle channels closely to trigger signals of weakness in the price's momentum: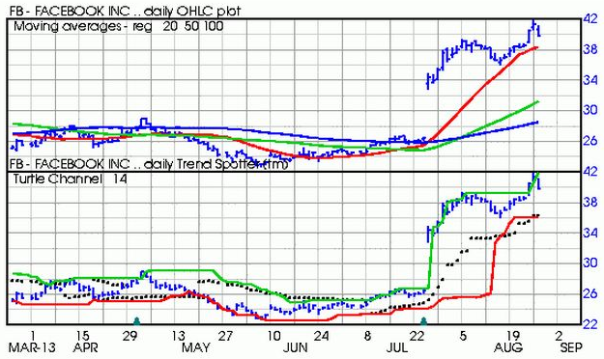 The company is for real, even if the P/E is still very lofty.
At the time of publication, the author did not hold positions in any of the stocks mentioned in this article.
More from TheStreet.com
DATA PROVIDERS
Copyright © 2014 Microsoft. All rights reserved.
Fundamental company data and historical chart data provided by Morningstar Inc. Real-time index quotes and delayed quotes supplied by Morningstar Inc. Quotes delayed by up to 15 minutes, except where indicated otherwise. Fund summary, fund performance and dividend data provided by Morningstar Inc. Analyst recommendations provided by Zacks Investment Research. StockScouter data provided by Verus Analytics. IPO data provided by Hoover's Inc. Index membership data provided by Morningstar Inc.
ABOUT
Top Stocks provides analysis about the most noteworthy stocks in the market each day, combining some of the best content from around the MSN Money site and the rest of the Web.
Contributors include professional investors and journalists affiliated with MSN Money.
Follow us on Twitter @topstocksmsn.