Is it finally time to sell Tesla?
Shares have soared month after month -- but the party could soon be over. Here's why.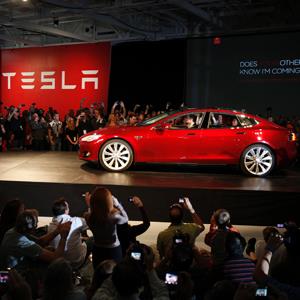 By Adam Fischbaum
There's an old saying in the restaurant business: "Feed the rich, eat with the poor. Feed the poor, eat with the rich."

It's pretty self-explanatory. The guy who owns the four Popeye's Fried Chicken locations probably has better personal cash flow than the owner of the high-end, nouvelle, southwest creole joint in a rehabbed old cotton warehouse downtown. Interestingly enough, that same philosophy can be applied to the car business.
From 1919 to 1937, the Duesneberg name was the gold standard in transportation for tycoon and Hollywood types. Only 712 cars were produced.
But 39-year-old Henry Ford had a different business model.
Ford
(
F
) had moving assembly lines and a good quality, but produced only a bare-bones Model T automobile. You could get it in any color you wanted -- as long as it was black. The rest is history.
Tesla Motors
(
TSLA
), I'm afraid, is today's Duesenberg. And the company's stock does not merit its price.
Led by another young business visionary, Elon Musk, Tesla manufactures an amazingly stylish and powerful all-electric sports car. My 11-year-old son has had the privilege of riding in one.
"Dad!" he exclaimed. "It doesn't make a sound, and it's as fast as a Lamborghini!"
As great as that sounds, I'm still not buying the stock. Here's why.
Running on empty

Forget the hotshot CEO. Forget the product. Look at the price of the stock and the underlying numbers. That's what investors do.
All metrics are completely out of whack. Tesla sports a forward price-to-earnings (P/E) ratio of 127 with a $240-plus share price. That means investors are willing to pay $127 for every dollar of bottom-line earnings Tesla thinks it can deliver. If that were to happen, it would be the first positive earnings for the company.
In 2013, Tesla sold around 22,450 cars. That means the stock is trading at around 14 times sales. That's steep.
Netflix
(
NFLX
), another 100-plus forward P/E stock with a $440 price, trades at just six times sales. This is a bargain compared to Tesla. Netflix is also earnings-positive. Applying a six times price-to-sales P/S ratio to Tesla's stock would result in a share price of $102; a 57 percent markdown from its current level.
Besides the forward-thinking numbers, Tesla also faces other challenges. The company lacks a well-developed retail and service distribution model. It's hard to sell a lot of cars without a decent dealer network. Also, owners typically like having the ability to have their vehicles serviced (especially high-end cars). Outside of Silicon Valley, I haven't seen many Tesla dealerships popping up. Also, the U.S. lacks a sufficient charging station infrastructure.

Musk's endgame?
Is Tesla's concept completely ridiculous? Absolutely not. There's a niche for high-end cars, and if electric vehicles are where the automotive industry is heading, then Tesla has planted the first flag. Musk has disrupted the luxury car market by creating a muscular, sexy, all-electric sports car. There is value in that, just not at these levels. Musk is pouring resources into research and development (an SUV is slated for this year and the company is developing a sub-$50,000 vehicle).
Recently, Tesla announced plans to build a "Gigafactory" to solve its lithium-ion battery supply issues. However, in order to accomplish this, Tesla issued nearly $3 billion
in convertible debt
. However, these bonds also require interest payments. The company's operating and free cash flow numbers have just turned positive. The newly incurred debt may be difficult to service.
Rumors have swirled about a takeover from companies like
Apple
(
AAPL
). But the stock looks too expensive for a potential suitor to even consider an attempt. My gut tells me that Musk's ultimate goal for Tesla is to focus the company on becoming a components supplier rather than a car manufacturer. The road car platform could be just a testing ground for his technology. The current price of the stock is too expensive for investors to profit from that at this stage.
Risks to consider:
Again, as I've mentioned in other articles, shorting stocks is an extremely risky and complex strategy reserved for professional and institutional investors. Sophisticated investors may be able to take advantage of a stock's price decline by owning put options on the underlying security.

Action to take:
While Tesla makes a sexy car, the lack of solid financial performance from the company and the risk associated with the new convertible debt load does not justify the current stock price. Using a more realistic P/S ratio of 6 times (and even that is ambitious), a realistic stock price could be $84. Investors who own shares should book profits or consider cutting losses.
Adam Fischbaum does not personally hold positions in any securities mentioned in this article.
StreetAuthority LLC does not hold positions in any securities mentioned in this article.

More from StreetAuthority
Tesla-- sure, sell the stock. Take out the guy trying to re-invent the wheel (literally) and keep your wealth in the 20th Century. Perhaps we should be investing in gas chambers to ease the pain of the clueless greedy and adamantly stubborn who expect to take it with them. WHY isn't there are a pandemic infecting the narrow-minded. It would help us all and progress too. 
As Staples closes 225 stores here in North America... so goes the lame Romney philosophy of paying employees nothing, pumping cheap product and focusing solely on unit productivity while Boards and Boobs in the HQ make a killing on hollow stock. You are entitled to your own opinion, BUT... these crap philosophies RUINED America and we are ill-prepared to revert back to Main Streets. Expect to do without and in a world delusional by conveniences, THAT is going to hurt. 
It should also occur to all that fewer new unemployment filings by the few who still quality in the data is an ominous, not progressive, factor. Pair that info up with an anticipated increase in M&A activity and then listen... why YES, that's the sounds of stinky things going round and round until they consolidate and flush out to sea. Close the banks, end the Federal Reserve and get RID of Wall Street. Free up free enterprise before it's too late.  
Are you sure you want to delete this comment?
DATA PROVIDERS
Copyright © 2014 Microsoft. All rights reserved.
Fundamental company data and historical chart data provided by Morningstar Inc. Real-time index quotes and delayed quotes supplied by Morningstar Inc. Quotes delayed by up to 15 minutes, except where indicated otherwise. Fund summary, fund performance and dividend data provided by Morningstar Inc. Analyst recommendations provided by Zacks Investment Research. StockScouter data provided by Verus Analytics. IPO data provided by Hoover's Inc. Index membership data provided by Morningstar Inc.
ABOUT
Top Stocks provides analysis about the most noteworthy stocks in the market each day, combining some of the best content from around the MSN Money site and the rest of the Web.
Contributors include professional investors and journalists affiliated with MSN Money.
Follow us on Twitter @topstocksmsn.