Is the era of the blockbuster drug gone?
Companies are having a tough time convincing doctors, patients and insurers to give new treatments a try.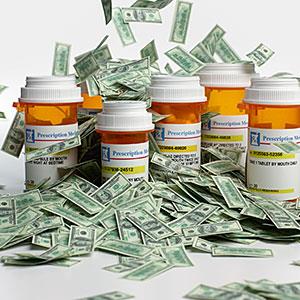 By Jonathan D. Rockoff and Ron Winslow, The Wall Street Journal
After years of anemic productivity, pharmaceutical companies are launching new drugs at the fastest pace since the 1990s, including 39 last year alone.
But there is a problem: selling the new drugs.
New medicines, including blood thinners from Johnson & Johnson (JNJ), Pfizer (PFE) and Bristol-Myers Squibb (BMY) and autoimmune-disorder drugs from Pfizer and GlaxoSmithKline (GLAXF), are encountering a skeptical and cost-conscious marketplace.
Drug makers are finding it hard to convince doctors, patients and insurers that the new advances are worth their typically premium prices. Skepticism is particularly steep for drugs aimed at conditions that already have effective treatments.
Of 271 drugs launched since 2006, only 13 have notched yearly U.S. sales of more than $1 billion, down from 33 of 257 drugs introduced during the previous five years, according to ZS Associates. The sales and marketing management consultant to drug makers analyzed about 500 drug launches.
"Blockbusters are not going to be that common anymore," said Ganesh Vedarajan, who leads ZS's oncology and specialty therapeutics practice.
Drugs launched between 2006 and 2010 averaged $143 million in annual U.S. sales three years after going on the market, down from $208 million in the previous five-year period. 
As a result, it likely will be more difficult for drug makers than expected to overcome the big hit they are suffering from generic competition for previous blockbusters. Drugs with nearly $100 billion in U.S. sales are expected to lose patent protection between 2011 and 2015.
Pfizer had hoped that two pills approved late last year -- Eliquis to prevent strokes and Xeljanz to treat rheumatoid arthritis -- would help the drug maker overcome $12 billion in yearly revenue lost from generic competition to its top cholesterol drug, Lipitor. So far, though, both Eliquis and Xeljanz have lagged analysts' expectations.
When Xeljanz was approved in November 2012, analysts predicted sales of $350 million this year, according to Thomson Reuters Cortellis for Competitive Intelligence. But sales totaled just $68 million in the first nine months of 2013.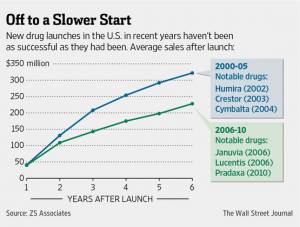 Pfizer executives say the arthritis drug's launch is in line with the company's expectations, and efforts to educate doctors are starting to pay off with rising prescriptions. "There is a lot of pressure to use generics first. That does slow up the penetration of new classes" of medicines, Pfizer Chief Executive Ian Read said in an interview.
When multiple treatments are available, insurers can be aggressive in trying to steer prescriptions to less-expensive options, especially generics. Earlier this year, 34% of payers surveyed by Zitter Health Insights said their default for a new product is to reject coverage or impose tough restrictions like prior authorization.
Pfizer's Xeljanz competes with established treatments such as Humira, Enbrel and Remicade, some of the biggest-selling drugs in the world. Analysts thought Xeljanz would be an attractive option because it is a pill, rather than an injection like its rivals.
But insurers say they took steps to keep doctors prescribing older treatments because Xeljanz's pill form isn't enough of a benefit to overcome the proven track record of existing drugs.
Aetna Inc. (AET) requires doctors to document that a patient has moderate to severe rheumatoid arthritis and didn't respond well to initial treatment with a generic called methotrexate and subsequent treatment by two preferred agents, such as Humira, Enbrel or Remicade, known as TNF inhibitors.
Xeljanz works well, but isn't an "enormous breakthrough," said Edmund Pezalla, Aetna's national medical director for pharmacy policy and strategy. Many doctors also prefer to stick with tried-and-true treatments for a few years after a drug launches.
Alan Matsumoto, a rheumatologist in Wheaton, Md., said he has concerns about side effects such as liver-function abnormalities and elevated cholesterol levels seen in some patients during Xeljanz's clinical testing.
The risk of those side effects is known and mentioned on Xeljanz's label. Pfizer says many doctors are reacting favorably to Xeljianz's clinical profile, and the company is continuing to educate doctors about the new drug.
Some drugs have taken off swiftly, such as Biogen Idec Inc.'s multiple-sclerosis pill Tecfidera and Regeneron Pharmaceuticals Inc.'s Eylea treatment for vision loss. A hepatitis C pill from Gilead Sciences Inc., approved earlier this month, is expected to become a blockbuster quickly. But other launches have been hindered by cost concerns and stiff competition from existing treatments.
A new class of stroke-preventing blood thinners is facing such challenges. For decades, doctors relied on warfarin, sometimes sold as Coumadin, in patients with a heart-rhythm disorder called atrial fibrillation. But patients required frequent monitoring to make sure the dose prevented blood clots while avoiding bleeding episodes.
Boehringer Ingelheim GmbH, Johnson & Johnson, Pfizer and other companies raced to develop replacements and enter what is expected to be a giant market. Three drugs have been approved since 2010: Eliquis from Pfizer and Bristol-Myers Squibb, Xarelto from J&J and Bayer AG, and Pradaxa from Boehringer Ingelheim. Daiichi Sankyo Co. (DSKYF) is developing a fourth drug called Edoxaban.
"Studies demonstrate in general that these are at least or probably more effective than Coumadin with a lower bleeding risk," said Neal Shadoff, a cardiologist at Presbyterian Heart Group, Albuquerque, N.M. "How could you go wrong with that?"
Yet among 83,000 atrial fibrillation patients taking anticoagulants in a database maintained by the American College of Cardiology, just 27% were on one of the new drugs in this year's third quarter.
One concern slowing adoption of the new treatments is lack of an effective antidote to quickly reverse the new therapies if a patient develops major bleeding.
Makers of the new drugs say they are seeing more new patients start treatments using the new drugs than warfarin. The companies also say that bleeding antidotes are being developed.
Still, Anthony Pearson, a cardiologist in St. Louis and medical director of St. Luke's Hospital's anticoagulation clinic, said about 75% of his atrial fibrillation patients who take warfarin choose to stay on it.
Warfarin costs pennies a day, compared with $7 or $8 for the new drugs. Insurance copayments often are higher for new drugs. When patients hear about the price gap, Dr. Pearson said, "They say, 'I'm doing fine on the warfarin.'"
More from The Wall Street Journal
DATA PROVIDERS
Copyright © 2014 Microsoft. All rights reserved.
Fundamental company data and historical chart data provided by Morningstar Inc. Real-time index quotes and delayed quotes supplied by Morningstar Inc. Quotes delayed by up to 15 minutes, except where indicated otherwise. Fund summary, fund performance and dividend data provided by Morningstar Inc. Analyst recommendations provided by Zacks Investment Research. StockScouter data provided by Verus Analytics. IPO data provided by Hoover's Inc. Index membership data provided by Morningstar Inc.
ABOUT
Top Stocks provides analysis about the most noteworthy stocks in the market each day, combining some of the best content from around the MSN Money site and the rest of the Web.
Contributors include professional investors and journalists affiliated with MSN Money.
Follow us on Twitter @topstocksmsn.