Is the levered short dollar trade over?
Long-term interest rates have helped the greenback's rise, but talk of QE tapering are raising new questions.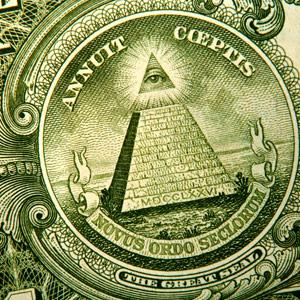 Since Bernanke's testimony in front of Congress on May 22, the dollar has gained ground not only against most major currencies but also against commodities such as Gold (-GC) and Silver (-SI).  The consistent talk of tapering QE, and the refusal by China to lower interest rates, has caused a systemic drying-up of liquidity across multiple markets. 

Increasing long term interest rates have been a driving factor in the dollar's rise, as investors look to unwind a leveraged play that has existed since the Fed began its quantitative easing program.
Although the Fed has repeated numerous times that short term rates will not rise in the near future, the bottom for rates on the long end of the yield curve is likely in.  The Fed has predicated any tapering of bond purchases to economic performance --  and there are few who believe that the US economy will contract, which would force the Fed to purchase greater amounts of bonds.  While that may be the dominant thought by pundits right now, we are not convinced of this.
With the US 10-year yield (IEF) breaking as high as 2.7%, investors are either concerned about an overheating economy or further de-leveraging of risk.  It is likely the latter, when one looks carefully at rising bond yields around emerging markets like Singapore, Mexico and parts of Eastern Europe.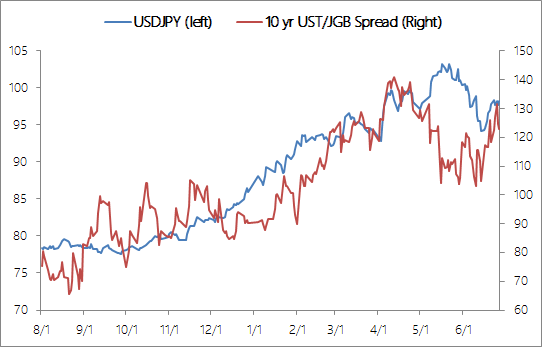 The 10-year yield spread between U.S. and Japanese bonds has helped drive the dollar higher after the yen began appreciating from ¥103 to ¥95 versus the dollar.  The dollar should continue to benefit from higher long term rates on liquidity fears.  The spread has climbed toward 170 basis points, its highest level since August of 2011. 

The spread should test the summer 2011 highs near 200 basis points as these things play out, but could continue to rise to 250 basis points if there is a major spasm in the markets – the high level seen during the 2008 financial crisis.  

Since the yen topped out back in late May, U.S. treasury rates have spiked but JGB yields have not.  Why?  Speculative money flowed out of the Nikkei 225 ($jp:n225) and into bonds.  The 10 year Japanese bond yield has not moved in more than three weeks, trading in a tight range around 0.85%. 

Once the Bank of Japan signaled in early May that a 2% inflation target was beyond its reach. Japanese investors began piling out of stocks and back into bonds.  Bond yields around the world began moving higher. The Nikkei has lost more than 18% since then. This is very consistent behavior for Japanese investors who are always willing to buy local bonds as long as the real yield is even mildly positive.

On the other hand, U.S. Treasuries are feeling the burden of dollar strength, as emerging market central banks have to unload them to raise cash and defend their currencies from depreciating too rapidly.  So what Bernanke was trying to sell as economic improvement leading to higher yields is more likely an unwinding of the short dollar carry trade. 

The Fed will either have to accept that this is true and step up its bond buying operation or allow rates to rise faster than CBO projections, adding a significant interest repayment burden to the Federal budget deficit as well as crush the current improvements in housing and consumer loan growth – mostly new car and student loans.   Mortgage applications dropped to a 19 month low, down seven out of the last eight weeks.  New cars are carrying the highest percentage of incentives versus MSRP since the financial crisis.
Dollar weakness has been the route of many trades including the great precious metals trade -- which has seen gold and silver prices rise with dollar weakness.  The reaction to Bernanke's recent statements has been to fear deflation, as the Fed continues to play possum with the need to double down on QE --  as we go through this replay of counter-trend dollar strength and emerging market currency weakness that we went through last summer in the run up to placing sanctions on Iran. 

But this time there is not a rush into U.S. treasury bonds like there was when Europe was threatening to come apart at the seams.  This time we have selling in the Treasury markets, which makes all the difference in the world.  While the dollar carry trade looks to be unwinding, this is likely a short-term phenomenon that will result in more QE but defending higher yields which will be highly inflationary especially as more countries eliminate the dollar as a trade settlement currency. 

MSN Money on Twitter and Facebook
Like us on Facebook: MSN Money and Top Stocks
Follow us on Twitter: @msn_money and @topstocksmsn
Are you sure you want to delete this comment?
DATA PROVIDERS
Copyright © 2014 Microsoft. All rights reserved.
Fundamental company data and historical chart data provided by Morningstar Inc. Real-time index quotes and delayed quotes supplied by Morningstar Inc. Quotes delayed by up to 15 minutes, except where indicated otherwise. Fund summary, fund performance and dividend data provided by Morningstar Inc. Analyst recommendations provided by Zacks Investment Research. StockScouter data provided by Verus Analytics. IPO data provided by Hoover's Inc. Index membership data provided by Morningstar Inc.
ABOUT
Top Stocks provides analysis about the most noteworthy stocks in the market each day, combining some of the best content from around the MSN Money site and the rest of the Web.
Contributors include professional investors and journalists affiliated with MSN Money.
Follow us on Twitter @topstocksmsn.