Is Yahoo a turnaround story or a China play?
How you view the company will help determine if shares are fairly valued.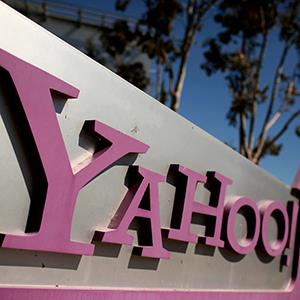 What's
Yahoo
(
YHOO
) worth?
Depends on whether you're looking at the company as a potential turnaround that's losing market share to aggressive competitors or whether you see it as a way to get in on the growth of one of China's biggest e-commerce companies.
From the first perspective, Yahoo is an overvalued company, in my opinion, at a market cap of $33.8 billion.
From the second point of view, Yahoo is an undervalued company, in my opinion, at a market cap of $33.8 billion.
In reality, of course, Yahoo is a mix of these companies. And frankly that mix is, at current prices, reasonably attractive -- if you share my view of what is going on in the fiercely competitive Chinese Internet market.
Yahoo's third-quarter results, released Tuesday, were ugly. Revenue fell 0.7% from a year earlier. (That was in line with analyst estimates.) Operating income fell to $93 million from $152 million.
Ugly, but neither unexpected nor particularly worrying for a turnaround. CEO Marissa Mayer has been on an acquisition drive, buying 19 companies since she took the helm in July 2012 in order to add users (by buying Tumblr), to increase engagement (by buying newsreader Summly), and to push Yahoo deeper into mobile (by buying Stamped and Jybe). 
With money going into more employees, and more pay for employees, and into R&D, it's certainly to be expected that operating income would take a hit.
What isn't necessarily expected -- and should raise questions about how difficult this turnaround will be and the likely return on Yahoo's investment (of shareholder dollars, remember) in this turnaround -- is the continued loss of market share in search and online ads.
Yahoo's share of the search market continues to fall. (Yahoo's search business is operated by Microsoft under a partnership between the two companies.) According to comScore, in September Yahoo's share of the U.S. search market fell to just 11.3%, matching the company's all-time low from July. (Microsoft owns and publishes Top Stocks, an MSN Money site.)

And as you'd expect, with falling market share in search comes falling ad revenue from search. Revenue from the search business -- after payments to
Microsoft
(
MSFT
) -- fell 8% to $435 million. 
And market research group eMarketer projects that Yahoo's share of the overall ad search market will drop to 6.2% in 2013 from 6.6% in 2012. 
If you look deeper into the trends, the numbers get more disturbing. Yahoo's revenue from search is falling even as the overall advertising spend on search is climbing with projections pointing toward 13.2% growth in 2012. 
It's in the numbers for revenue from display ads that things start to look really worrying, though. 
Display advertising, which accounts for about 40% of Yahoo's ad sales, fell 7% from the third quarter of 2012. That continues a long-term trend that has seen Yahoo, once the biggest seller of display ads, losing ground to competitors year after year.
EMarketer projects that Yahoo's share of the display ad market will fall to 7.7% in 2013 from 8.6% in 2012 as
Google
(
GOOG
) (old story) grows to 17.4% of the display ad market and
Facebook
's (
FB
) share (new story) climbs. 
It doesn't help that thanks to the lower prices commanded by mobile ads and the advent of new advertising exchanges that enable advertisers to buy placements across a variety of websites with one electronic order, prices of ads for all players are under pressure. The number of ads Yahoo sold last quarter climbed by 1% but the price per ad fell 7%.
All this adds up to a rather challenging picture. Yahoo's share of the total U.S. online ad market is projected to drop to 7.7% in 2013 from 8.6% in 2012, according to eMarketer. Google's share will climb to 41.1% from 40.9% and Facebook's share will go to 7.1% from 5.9%.
Yahoo may be able to turn these trends around with new search results pages and a new mobile search interface, but forget about quick.
No, if you're looking for quick and for an explanation of why Yahoo shares are up 108% over the last 12 months, I think you'll have to look at the impending initial public offering for Alibaba, China's biggest e-commerce company.

Alibaba is estimated to have a 43% share of the $703 billion Chinese ecommerce market. In 2012 the company accounted for 70% of package deliveries in China, according to the company's CEO Jack Ma.
That could actually be true. Started as a
business-to-business​
e-commerce site, Alibaba has expanded to include Tmall (where companies sell to consumers) and Taobao (where consumers sell to other consumers.) According to Morgan Stanley, the gross value of goods that moved through Alibaba exceeded the combined value of goods that moved through
Amazon.com
(
AMZN
) and
eBay
(
EBAY
) in 2012. 
Alibaba is expected to go public in 2014 at a market valuation of somewhere in the neighborhood of $55 to $120 billion. And Yahoo currently owns 24% of Alibaba. 
At a market valuation of $55 billion, Yahoo's stake is worth $13.2 billion. At a market valuation of $120 billion, Yahoo's stake is worth $28.8 billion.
Now consider that Yahoo's total market cap, even after the stock has climbed 108% in the last 12 months, is just $33.8 billion. At the top end of the range for Alibaba's IPO, all the rest of Yahoo after deducting the value of its stake in Alibaba is yours for just $5 billion.
You know what you get for $5 billion in the Internet sector? Nothing. Facebook's market cap is $125 billion today. Twitter, which is expected to launch its own IPO around Nov. 15, will be valued around $20 billion, analysts project.
But if you're buying Yahoo for its Alibaba stake, the question of how much Alibaba will be worth at its IPO and how much it will be worth, say, a year after that debut is critical. (Yahoo will sell about 40% of its stake, according to the most recent IPO plan, in the offering. Which means it will still own about 14% of Alibaba after the IPO.)
Let me give you some context that suggests that buying Yahoo in the hope the IPO will value Alibaba at the high $120 billion end of the neighborhood isn't crazy. Alibaba's net income climbed 145% in the third quarter year over year to $717 million. (Yes, Alibaba is profitable. Twitter most emphatically isn't.) Revenue climbed 61% to $1.74 billion.
Even before receiving any funds from the IPO, Alibaba has been on an acquisition spree designed to take the company into the U.S. market. In June, Alibaba bought sports retailer
Fanatics
and in August it bought a minority stake in
ShopRunner
, a company that provides two-day delivery from 80 U.S. retailers. Back in China it has bought a 28% piece of digital mapping company
AutoNav
and an 18% share of
Sina
's (
SINA
) microblogging site Weibo.
Finally, just let me point out that Alibaba competitor
Tencent Holdings
(
TCEHY
) with a dominant position in instant messaging in China but a much smaller share of the e-commerce market has a market cap of $101 billion. 
A $120 billion range for an Alibaba post-IPO valuation does seem like a pricey neighborhood but Alibaba is a company that could nonetheless wind up living there.

At the time of this writing, Jim Jubak didn't own shares of any companies mentioned in this post in personal portfolios. When in 2010 he started the mutual fund he manages, Jubak Global Equity Fund (JUBAX), he liquidated all his individual stock holdings and put the money into the fund. The fund may or may not own positions in any stock mentioned. The fund did not own shares of any company mentioned as of the end of June. Fund holding Naspers does own a sizeable position in Tencent Holdings. For a full list of the stocks in the fund as of the end of the most recent quarter, see the fund's portfolio here.
More on Top Stocks
Aren't ALL virtual platforms playing a dangerous game of-- what's my product? For the most part, the "product" is a deluge of advertising nearly every user or passer-by finds annoying. When we read of "market caps" on virtual platforms, we are envisioning tangible value of assets, in reality it's perceived value of currently relative intellectual property.  
I think what "everybody knows" Dave1230, is that we had jobs, prosperity, stability, identity, privacy and quality in life BEFORE virtual platforms and none of the above after. Globalization stole our livelihoods and technology guaranteed we will never get back to normal without WW III. Einstein once said: I don't know what weapons will be used in WW III, but it will be sticks and stones in WW IV. The cancer that does this is-- technology. While we endured the shutdown drama, military psychos unleashed a Tech Cat that runs humans down and kills them. Who do you think they will use it on? Once they have... all that's left are paper and button pushers who can't grow food, build shelter or make clothes. They text.
Are you sure you want to delete this comment?
DATA PROVIDERS
Copyright © 2014 Microsoft. All rights reserved.
Fundamental company data and historical chart data provided by Morningstar Inc. Real-time index quotes and delayed quotes supplied by Morningstar Inc. Quotes delayed by up to 15 minutes, except where indicated otherwise. Fund summary, fund performance and dividend data provided by Morningstar Inc. Analyst recommendations provided by Zacks Investment Research. StockScouter data provided by Verus Analytics. IPO data provided by Hoover's Inc. Index membership data provided by Morningstar Inc.
ABOUT
Top Stocks provides analysis about the most noteworthy stocks in the market each day, combining some of the best content from around the MSN Money site and the rest of the Web.
Contributors include professional investors and journalists affiliated with MSN Money.
Follow us on Twitter @topstocksmsn.