Japan's 20-year cycle
The last two decades of economic stagnation are about to become a memory.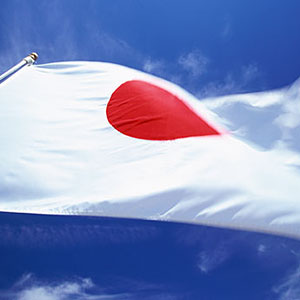 By John Blank
I know what you're thinking. Not another article about investing in Japan!
But what if I told you the nation's economic re-birth story s real? And that this is just the start of a new wave of growth that will lead to many years of stock market gains, just as we saw in the U.S. after we climbed out from under the great recession.
You owe it to yourself to understand the true and amazing nature of the "20-year cycle" at work in Japan. And how the last 20 years of stagnation will be wiped away with perhaps 20 years of growth and prosperity ahead.
A look inside Japanese rebirth
To begin to understand the origin of Japan's 20-year cycle, recall that trees and stones have long been objects of deep devotion in Japan. Originally there were no shrine buildings. Instead a tree, forest, a large boulder, or a mountain, festooned with ropes, would be the focus of worship.
Nature worship was then ported into a set of buildings. The Ise Grand Shinto nature shrine, in central Japan, is one of the grandest. It consists of two groups of wood buildings -- Naiku and Geku. Now you might not believe this, but every 20 years, Japan totally rebuilds these two 1,300 year-old shrines to nature on an adjoining site. The idea? Experience a once-in-a-generation​ renewal.
In 2013, the Japanese tradition of a 20-year renewal provides the key insight into Japan's economy.
The demise of 20 years of deflation
One chart (below) shows what Japan was dealing with. After a 20-year boom, led by real estate and stocks, Japan staggered under a 20-year deflation. From the early 1990s, the economy never recovered to the goldilocks of a +2% annual inflation rate, the hallmark of a 'good' financial system.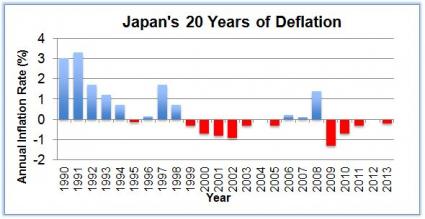 Japan's rebirth
At the end of 2012, Japan elected reformer Shinzo Abe. He shot three arrows.
(1) Print money to raise prices
In April 2013, the Bank of Japan targeted a +2% annual inflation rate. A radical plan, crafted with an eye to U.S. quantitative easing, buys roughly $75 billion in bonds each month until March 2015. Printing money helps raise prices.
Higher prices mean higher profits & stocks -- and much happier companies.
(2) Weaken the yen
Some Japanese exporters were profitable at 80 yen to the dollar, so 100 yen must be a huge boon. Consider a Zacks Rank #1 Japanese stock, the world's largest maker of small tractors. A weak yen makes its overseas revenues (42% in total) more profitable. This hits companies outside Japan too -- like Korean, U.S. and German automakers. They face a squeeze on profit margins.
Imagine what 110 yen to the dollar could do in 12 months?
(3) Japan spends first and taxes later
Finally, rather than reduce a huge government deficit, Japan did the opposite. The new prime minister increased spending to create jobs. But Japan's budget deficit last year was above 10% of GDP. Its gross debt is more than 245% of GDP. Inevitable tax increases are delayed. Japan's planned sales tax hikes go from 5% to 8% in April 2014 and to 10% in October 2015.
Japan thinks its renewed strength can overcome these tax hikes.
Results begin to build
Results are building. Japan grew at a +3.8% rate in Q2, following a +4.1% rate in Q1. In comparison, the U.S. clocked +1.8% GDP growth. Where did Japan stocks go? The Nikkei 225 recently closed around 14,400, up +40% this year.
These are the kinds of stellar returns out there for the taking.
Just the beginning
It is still early in this story of Japan's re-birth. But if Japan's spirit has renewed itself, you can see this as just the beginning of a 20-year upswing. That is the national myth, with origins deep inside the soul of the country. As long as Japan's policies serve as catalysts, equity investors can pocket outsized profits.
A world of opportunity
Japan is but one of many developed, politically stable countries that offer investments with thrilling upsides, in part because their economies are projected to grow much faster than the U.S.
Also, with domestic stocks trading at a premium, there are several non-U.S. regions that offer substantial valuation discounts. This means you can buy better companies at lower prices.
MSN Money on Twitter and Facebook
Like us on Facebook: MSN Money and Top Stocks
Follow us on Twitter: @msn_money and @topstocksmsn

Japan has always had an extraordinary amount of debt.  Even during the boom periods Japan spent more than we think is tolerable.  Their companies were 80 to 90% debt financed so stockholders didn't control management decision-making..  Companies were free to make decisions based upon the long term projections.  However, Japan's economy is still based upon exports and unless we're doing well or China is doing well Japan's not going to be doing well. 

Oh gee what world has this guy just stepped off of??
Japan's economy has totally collapsed and it's Central bank is going to have to print money to buy it's debt it's making each year for the next 100,000,000,000 years or until the outside world quits dealing with Japan whichever comes first.
Pretty much Japan is going to explode soon by Sept 13 , 2015 just like the US and Europe

It is amazing that so many share the same beliefs, that central banks can print and spend infinitely without consequence, that interest rates can be radically manipulated without consequence. 

The BOJ is taking its cues from us and following our lead?  Have they seen our UE rate?  Have they seen our dismal GDP growth?  Have they seen that 60% of all the jobs we're creating are low paying?  Have they seen that our welfare rolls and disability rolls have doubled in the last 5 years?

The Nikkei may hit all time highs in the process, but that doesn't mean their economic stagnation is over.  Look at our stock markets - all trading near all-time highs, but the average GDP growth over the last 4 quarters is less than 2%.  And that's with $85 billion/month from the Fed.



John Blank does not seem to care that ordinary Japanese people face higher prices for the same goods or that lower income people don't own stocks.
What Abe is creating is a SOCIAL PROBLEM by systematically impoverishing the working class.  Japanese people are in general, quieter than Americans by nature, so they may not protest in the near future.  That doesn't mean they aren't being hurt.
The idea that making the rich people richer means that there is prosperity is an abomination, and I am a registered Republican!
Of course, we don't live in Japan, we live in the United States. The more immediate problem is that Abe has just been copying our government.  Here in the U.S., our leaders think that surging stock prices and home prices equal prosperity.  In fact, ordinary Americans are having their livelihoods gradually destroyed by inflation, just like the Japanese.
The phony CPI just covers up real inflation.  It is worse than having no inflation indicator at all!
Japan is NOT headed into prosperity and neither is the United States.
Are you sure you want to delete this comment?
DATA PROVIDERS
Copyright © 2014 Microsoft. All rights reserved.
Fundamental company data and historical chart data provided by Morningstar Inc. Real-time index quotes and delayed quotes supplied by Morningstar Inc. Quotes delayed by up to 15 minutes, except where indicated otherwise. Fund summary, fund performance and dividend data provided by Morningstar Inc. Analyst recommendations provided by Zacks Investment Research. StockScouter data provided by Verus Analytics. IPO data provided by Hoover's Inc. Index membership data provided by Morningstar Inc.
ABOUT
Top Stocks provides analysis about the most noteworthy stocks in the market each day, combining some of the best content from around the MSN Money site and the rest of the Web.
Contributors include professional investors and journalists affiliated with MSN Money.
Follow us on Twitter @topstocksmsn.