Japan's bad currency bet could hurt US stocks
A popular trade involving shorting the yen and buying the euro is starting to unravel, and it's a dangerous indicator for the markets.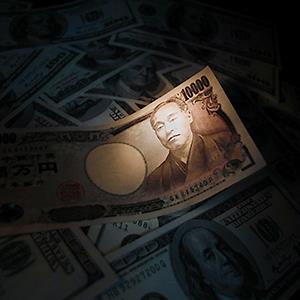 By Anthony Mirhaydari
Stocks haven't suffered a meaningful drop in more than three weeks. Nor have they suffered any meaningful correction since 2012. Volatility, as represented by the CBOE Volatility Index ($VIX), recently dropped to levels not seen since early 2007.

Investors have fallen into euphoria. You can see this in extended margin debt, extreme bullish positioning, and extended measures of sentiment.

This is based on the apparent universality of forward optimism: The economy will grow at a 3 percent annual rate, inflation will remain low, central bankers will keep stimulating and corporate earnings will only go up.
If there's a linchpin in all this, it's the Japanese yen.

Here's why:
The yen carry trade is deteriorating

If you look back at what kicked off the market's run higher in late 2012, it was a decision by the Japanese government to throw a monetary policy Hail Mary by destroying the value of the yen in a last-gasp attempt to end its debt-deflation malaise. Japanese stocks surged on hopes of export revitalization. The euro soared in response, helping end the eurozone debt crisis by encouraging capital to flow into Europe.
Cue the sunshine and lollipops as hedge funds piled into the "yen carry trade" -- shorting the yen and buying the euro. The trade is so prevalent that the U.S. stock market often trades tick-for-tick with the fluctuations in the yen.
But the trends are starting to shift. For one, yen destruction hasn't exactly led to economic deliverance for Japan. Yet it has resulted in higher import costs and food and fuel inflation for Japanese consumers, who are retrenching as a result. It has resulted in a widening trade deficit. And it has resulted in a large drop in factory activity.
Moreover, a strong euro is no longer working in Europe's interest. Sure, Spain can now borrow money for 10 years at a lower interest rate than the United States. But the European Central Bank is contending with deflationary pressures from a strong currency as well as lackluster credit creation.
Thus, the Bank of Japan is now talking about exiting its stimulus policies while the ECB just cut one of its policy rates into negative territory.
All of this should start lifting the yen and weakening the euro -- undermining the yen carry trade.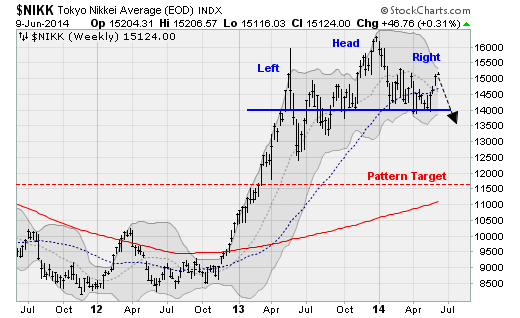 Already, professional investors are moving out. The latest Commitment of Traders report shows large speculators have been covered about two-thirds of their total yen short position so far in 2014. Moreover, these folks are net short the euro for the first time in a year.
I'm waiting to see the drop in the euro-yen exchange rate push Japan's Nikkei Average back down toward the 14,000 level as the next major market catalyst. The Nikkei is completing what looks to be a massive head-and-shoulders reversal pattern as it has reached the end of the tailwind from the yen carry trade.
So far this year, the Nikkei has been doing all it can to ignore the drop in the yen carry. If its usual relationship were restored, the Nikkei would be down near its 14,000 level.
And the U.S. markets would be hard-pressed to ignore the end of what has been a major market support over the last two years.
More from InvestorPlace
Anthony Mirhaydari is founder of the Edge and Edge Pro investment advisory newsletters, as well as Mirhaydari Capital Management, a registered investment advisory firm.

I'm afraid we have too many cooks thinking they are in charge of the soup making.  Without cohesive responsible controls we are experiencing what we should be and that is Chaos.  With a corrupt and dysfunctional group attempting to fake their way through this we all understand Chaos is the end result, and I doubt any of them give a rats a$$ about their own foolishness.
Are you sure you want to delete this comment?
DATA PROVIDERS
Copyright © 2014 Microsoft. All rights reserved.
Fundamental company data and historical chart data provided by Morningstar Inc. Real-time index quotes and delayed quotes supplied by Morningstar Inc. Quotes delayed by up to 15 minutes, except where indicated otherwise. Fund summary, fund performance and dividend data provided by Morningstar Inc. Analyst recommendations provided by Zacks Investment Research. StockScouter data provided by Verus Analytics. IPO data provided by Hoover's Inc. Index membership data provided by Morningstar Inc.
ABOUT
Top Stocks provides analysis about the most noteworthy stocks in the market each day, combining some of the best content from around the MSN Money site and the rest of the Web.
Contributors include professional investors and journalists affiliated with MSN Money.
Follow us on Twitter @topstocksmsn.