Will the Fed surprise markets?
The central bank will announce its plans on bond buying on this afternoon. The question is how investors will react.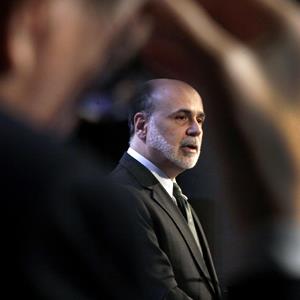 Updated: 1:37 p.m. ET
Sometime after 2:30 p.m. ET Wednesday, Federal Reserve Chairman Ben Bernanke is expected to step to a podium at the Fed's headquarters and try to explain what the Fed is doing.
What traders across all financial markets believe the Fed will say it's doing is something like this:
It's going to announce it is tapering its $85 billion-a-month bond-buying program, known as quantitative easing, with a view toward ending the program next year. The Fed is going to keep interest rates at ultra-low levels as long as it can.
Bernanke will pledge that the Fed stands ready to support the economy and markets, if Congress and the Obama administration can't agree on spending plans or whether to raise the U.S. debt limit.
Those are the basic decisions the Fed will make, with a policy statement coming at 2 p.m. ET, along with economic projections from Fed officials. Bernanke's news conference is at  2:30. 
Stocks were down modestly Wednesday morning. The
Dow Jones industrials
(
$INDU
) were off 37 points to 15,492 at 1:37p.m. ET. The
Standard & Poor's 500 Index
(
$INX
) had dropped 2 points to 1,703. The
Nasdaq Composite Index
(
$COMPX
) was off 4 points to 3,741.
The announcement has been eagerly anticipated, almost like a drug. That's because many traders don't want to think about the expected fight over the budget, due at the end of the month, and an equally contentious fight over the nation's debt ceiling, expected in late October or November.
As a result, stocks finished modestly higher on Tuesday but are up considerably more than 4% in September. In fact, the Dow ended Tuesday looking at their best September since 2010 and second-best since the 21st century began.
But if the Fed comes up with a surprise decision -- such as a big taper --
markets could tumble in a hurry
.
The vote of members of the Federal Open Market Committee, the Fed's policy-making committee, will probably include one dissent -- from Esther George, president of the Federal Reserve Bank of Kansas City. She has wanted the Fed to raise interest rates and stop its bond-buying, because she worries the Fed's policies could boost inflation pressures.
The dilemma the Fed faces is this: The QE program. now in progress. is in its third round. The goal was to help boost the economy, particularly the real estate sector, and help push cash into new investments.
When Bernanke and the Fed began to talk about tapering its quantitative easing in May, the assumption was that the central bank's monthly purchases would drop from $85 billion to maybe $65 billion. That sent bond yields soaring, even as Bernanke and others insisted they will keep interest rates low. Stocks took a dive.
But the Fed doesn't want to make a move without confirmation that the economy can handle it. That's an important concern. Jobs reports have been mediocre. Housing activity has tailed off. Back-to-school sales were flat.
Currently, the assumption is the taper, if it is announced, will be from $85 billion a month in bond purchases to maybe $75 billion. Under this theory, all of the trimming will come from the Fed's purchases of Treasury securities, now about $45 billion a month. So, purchases of mortgage securities would remain at $40 billion.
That may explain why interest rates have flattened out. The 10-year Treasury yield Wednesday was at 2.859%, up slightly from Tuesday's 2.853% and 2.98% on Sept. 5.
It also helps explain why stocks have had a terrific September. So does the easing of tensions over sarin gas use in Syria.


Gold
(
-GC
), down $1 to $1,308.40 on Wednesday, is off about 6% this month after rising 14% between June 30 and Aug. 31. Gold briefly traded to as low as $1,291.50. Gold hadn't traded below $1,300 since mid-July.
Brent crude
in London is down more than 4% in September. It was up $1.32 to $109.46 a barrel on Wednesday.
Light sweet crude oil
(
-CL
) in New York was up $1.59 to $107.01 but is down 0.6% on the month.
There are some forces that are beyond the Fed's ability to influence:
The bitter gridlock in Washington that shows no signs of abating.
Stagnant income growth for most Americans.
The reluctance of business to make big new investments when they make as much profit just by laying people off.
The on-going influence of oil prices and retail prices for gasoline and diesel fuels.
The last point is possibly the least appreciated piece of the stagnant economy picture and the horrific 2008 market crash as well.

The retail price of gasoline has been above $3 a gallon for more than 1,000 days, starting in December 2010, according to data from AAA's Daily Fuel Gauge Report.

The national average price of gasoline has jumped 170% since January 1, 2000. Not only has that jump been a constant drag on consumer spending, but when prices first topped $3 in late 2007 and reached as high as $4.114 a gallon in July 2008, the result was the near collapse of the automobile industry in the United States.

High fuel prices contributed to the real estate crash that began after 2005. High fuel prices made it difficult to sell property in the far suburbs of major markets. High prices also added to the stress homeowners faced making monthly mortgage payments. 
Gasoline averaged $3.506 a gallon on Wednesday, according to AAA data. That was down from $3.512 a gallon Tuesday and $3.585 on Aug. 31.

Financial markets have become used to high fuel prices, and banks have been the driver of the stock market in 2013. The perception of stability may be why markets have rallied in September.

More from Top Stocks
DATA PROVIDERS
Copyright © 2014 Microsoft. All rights reserved.
Fundamental company data and historical chart data provided by Morningstar Inc. Real-time index quotes and delayed quotes supplied by Morningstar Inc. Quotes delayed by up to 15 minutes, except where indicated otherwise. Fund summary, fund performance and dividend data provided by Morningstar Inc. Analyst recommendations provided by Zacks Investment Research. StockScouter data provided by Verus Analytics. IPO data provided by Hoover's Inc. Index membership data provided by Morningstar Inc.
ABOUT
Top Stocks provides analysis about the most noteworthy stocks in the market each day, combining some of the best content from around the MSN Money site and the rest of the Web.
Contributors include professional investors and journalists affiliated with MSN Money.
Follow us on Twitter @topstocksmsn.