Nasdaq outage: Last straw for retail investors
For many smaller players, the freeze has proved to them that they don't belong in the stock market.

"Last straw." Those are the two words I heard everywhere I went this weekend. The Nasdaq outage was the last straw, as it's become clear that the machines have taken over and they simply can't be stopped. That attitude, plus the desire to see someone at the Nasdaq OMX (NDAQ) take the fall for Facebook (FB) and for this three-hour shutdown, was on one everybody's lips -- my conversations tend to skew to the stock market when any event puts stocks back on the front page.
The criticism was two-pronged. The professionals would like to see Bob Greifeld replaced as CEO at Nasdaq, mostly because of his total failure to communicate anything about the situation, coupled with his insistence that such a lack of transparency is absolutely the right thing to do.
The amateurs, on the other hand, just want out. They have lost faith in the system entirely, because they believe that the big guys -- particularly the high-frequency traders -- are the ones behind the complexity. These folks just want a simple bid-and-ask to make their sells and their buys. They don't need the obviously not-redundant dark pools and rival exchanges in order to get what they want done. They just want the old days back, when the Nasdaq was the technological leader and seemed like the better-run of the two big exchanges.
Greifeld's hold on the Nasdaq board is a little mystifying. I think his success has a lot to do with his hard-core "don't cross me" ability that can beat back all critics. To say that Greifeld is tough would be an incredible understatement. It's a given that he'll ensure those who disagree with him will have to explain themselves a lot harder than he has to do. In light of Facebook and this debacle, that's a pretty brilliant strategy: He's put the critics on the defensive even after these two confidence-destroyin​g episodes. That shows his power and his hold on the franchise -- as well as the toothlessness of the Securities and Exchange Commission.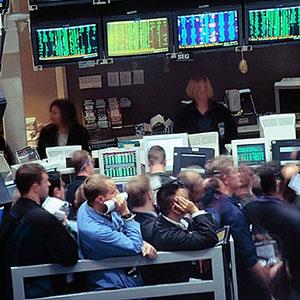 You pretty much want to side with Greifeld and embrace his rationalization for both screw-ups. You want to join him in saying that they weren't screw-ups at all but, rather, total validations of the strengths of the Nasdaq. After all, in the end, the Facebook deal did get done and the Nasdaq did open up.
My problem with that, though, is that the public has been so poorly served. Individuals regard the Nasdaq, indeed the system, as something that works day in and day out. Unless there's a specific physical threat to the entity, they don't believe it can go down.
Surely, I heard over and over from folks, there's a back-up. There must be some redundancy of a simpler variety that lets the market remain open for business via use of the technology of competing exchanges. What's the point of having these other operators if they can't help out to keep things open? How can the Nasdaq rely on just one feed for its operations? How does it not have an alternative, somewhere, with different technology?
Whatever the answer is, we know how Nasdaq is going to play it: "We're right, you are wrong, and it can't be done anyway."
For a lot of the retail investors I've talked to, the lack of an explanation or an apology showed them that they simply don't belong in the market at all. Only the big investors can handle such a blasé and routine attitude. Plus, because of the unhampered trading in ETFs that are made up of about 20% Nasdaq stocks, people are deeply suspicious that someone indeed had price discovery -- or else they, too, would have been shut down.
We can blame everything on the government. If the SEC had chosen to regulate the Nasdaq with a heavier hand, then perhaps it wouldn't be as given to glitches like that of Facebook and the Freeze. But maybe the reason for the SEC's lack of intervention or sanctioning is similar to Greifeld's: Basically, the system is great, and stop asking questions for your own good. You don't deserve answers because, in the end, you're nothing, too.

Jim Cramer is a co-founder of TheStreet and contributes daily market commentary to the financial news network's sites. Follow his trades for Action Alerts PLUS, which Cramer co-manages as a charitable trust and is long FB.
More from TheStreet.com
DATA PROVIDERS
Copyright © 2014 Microsoft. All rights reserved.
Fundamental company data and historical chart data provided by Morningstar Inc. Real-time index quotes and delayed quotes supplied by Morningstar Inc. Quotes delayed by up to 15 minutes, except where indicated otherwise. Fund summary, fund performance and dividend data provided by Morningstar Inc. Analyst recommendations provided by Zacks Investment Research. StockScouter data provided by Verus Analytics. IPO data provided by Hoover's Inc. Index membership data provided by Morningstar Inc.
ABOUT
Top Stocks provides analysis about the most noteworthy stocks in the market each day, combining some of the best content from around the MSN Money site and the rest of the Web.
Contributors include professional investors and journalists affiliated with MSN Money.
Follow us on Twitter @topstocksmsn.