Netflix is for traders, not investors
This will be one of the companies hit hardest when the fundamentals begin to matter again.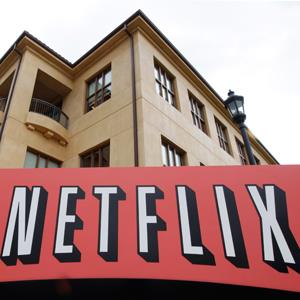 By Thomas Kee, Stock Traders Daily.

The recent earnings release and price action from Netflix (NFLX) has prompted us to conduct a more detailed review of the fundamentals of the company to accompany the price-based and technical-trading analysis that we already offer.

The assessment below is revealing to anyone interested in buying, shorting, or holding the stock from these levels. The fundamental observation is geared towards potential investors, but Netflix remains ripe for traders and fast money.
You will see that we believe certain characteristics of the Netflix model are clearly attractive; especially the seemingly inevitable continued progression towards streaming online content, but in the case of Netflix, valuation risk remains a major concern. We do not like the relationship between content growth and debt, and we believe that impairs the company's ability to generate bottom line growth.
First, I am a loyal user, my family uses Netflix every week and I enjoy the service. Random walk Theory would suggest to me that Netflix deserve consideration as an investment, but prudent evaluation of the stock today suggests that we not act so fast.
We will review operating result for Netflix from March, 2011 through today, and make fundamental observations that relate directly to the potential interest in buying the stock, but we will conclude with a price-based observation that is more technical in nature.
The most attractive part of the quarterly statements from Netflix over the timeframe in question is the growth of its content library.  Netflix has grown its content library from roughly $400 million in 2011, to about $1.6 billion today.  This is exceptional, 4-fold, and it tells us that Netflix is adding content on a continuous basis.  This is required to maintain its audience, because after a while the current content gets old.
As a Netflix user, after we watch the seven seasons of 30 Rock, for example, that once very attractive content becomes old, and we look for the next. This is a never-ending process, we all will search out new movies and new televisions series, and if Netflix fails to add new content eventually we also will drop off. However, Netflix has grown its content library nicely since 2011, and that tells us the company is focused on keeping clients.


However, adding content does not come without a cost, and in this case the cost to Netflix can be found in their liabilities.  The liabilities of Netflix have been increasing proportionally to the content library, and that is a major concern.  Since 2011, Netflix has only been able to grow its content library by incurring substantial liabilities, and if that trend continues it means that larger and larger liabilities should be expected from Netflix over time, and that is an unavoidable aspect of client retention, so the effort cannot be parsed.  Any investor in Netflix must understand that liabilities are set to increase meaningfully over time given the trajectory of recent trend.
Content growth = liabilities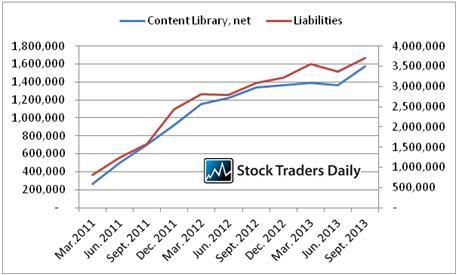 Turning to Earnings and Revenue, Netflix has also seen exceptional revenue growth since March, 2011, but earnings have been troubled to put it mildly.  Specifically, Netflix has not been able to translate a 50% revenue increase over this timeframe into meaningful earnings.  We know the company made a misstep when it tried to raise prices, but we would expect, after that problem was corrected, earnings to come back into parity with revenue growth, but that is not the case.
Yes, Earnings have improved officially finally; they are much better than they were last year, but the significant growth in revenue is not being brought down to the bottom line.  Our assessments are that the significant associated debt levels that accompanied the increase in content library assets play a significant role in this divergence, and that is a major concern.
Earnings lagging revenue considerably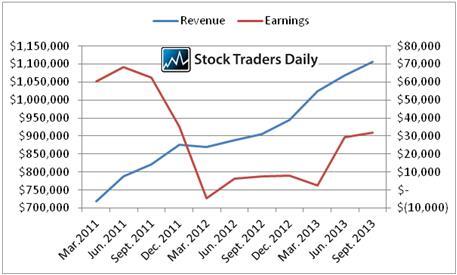 However, during this period, where earnings were restrained, Netflix stock price has indeed experienced a full recovery after a material setback.  The stock is much higher than it was in March, 2011, but investors do not appear to be paying attention to earnings.
Instead, they seem to be looking at the content library growth, revenue growth, and of course subscriber growth, but traditional accounting metrics make the increase in valuation that has occurred over the past 12-months especially hard to justify.
Stock price action is recently strong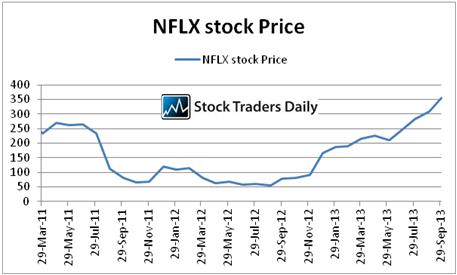 A more rigid look at the cash flow statement for Netflix suggests the company is not growing cash flow proportionally to revenue, and that is a major concern as well.  The operating cash flow at Netflix is not robust, it is barely positive, and unless that changes Netflix is a big risk.
Cash flow looks awful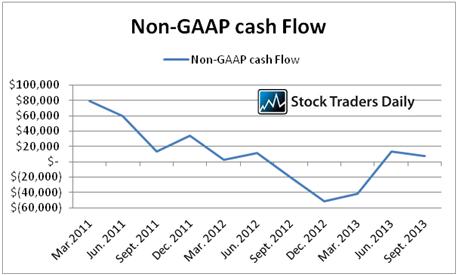 Lastly, we also cover Netflix on a technical basis, and according to our immediate analysis Netflix tested longer term resistance and it already has begun to turn lower.  By rule if that resistance level holds we should expect a complete oscillation back to stated longer term support.  This downside target is dynamic, and it will change over time as the channels change, so for now the resistance level is most important. 
Conclusion
Given the inability of Netflix to generate earnings and cash flow growth even moderately proportional to revenue, we must conclude that the cost of revenue, namely liabilities associated with content library growth, hampers net earnings and therefore will cause traditional valuation metrics to suggest that Netflix be avoided. The same is true from our technical observation.
Reasonably, you will probably find investors chasing Netflix if the asset bubble we are in today continues, but Netflix will be one of the companies hit hardest when the fundamentals begin to matter again.  If you plan on rolling the dice with Netflix, just make sure it is for a trade, because Icahn-like prices are possible again if they start paying attention to valuation.
Netflix real time report
Stock Traders Daily offers a real time trading report for Netflix and 1,300 other companies, and couples that with Market based analysis to not only gauge the likely price action in one stock, but the continued action in the market as well so investors are more apt to go with the flow. Details about Netflix and all else, please visit Stock Traders Daily.

It's MSN's weekly bashing of Netflix.  And do you know why this occurs on a weekly basis?  It's because MSN is owned by NBC, which is owned now by none other than COMCAST.  Yes, COMCAST, who is loosing cable customers by the millions because those customers are fed up and dropping Comcast's overpriced and lousy cable service in favor of streaming with Netflix/watching Netflix DVDs.
There you have it.

That you have it...and?  Comcast is lousy.  We had never been satisfied with Netflix - dropped it after 6 months.  They have to add more selections and as they do that it adds more to their liability.  Everyone has a different preference to have TV, cable, DTV, and/or Netfix.  How can anyone say one is better than the other and who cares!  There are more important issues.
Are you sure you want to delete this comment?
DATA PROVIDERS
Copyright © 2014 Microsoft. All rights reserved.
Fundamental company data and historical chart data provided by Morningstar Inc. Real-time index quotes and delayed quotes supplied by Morningstar Inc. Quotes delayed by up to 15 minutes, except where indicated otherwise. Fund summary, fund performance and dividend data provided by Morningstar Inc. Analyst recommendations provided by Zacks Investment Research. StockScouter data provided by Verus Analytics. IPO data provided by Hoover's Inc. Index membership data provided by Morningstar Inc.
ABOUT
Top Stocks provides analysis about the most noteworthy stocks in the market each day, combining some of the best content from around the MSN Money site and the rest of the Web.
Contributors include professional investors and journalists affiliated with MSN Money.
Follow us on Twitter @topstocksmsn.