New IPO lets you buy into an NFL player's career
The offering sells a stake in running back Arian Foster. And it's giving investors a lot of personal information about the athlete.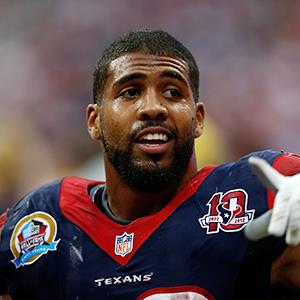 By
Darren Heitner, Forbes Staff
When was the last time a corporation had to file a prospectus related to the transfer of stock concerning a professional athlete? 
Probably the last time a share touching on the nature of a professional athlete's value was traded -- never. And that is part of what makes the creation of the Fantex Brokerage Services trading platform and announcement of an Arian Foster (pictured) initial public offering so fascinating. 
It brings along disclosures surrounding a professional athlete's life and career that is normally hidden from the general public.
Fantex was required to file a lengthy prospectus with the Securities and Exchange Commission as part of its Foster convertible tracking S-1 filing. Importantly, if athletes wish to become a part of the Fantex Brokerage Services trading platform, they must understand that contract details, endorsement deals and other material information about them (including any pending litigation) will be disclosed.

Investors need to realize the risks associated with potential investments. The Arian Foster prospectus goes into depth on this front.  For instance, as a running back and due to his medical history, Foster -- who plays for the Houston Texans -- may have a high risk of suffering future injuries that keep him off the field. The longer Foster plays, the more money he could potentially earn on the field and through endorsements. Thus, the following disclosure in the prospectus is appropriate:

Arian Foster is reported to have experienced an irregular heartbeat on numerous occasions since he was 12 years old, and in one instance he was reported to have left a regular season NFL game early due to this condition. In addition, Arian Foster played with a torn meniscus, or cartilage in his knee, during the 2010 NFL season, without publicly disclosing the injury until after the season when he underwent surgery to repair the injury. Arian Foster's playing status was questionable for two games during the 2011 NFL season, and he missed three games due to hamstring issues. A knee injury during the 2012 pre-season also made his season debut questionable. In addition, Arian Foster recently underwent an MRI on his right calf that was strained during off-season practice in May 2013 and has missed most of training camp due to a lingering back pain.

Enhancing the importance of the cited paragraph is the fact that approximately 75% of the total Arian Foster brand income estimated by Fantex is derived from anticipated future contracts that do not currently exist and substantially all of his current brand income is derived from his current NFL contract. 

Foster will have to enter into at least one more multi-year NFL contract with compensation that compares to his current contract and generate revenue from endorsement deals in amounts significantly in excess of what he has received to date in order for investors to see a real return on their investments.  And thus, the general public needs access to his existing deals. Per the prospectus:

Foster is in the second year of a five-year player contract with the Texans, pursuant to which he is eligible to receive for the 2013 season through the 2016 season a salary of up to an aggregate of $23.5 million ($5.25 million in 2013, $3.25 million of which is guaranteed, other than if, prior to or during the 2013 season, he either fails or refuses to report, practice or play for the team for any reason other than injury (or death) suffered while performing services under the contract or is in material breach of his NFL player contract, $5.75 million in 2014, $6.0 million in 2015 and $6.5 million in 2016), plus bonuses of up to an aggregate of $2.0 million (up to $500,000 per season). Each of these payments would be considered brand income when received by Arian Foster, and thus we would be entitled to 20% of these amounts when paid.

Foster is 27 years old. The most successful NFL running backs rarely make it in the league past their early 30s, and if they do, they often lose their role as the clear starting running back.

Foster will be 30 at the time he is projected to be a free agent (if he fails to sign a new contract ahead of schedule). He may have already reached the peak of his earnings from his on-field salary. The prospectus admits all of this.
A diligent person without access to the NFL and the NFL Players Association's databases may be able to research and discover the actual terms of Foster's deal with the Texans. Information about endorsement contracts, though, is oftentimes difficult to find. The prospects provides some insight.
Foster currently has ongoing endorsement contracts or license agreements with Under Armour, Inc., Kroger Texas LP, Gamebreaker Sports LLC, Health Warrior, Inc., Pro Player Merch LLC and ProCamps, Ltd. These endorsement contracts generally have terms that end in 2014 (with one agreement terminating in the first quarter of 2015) and require Arian Foster to exclusively endorse certain categories of products, make certain appearances, participate in the production of promotional materials and social media activities and sign autographs. Arian Foster is entitled to total compensation under these agreements of up to approximately $687,750, $265,000 of which is contingent on achieving certain milestones, including playing in post-season games, earning individual honors such as rushing 2,000 yards in a season, scoring 10 touchdowns in a season, playing in the Pro Bowl, being the NFL rushing leader or Super Bowl Most Valuable Player or breaking the NFL single season rushing record.
Then there is the "risks relating to Arian Foster" section of the prospectus, which reads like a very toned down version of a Major League Baseball team's brief when it heads to an arbitration hearing against a baseball player who has submitted a salary demand that is higher than the team is willing to offer. 

Included on the lengthy list is that future negative publicity could damage Foster's reputation and impair the value of his brand. Later in the prospectus, that bullet-point is fully explained and includes, "in November 2006, Arian Foster and two other team members of the Tennessee Volunteers football team were arrested after an altercation at a night club. In a documentary released in September 2013, Arian Foster admitted to receiving money as a college football player during his senior year at the University of Tennessee, in violation of NCAA rules."
Investing in stock related to Foster may not sound like it is as much fun as when you first read about the projected offering. This article only touches on some of the risks involved with making an investment, and does not even address any of the risks attached to investing with the corporation responsible for the trading platform (which has incurred significant losses since its inception and anticipates that it will continue to incur losses in the future). But it does include a disclaimer, athletes beware: Allow stock to be traded in your name and open the door to public scrutiny.
More on Forbes
Are you sure you want to delete this comment?
DATA PROVIDERS
Copyright © 2014 Microsoft. All rights reserved.
Fundamental company data and historical chart data provided by Morningstar Inc. Real-time index quotes and delayed quotes supplied by Morningstar Inc. Quotes delayed by up to 15 minutes, except where indicated otherwise. Fund summary, fund performance and dividend data provided by Morningstar Inc. Analyst recommendations provided by Zacks Investment Research. StockScouter data provided by Verus Analytics. IPO data provided by Hoover's Inc. Index membership data provided by Morningstar Inc.
LATEST POSTS
Meet Alibaba's new billionaires
Despite its size, the IPO will create just two new members of the 10-figure club from its executive ranks. A few others could net hundreds of millions.
ABOUT
Top Stocks provides analysis about the most noteworthy stocks in the market each day, combining some of the best content from around the MSN Money site and the rest of the Web.
Contributors include professional investors and journalists affiliated with MSN Money.
Follow us on Twitter @topstocksmsn.