No more paralysis by Fed analysis
We've been wasting our time with fretting about the central bank's policies, as this monster rate decline confirms.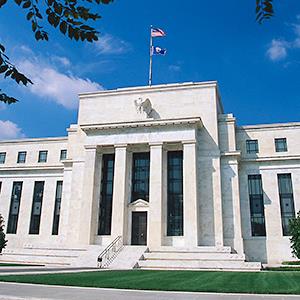 The amount of fretting that's been done about the Federal Reserve and stimulus tapering over the past two years is astounding to me, as it should be to you, after this continuing monster decline in U.S. interest rates.
It's like the whole stock debate got hijacked by people who report on the Fed's every move, when it turns out that bonds are actually taking a natural ebb and flow right now, unmoored by actions of the central bank.
Think about what happened Thursday while 10-year interest rates went back to 2.777 percent. First we got existing-home sales that showed tremendous growth -- much more than what most people thought, despite attempts by some observers to call the numbers anemic. Those attempts have been made on every piece of data, pretty much from the bottom. It's another shameful distortion, but let's save that for another day.
Second, we got still one more bank, this time KeyCorp (KEY), saying loan demand has picked up. This dovetails the vast majority of the banks out there.
Third, we had a new high in the Dow Jones Transportation Average, the index most sensitive to commerce. That's right, this is an index that's meant to be a harbinger. Tell me that's not the definition of business strength.
We had a very strong jobless claims number, again indicative of underlying strength.

We had a spike in the fuel that heats your home and a bump-up in gasoline prices.
Every one of these should have sent yields ever higher. But they didn't because -- are you ready, skidaddy? -- U.S. bonds represent real value versus the bonds of a lot of countries that are doing far less well than we are, including many, many politically troubled ones. It's a better economy and low inflation against higher inflation and worse economies.
That's what is determining interest rates -- not the Fed or the endless commentating on the Fed's various moves. You can call it a "flight to quality." I call it a "return to rationality." It makes sense to invest in the strength of a country's bonds at a time when all rates really aren't that far apart from each other, even though some weaker countries' interest rates should most certainly be so.
Now, with the equity averages giving back some of those gains, I look back and I am just plain steamed that the discourse was so hijacked by people who know nothing about stocks. These people, nevertheless, managed to keep people out of stocks for thousands upon thousands of points with their worry-mongering. They did us -- you and me -- a real disservice.
The next time we see fretting over a Fed meeting or the Fed minutes or a Fed head speech, you need to remember this non-Fed-derived bond move. Fed news is not irrelevant, but it just isn't nearly as important to the future of interest rates or, more important, the stock market, as so many think. That paralysis by Fed analysis must, at last, end in 2014.
But I know I am going to be drowned out once again by people saying the weaknesses in the currencies of Argentina, South Africa and Turkey are being caused by the Fed's tapering policies. I have heard that already this morning multiple times. Made me sick. 
Hogwash.
I think this will be the year when American strengths, not weaknesses, will play out. The American political system -- laughed about for years but now looking a lot better -- and the American industrial strength and American technological superiority will all constitute long-term themes that will distinguish us from others. All this will take center stage as the Fed's ability -- or, more important, need -- to orchestrate things fades into the background.
This will be the year of case-by-case. The Argentinian government has been teetering the way of Venezuela for some time now. A secular Turkey has been giving way to a regime in which economic growth is losing relevance. Investors who are in these markets have stupidly reached for yield, and now they are paying the price. But to link it to the Fed? It will be done. The Fed-centralizers -- meaning those who think that the Fed is central to everything and anything -- will control the mic again.
They will be as wrong now as they were last year and the year before.
It will take a Fed debt-ceiling-derived​ default to change my mind on this issue. Some "leaders" want us to go there, but try as they might, I still don't think it will happen. Otherwise 2014 will be the year of "more rationality" in the discourse of bonds and therefore, hopefully, more in the discourse of stocks, too.
There, I said it.
I feel better already.
Jim Cramer's Action Alerts Plus: Check out this charitable trust portfolio and uncover the stocks Cramer thinks could be winners. At the time of publication, the portfolio was long KEY.
More from TheStreet
DATA PROVIDERS
Copyright © 2014 Microsoft. All rights reserved.
Fundamental company data and historical chart data provided by Morningstar Inc. Real-time index quotes and delayed quotes supplied by Morningstar Inc. Quotes delayed by up to 15 minutes, except where indicated otherwise. Fund summary, fund performance and dividend data provided by Morningstar Inc. Analyst recommendations provided by Zacks Investment Research. StockScouter data provided by Verus Analytics. IPO data provided by Hoover's Inc. Index membership data provided by Morningstar Inc.
ABOUT
Top Stocks provides analysis about the most noteworthy stocks in the market each day, combining some of the best content from around the MSN Money site and the rest of the Web.
Contributors include professional investors and journalists affiliated with MSN Money.
Follow us on Twitter @topstocksmsn.