NSA fallout is thwarting AT&T
Wider distrust of US spying may upend the carrier's takeover ambitions, potentially hurting a bid for Vodafone Group.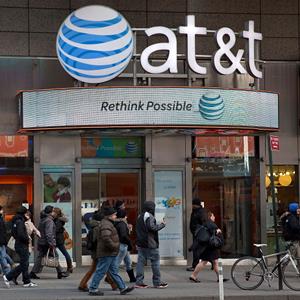 By Anton Troianovski, Thomas Gryta and Sam Schechner,
The Wall Street Journal
AT&T's (T) ambitions to expand in Europe have run into unexpected hurdles amid the growing outcry across the region over surveillance by the National Security Agency.

German and other European officials said any attempt by AT&T to acquire a major wireless operator would face intense scrutiny, given the company's work with the U.S. agency's data-collection programs.
Resistance to such a deal, voiced by officials in interviews across Europe, suggests the impact of the NSA affair could extend beyond the diplomatic sphere and damage U.S. economic interests in key markets. AT&T Chief Executive Randall Stephenson has signaled repeatedly in recent months that he is interested in buying a mobile-network operator in Europe, highlighting the potential for growth on the continent at a time when the U.S. company faces headwinds at home.
On Wall Street, many bankers, investors and analysts expect AT&T to make a bid for Vodafone Group PLC (VOD), which owns cellphone networks across Europe, as early as the first half of next year.
Such a deal would be one of the largest corporate acquisitions ever and present a degree of risk for AT&T's management. In 2011, AT&T's $39 billion takeover of T-Mobile USA, then a unit of Deutsche Telekom AG (DT), collapsed over competition concerns by U.S. regulators.
Europe's anger over the NSA's collection of electronic communications has reduced the likelihood a European deal could happen anytime soon.
AT&T is among the U.S. phone companies that provide calling data to the NSA to feed the far-reaching surveillance programs disclosed by former NSA contractor Edward Snowden, The Wall Street Journal reported in June. AT&T and Vodafone declined to comment for this article.
In Germany, Europe's biggest market and one in which Vodafone is the No. 2 mobile operator, the surveillance controversy has played prominently in the headlines for months. Allegations last week that the U.S. monitored Chancellor Angela Merkel's phone added even more fuel to the fire in the privacy-sensitive country.
"One would really have to ask: Should this be allowed? Does this make sense? What does this mean for our standards of data privacy?" Anton Hofreiter, co-leader in parliament of the minority left-leaning Greens, said of a potential AT&T deal.
Peter Schaar, Germany's federal commissioner for data protection, said AT&T would need to make it clear before closing a deal for a telecommunications company doing business in Germany that it wouldn't provide any data to the NSA without adhering to Germany's strict privacy laws.
Snowden's disclosures in recent months have shown how the NSA is able to collect data about people in other countries when that data passes through the U.S. And Journal reporting has shown that the NSA can intercept such communications on the U.S. Internet backbone via relationships with telecom companies including AT&T.
Even without the NSA controversy, an AT&T purchase of a large European telecommunications company would face a slew of complex reviews in Brussels and in individual countries. National governments in Europe have occasionally been able to block or stall foreign takeover bids, citing their strategic interests.
Elsewhere in Europe, officials have hailed AT&T's interest as a sign of the sector's underlying value. AT&T's Mr. Stephenson has made no secret of his European ambitions, even traveling to Brussels to deliver a keynote speech at an industry gathering in early October. He referred to the mobile industry in Europe as "a huge opportunity for somebody."
AT&T's interest in Europe stems in part from its simple desire to get bigger, with U.S. regulators blocking AT&T from making further large acquisitions in the U.S.
But if AT&T were to announce a deal for a European phone company, the political reaction in countries like Germany would likely focus less on AT&T's pricing plans and more on the longtime allegations that AT&T cooperates closely with the NSA.
In 2006, privacy advocates sued AT&T and provided information from a former AT&T technician alleging that AT&T had routed Internet traffic to a secret room in San Francisco to respond to NSA requests. A federal judge dismissed that lawsuit in 2009, and AT&T and the NSA haven't commented on the secret room's existence.
Earlier this year, Snowden leaked a secret court order directing phone company Verizon Communications (VZ) to turn over phone-call data to the NSA. The Journal reported that AT&T and Sprint Nextel Corp. were subject to a similar data-collection initiative.
U.S. officials said this week that much of the electronic surveillance that touched off a fresh furor in France, Italy and Spain last week was being done by those countries' intelligence agencies, not the NSA. But it remains unclear if those claims will cool the political climate.
Given the heightened focus on the NSA's activities, AT&T will have to work harder to get a European deal approved, bankers and government officials said.
A European government official said a deal with an American operator could become politically complicated, though not impossible.
"We'd need to have a concrete discussion to make sure that European data wouldn't be leaving Europe," the official said.
The NSA scandal "couldn't have happened at a worse time for a trans-Atlantic telecom deal," a European mergers-and-acquisit​ions banker said.
—Frances Robinson in Brussels contributed to this article.

More from The Wall Street Journal

Are you sure you want to delete this comment?
DATA PROVIDERS
Copyright © 2014 Microsoft. All rights reserved.
Fundamental company data and historical chart data provided by Morningstar Inc. Real-time index quotes and delayed quotes supplied by Morningstar Inc. Quotes delayed by up to 15 minutes, except where indicated otherwise. Fund summary, fund performance and dividend data provided by Morningstar Inc. Analyst recommendations provided by Zacks Investment Research. StockScouter data provided by Verus Analytics. IPO data provided by Hoover's Inc. Index membership data provided by Morningstar Inc.
ABOUT
Top Stocks provides analysis about the most noteworthy stocks in the market each day, combining some of the best content from around the MSN Money site and the rest of the Web.
Contributors include professional investors and journalists affiliated with MSN Money.
Follow us on Twitter @topstocksmsn.