The sad state of small business
The real problem isn't regulation. It's that owners can no longer compete with the big dogs.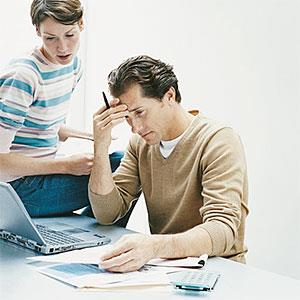 You want depressing? You want to know the real problem with the American economy? Go listen to the conference call hosted by Paychex (PAYX), the excellent payroll-processing company, which reported earnings Thursday.
This one was a real gut-puncher -- and not because of Paychex itself, which is an excellent company and a known best-of-breed payroll processor. It was tough to listen to because an undercurrent weaved through the call that said, basically, "We didn't deliver what you wanted because the country didn't deliver what we expected."
The company went out of its way to not blame the economy. The chief financial officer, Efrain Rivera point blank said, "Now, we're not using that as an excuse." He said that, in order to get to the growth people are expecting in their payroll-processing business, "You need a slightly different environment in terms of new business formation than the one we have," because right now the nation "basically shows no growth whatsoever in new business formation."
Three years out of the worst downturn since the Great Depression, and we have no new businesses formed of the type at which Paychex excels? I'm talking about the small businesses that are responsible for so much of the job creation in the country. How can that be?
Now the conservatives in this country blame the government for getting in the way of new business. As someone who has started a half-dozen businesses, I am not going to apologize for the government, as the local, state and federal minefields can be impossible to navigate. The liberals are seemingly willing to excuse the government at every turn, particularly the federal government, citing lack of demand as an issue.
It is true that this government in Washington seems incapable of coming up with something as bold as the interstate-highway system build-out that President Eisenhower did, in a feat of brilliance, in order to shut down a possible recession in the 1950s. However, that's still a relatively simplistic analysis. You almost begin to think that those who espouse this line of thought have never had to navigate a local hearing, a state regulation about safety or a federal mandate about mandatory healthcare for workers. Of course, their view never seems to encompass the taxes at every level, including absurd ones that could keep anyone from starting a business.
But I actually think both sides miss the point -- one that I learned this week by speaking to five CEOs of five gigantic companies: Jim McNerney at Boeing (BA), Ellen Kullman at DuPont (DD), Alan Mulally from Ford (F), Terry Lundgren from Macy's (M) and Howard Schultz from Starbucks (SBUX). That point is: You can't compete effectively against the big dogs anymore.
You want to start a small business against Starbucks? You want a coffee shop, a restaurant, a place to grab lunch? You'll have to wind your way through the thicket of regulation, and at the same time you'll need to tackle a company that can figure out pretty much everything that needs to be figured out and has the staying power to go through downturns. You will be going up against a company that has the best supply-chain management, the lowest costs, dedicated employees and a CEO on a mission to run the best company on Earth.
Macy's has the systems, the wherewithal, the talent and the clout to beat up on suppliers. You want to open a retailer and try to compete with that, while at the same time retaining the local touch that had been the edge a small business person could have had? Good luck with that.
You want to be a supplier to Ford or Boeing or DuPont? They can demand whatever they want of you and get it. This is demonstrated daily by Boeing's Partnering for Success program, the one where they put you on the "no-fly list" if you don't play ball.
That's right. What's happened in America is that the huge corporations with lobbyists in Washington and tentacles throughout the country -- the ones with the best balance sheets and, yes, the best leadership -- simply can't be beaten by small businesspeople. I think that, more than anything else, is the reason behind the lack of small­-business creation -- and, judging by the execs with whom I spent time this week, it's not rational or economic to start one. Until that's dealt with, and it is behind me to figure out how to do it, get used to the new norm and what might be a permanently lower-job-growth environment.

Jim Cramer is a co-founder of TheStreet and contributes daily market commentary to the financial news network's sites. Follow his trades for Action Alerts PLUS, which Cramer co-manages as a charitable trust and is long DD and F.
More from TheStreet.com
DATA PROVIDERS
Copyright © 2014 Microsoft. All rights reserved.
Fundamental company data and historical chart data provided by Morningstar Inc. Real-time index quotes and delayed quotes supplied by Morningstar Inc. Quotes delayed by up to 15 minutes, except where indicated otherwise. Fund summary, fund performance and dividend data provided by Morningstar Inc. Analyst recommendations provided by Zacks Investment Research. StockScouter data provided by Verus Analytics. IPO data provided by Hoover's Inc. Index membership data provided by Morningstar Inc.
ABOUT
Top Stocks provides analysis about the most noteworthy stocks in the market each day, combining some of the best content from around the MSN Money site and the rest of the Web.
Contributors include professional investors and journalists affiliated with MSN Money.
Follow us on Twitter @topstocksmsn.