Pandora's earnings had better be perfect
There is no room for error here, with the stock up 220% in the last year. The company reports Nov. 21.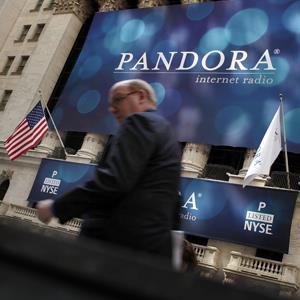 By Jeff Reeves
Pandora (P) has seen its stock soar in 2013, from under $10 a share to a high above $27 on Monday.
Pandora earnings have shown narrowed losses and significant revenue increases. And going forward, projections show the streaming radio giant is around breakeven now and will be soundly profitable in the coming year.
But Pandora has a forward price-to-earnings multiple in the triple digits. So now that big gains have been made, is it time to consider trimming back?
Considering the increased competition from Apple (AAPL) via its iTunes radio and the looming launch of a new YouTube streaming audio service from Google (GOOG), that might be wise.

Pandora stock is different than Pandora the product
For the record, I am a big Pandora fan. I regularly use the product.
After AAPL iTunes radio debuted I did play with the service a bit, but after refining some pretty great stations I'm not all that eager to switch.
Many Pandora users may feel the same way. But don't confuse Pandora the product with P stock as an investment.
Yes, last quarter, user growth was 30% year-over-year to over 71 million people on Pandora. But as we saw with Tesla (TSLA) after Q3 Tesla earnings, a big momentum stock doesn't have to post a lack of growth to crash. Simply missing expectations on guidance can be enough to send investors scurrying for cover.
That's the burden facing Pandora stock right now in advance of Q3 earnings.
The first minor misstep can be seen as a hint that momentum is slowing, and nobody wants to be holding the bag as a fast-growing stock like Pandora starts to crumble. That's the risk you take with a high-multiple stock like Tesla, Pandora or the like.
Furthermore, consider that despite the big run-up in Pandora stock, short-sellers have not abandoned their positions at all. Take a look at this Nasdaq data, which shows a pretty consistent short interest in P stock. . . even though in the last 12 months, Pandora has tripled!
Sure, volume is up so the days to cover has dropped, but short sellers are still camped out at the exact same rate of roughly 25% to 30% of the total "float" in outstanding Pandora stock.
All this is not to say that a stock with a P/E of 100 has to crash -- simply look at the sustained gains in Amazon.com (AMZN) as proof of a company that investors keep believing in despite relatively meager profits.
But those who forget the realities of nosebleed valuations and high short interest do so at their peril.

Google and Apple are tough competition
The bulls point out that in addition to specific growth for Pandora, the streaming audio space broadly is an increasingly popular medium.
In fact, Pandora posted just 7% penetration across the U.S. radio market in its last earnings report -- a figure that is undoubtedly a small sliver of how big it could grow.
But Pandora doesn't exist in a vacuum, and just because streaming radio holds big potential does not mean that P stock will remain the leader.
The threat from big tech players like Apple and Google is real. iTunes Radio enjoyed 11 million unique listeners just five days after launch. Though a lot of those folks were likely just testing the waters, the long-term threat isn't that existing Pandora users will migrate over en masse but that the fluid integration of iTunes radio with the Apple iPhone and iPad lines will ensure new users stay within the Apple ecosystem.
The same holds true for Google, which is increasingly trying to take over the entire Internet. There are many stories and rumors out there of a YouTube streaming radio service, which could be seamlessly integrated into the GOOG universe of Nexus hardware as well as its other internet products.
Oh, and don't forget smaller audio players like Sirius XM (SIRI) or iHeartRadio owned by Clear Channel or privately held Spotify.
You get the idea.
The growth Pandora has seen thus far has been impressive. As I stated, Pandora earnings in August showed 30% user growth -- along with record revenue after a 58% year-over-year jump and a significant bump to its mobile reach.
But 90 days ago, Wall Street was looking for 8 cents a share in earnings and those forecasts have been lowered to about 6 cents per share in advance of the Nov. 21 earnings report from Pandora.
If growth isn't great on both revenue and profits and users, then it's going to be rough for this momentum darling.
Not because Pandora isn't a great product or because the company will go bankrupt, but simply because expectations for P stock are too great and investors will want to take their cash off the table.
More From InvestorPlace

Jeff Reeves is the editor of InvestorPlace.com and the author of The Frugal Investor's Guide to Finding Great Stocks. As of this writing, he had no positions in the stocks mentioned.


Are you sure you want to delete this comment?
DATA PROVIDERS
Copyright © 2014 Microsoft. All rights reserved.
Fundamental company data and historical chart data provided by Morningstar Inc. Real-time index quotes and delayed quotes supplied by Morningstar Inc. Quotes delayed by up to 15 minutes, except where indicated otherwise. Fund summary, fund performance and dividend data provided by Morningstar Inc. Analyst recommendations provided by Zacks Investment Research. StockScouter data provided by Verus Analytics. IPO data provided by Hoover's Inc. Index membership data provided by Morningstar Inc.
ABOUT
Top Stocks provides analysis about the most noteworthy stocks in the market each day, combining some of the best content from around the MSN Money site and the rest of the Web.
Contributors include professional investors and journalists affiliated with MSN Money.
Follow us on Twitter @topstocksmsn.