Profit from 'the death of cash' with this company
With global reach and an incredibly strong balance sheet, this financial powerhouse is in a great position to benefit from the widespread consumer trend.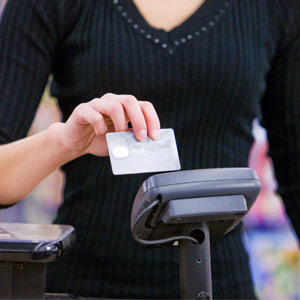 By Michael Vodicka
The death of cash is one of the hottest trends on the Street. With consumers fleeing cash in favor of the convenience of credit and debit cards, electronic financial transactions and payment processors continue to see explosive growth.
But while the bullish trend in the industry is universally acknowledged, the real question is how to profit. 
The undisputed market leader in the payment systems industry is
Visa
(
V
), with a market cap of $117 billion and reach around the globe. That provides stability and scales of economy for the company -- but from an investment perspective, Visa is past its years of peak growth.
For pure growth, I wrote about small cap
Heartland Payment Systems
(
HPY
)
last month
. Heartland is an up-and-comer in the payment processor space, but small caps can be volatile and might not be a good fit for investors looking for stability.
PayPal also continues to see huge growth, with fourth-quarter revenue up 18% from last year, to $1.5 billion. PayPal also gained 5 million active registered accounts in the period and ended the quarter with 128 million, up 16% from last year. But operating under
eBay's
(
EBAY
) $67 billion umbrella prevents investors from making a pure-play investment in the company.
That's why investors looking for a great combination of growth, accessibility and stability should check out
MasterCard
(
MA
).
With a market cap of $67 billion, MasterCard is the second-largest payment processor, operating in more than 150 currencies and 120 countries worldwide. But at about half the size of Visa, MasterCard offers a unique combination of growth and stability for investors looking to cash in on the death of cash.
MasterCard is leveraging its leading position in developed economies to capitalize on high-growth opportunities in emerging markets. The company is targeting high-growth markets such as China, the Middle East and Africa, where transactions volumes were up 20% in the first quarter compared with just 4% growth in the U.S.
Those gains are being driven by a flurry of deals in key emerging markets. MasterCard is looking to capitalize on the high-growth segments of e-commerce and mobile payments with its new MasterPass app.     
Last month MasterCard inked a deal with China CITIC bank to issue cards in China and others regions in Asia. MasterCard also recently announced plans for a strategic partnership with Alibaba Group, China's largest e-commerce company.
MasterCard also recently scored another victory in Myanmar, announcing that one of the Southeast Asian country's largest banks, Kanbawza Bank, is now accepting MasterCard payments cards at ATMs across the country. All these deals will enable MasterCard to build on its already strong presence in high-growth Asian markets.
MasterCard is also turning to Latin America to cash in on emerging-market growth. In May, the company announced its DataCash subsidiary, a global payment processor, was partnering with Redecard, one of Brazil's largest payment systems companies. The partnership will provide a comprehensive payment solutions system for merchants across the entire Brazilian market.
MasterCard has also been aggressive on the acquisition front. In 2010, MasterCard purchased U.K. payment services company DataCash Group for $520 million, to expand its online business and build international market share.
In 2011, MasterCard purchased British currency-exchange company Travelex for $458 million to build market share in debit, prepaid and cross-border markets. The prepaid market is on the cusp of explosive growth, according to Boston Consulting Group, which projects growth to $840 billion by 2017 from just $37 billion in 2010.
MasterCard is also focused on diversifying its product portfolio through new products and services -- including e-commerce, mobile payment, prepaid cards, "smart" cards and NFC (near-field communications) devices -- to capitalize on the highest-growth segments of e-commerce and payment processors.
MasterCard's dominant presence in the huge growth market of payment processors has turned it into a financial powerhouse. With a low-cost business model that incurs little variable expenses associated with higher transaction volumes, the company recorded operating cash flow of $2.95 billion in 2012.
MasterCard carries no long-term debt, providing incredible financial flexibility to invest in growth and scale out its operating leverage in years to come. The company's financial strength supported a $2 billion share buyback in February and 100% annual dividend hikes in 2012 and 2013.
Looking forward, analysts are calling for earnings growth of 16% in MasterCard's current fiscal year and 18% in 2014. In the next five years, analysts are calling for annual earnings growth of 16%, ahead of the industry average of 15%.
Risks to Consider:
Reaching saturation points in developed economies like the U.S. and Japan, MasterCard's growth will have to be driven by international and emerging markets. Weakness in the global economy will have a much bigger impact on these less-developed economies and consumer habits.

Action to Take:
In spite of MasterCard more than doubling in the past two years, shares still look fairly valued, trading with a forward P/E (price-to-earnings) ratio of 22 times, a slight premium to its 10-year average of 20 times and the industry average of 19.
Michael Vodicka does not personally hold positions in any securities mentioned in this article.
StreetAuthority LLC does not hold positions in any securities mentioned in this article.
More from StreetAuthority


The government is tracking financial transactions like they track phone calls and email, when folks finally realize this they'll use cash more often. The government would like to go cashless so they can track people's financial transactions, but cash will make a comeback as folks endeavor to keep the government out of their life.
I use cash for all transactions of $500.00 or less and will continue to use cash for the vast majority of my purchases.

I've noticed a trend in cash transactions; I think more people are realizing that the government IS tracking our spending or can if they want to. Also let's face it, there are a LOT of transactions [two, drugs and prostitution come to mind] that are ALWAYS going to remain for cash or barter.
Besides, you don't get charged 30% interest for cash, and let's face it, cash is so delightfully anonymous. Besides, it's NOBODY'S GD business where I spend my money and WHAT I spend it on.
Inherently, because we didn't secure the virtual "house" when it was being built, we can never fully go to credit cards and the other forms of non-cash. Now that Bernanke has printed us into compromise, the only way to make non-cash work is to crash the markets, end the Federal Reserve, banks and all financiers. The only possible system is nearer to Socialism but because we adamantly oppose getting close to it at all, corruption will permanently control the gap between cash and anything else.

I'll say it again...Some Gas stations and other businesses will discount for CASH..
A nickel to a dime a gallon..
There are other businesses also...But I suspect many times it's not run through the books.
Not all cash, but a percentage.
The first step is you have to ask....It's not advertized.
Are you sure you want to delete this comment?
DATA PROVIDERS
Copyright © 2014 Microsoft. All rights reserved.
Fundamental company data and historical chart data provided by Morningstar Inc. Real-time index quotes and delayed quotes supplied by Morningstar Inc. Quotes delayed by up to 15 minutes, except where indicated otherwise. Fund summary, fund performance and dividend data provided by Morningstar Inc. Analyst recommendations provided by Zacks Investment Research. StockScouter data provided by Verus Analytics. IPO data provided by Hoover's Inc. Index membership data provided by Morningstar Inc.
ABOUT
Top Stocks provides analysis about the most noteworthy stocks in the market each day, combining some of the best content from around the MSN Money site and the rest of the Web.
Contributors include professional investors and journalists affiliated with MSN Money.
Follow us on Twitter @topstocksmsn.