Redbox pulls back on kiosk frenzy
The company begins dismantling some of its ubiquitous rental stands, recognizing that it has saturated the market.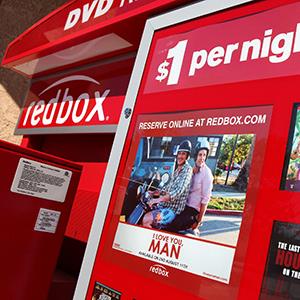 By Ben Fritz,
The Wall Street Journal
Redbox installed more than 40,000 DVD rental kiosks in grocery stores, 7-Elevens and Wal-Marts (WMT) over the past seven years, fundamentally transforming the movie business in the process with its low prices and convenience.

This year it is uninstalling kiosks -- more than 500 of them in the U.S.
The decision by Redbox's parent company, Outerwall (OUTR), to start managing its network of ubiquitous red machines for efficiency rather than growth signals a vital change. After years of double-digit increases, Redbox revenue rose only 3 percent last year, to $1.97 billion, and is projected to stay about even in 2014.
Operating income was flat at $239 million last year, after increasing 41 percent in 2012 and 74 percent in 2011.
Much of that stagnation can be attributed to the fact that there are no more good locations left for Redbox machines. But the company is also contending with the growing popularity of online streaming and more original television programs.
"Redbox has definitely reached full maturity. The only question is: how steep is the decline?" said Steven Frankel, an analyst at Dougherty & Co.
A Redbox spokeswoman said the company "continues to offer consumers a compelling alternative to other home entertainment options."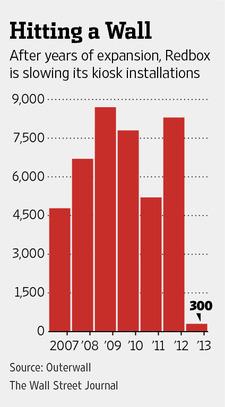 At the same time, Illinois-based Redbox faces several challenges. Content deals with five of its six biggest studio partners expire later this year and a joint venture with Verizon Communications (VZ) to expand into digital, called Redbox Instant, is foundering, according to available data and people familiar with its business.
Outerwall stock is up 3 percent so far this year, aided by $421 million of share repurchases last quarter. The company, valued at $1.4 billion, returns 75 percent to 100 percent of its free cash flow to shareholders. It has had little success with efforts to diversify beyond Redbox, which accounted for 86 percent of its revenue last year, and change-counting Coinstar machines.
In February, Outerwall named a new chief for Redbox, Mark Horak, a former home entertainment executive at Time Warner's (TWX) Warner Bros. He is seeking to renegotiate studio deals on terms more favorable to Redbox, rather than pursuing simple renewals, said one person with knowledge of early talks.
"We will continue to seek win-win solutions in future discussions," a Redbox spokeswoman said. Mr. Horak declined to comment.
Just a few years ago, many in Hollywood considered Redbox a key reason that profitable DVD sales were in free fall. Buying a DVD for $15 became hard to justify when people could pay $1 a night to rent it at a store they frequently visit. Others said Redbox appealed to different, more price-sensitive consumers.
Litigation ensued and ultimately three major studios agreed to let Redbox offer DVDs four weeks after they go on sale. Another three took bigger payments in exchange for giving Redbox DVDs on launch day.
Recently, Blockbuster stores have closed and Netflix (NFLX) has shifted its emphasis to streaming and away from its DVD-by-mail business, leaving Redbox the nation's largest DVD renter with more than 40 million customers in the first quarter. Though most of Hollywood wishes it charged more, few want to see the last man standing in physical rental disappear soon. "They have become a very important customer," said one senior studio executive.
Existing contracts call for Redbox to pay Hollywood studios at least $566 million this year, according to a regulatory filing.
John Pfeiffer, a longtime movie renter, stopped at a Redbox kiosk at a grocery store in Glendale, Calif., recently, but left empty-handed.
"99 times out of 100, they don't have what I want," said Mr. Pfeiffer, who added he prefers the wider selection of video-on-demand, despite a standard price of $5 to $6.
However, Michael Barcelo left the same grocery store with a copy of "The Wolf of Wall Street." He said he prefers Redbox's lower price and doesn't mind returning discs to kiosks, because "there are so many of them."
Much of the company's attention this year is on wringing more revenue out of customers like Mr. Barcelo.
"We're really focusing 2014 around continuing to refine our [customer relationship management] processes in order to drive more value out of each kiosk and more value out of each of our consumers," Outerwall Chief Executive J. Scott Di Valerio said on a February conference call with analysts.
That includes better recommendation technology and renting more Blu-ray discs, which cost $1.50 a night and are more profitable. Last quarter, 15 percent of disc rentals were Blu-ray, a figure Mr. Di Valerio said he hopes to increase to 17 percent by the end of the year.
The company is also expanding in Canada, its only foreign market. It had 1,300 kiosks there in March and is adding between 50 and 250 more this year.
Despite the lack of competition and disparity with video on demand, Redbox hasn't raised prices since a 20-cent increase in 2011.
Past efforts to make more money from Redbox kiosks have been met with mixed success. A pilot program to sell event tickets launched in late 2012 but was shut down the spring of 2013. The company began offering videogames in 2011, which now represent 3 percent of revenue.
In March of 2013 the company launched a long-promised digital business called Redbox Instant by Verizon. It is 35 percent-owned by Outerwall and 65 percent by the telecommunications giant.
The joint venture offers new releases at the standard on-demand price of $5 to $6, as well as a combination of four kiosk DVD rentals and unlimited streaming from a selection of older films for $8 a month. Though it is available on most digital devices, Redbox Instant accounts for less than 1 percent of video-on-demand rentals, according to research firm IHS.
And while the companies haven't released a subscriber total, the number is small, according to people familiar with the matter.
"You can tell from the losses that it's not generating much revenue," said Wedbush Morgan analyst Michael Pachter.
A Verizon spokesman said the "business continues to make great progress. We're seeing month-over-month increases in customers and their engagement."
The Redbox spokeswoman said Redbox "will continue to work with Verizon to optimize the consumer offer and business results within the current JV and assess additional opportunities to participate in the expanding digital business."
—Ryan Knutson contributed to this article.
More from The Wall Street Journal
DATA PROVIDERS
Copyright © 2014 Microsoft. All rights reserved.
Fundamental company data and historical chart data provided by Morningstar Inc. Real-time index quotes and delayed quotes supplied by Morningstar Inc. Quotes delayed by up to 15 minutes, except where indicated otherwise. Fund summary, fund performance and dividend data provided by Morningstar Inc. Analyst recommendations provided by Zacks Investment Research. StockScouter data provided by Verus Analytics. IPO data provided by Hoover's Inc. Index membership data provided by Morningstar Inc.
ABOUT
Top Stocks provides analysis about the most noteworthy stocks in the market each day, combining some of the best content from around the MSN Money site and the rest of the Web.
Contributors include professional investors and journalists affiliated with MSN Money.
Follow us on Twitter @topstocksmsn.