Restoration Hardware's greatness is just beginning
CEO Gary Friedman has the time, inclination, vision, smarts and cash to pull off a revolution in retail.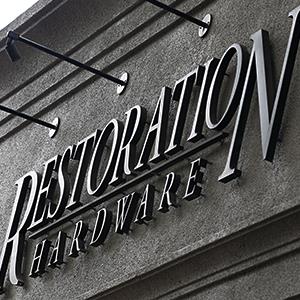 In the time since that 17-pound Restoration Hardware (RH) catalog arrived at your house, the stock has rallied by 17 points.
Coincidence? Of course.
But when you sit down with CEO Gary Friedman, you begin to wonder whether his catalog and brick-and-mortar throwback approach to business isn't better than the Web. After all, only 8% of retail is done on the Web. Why not figure out how to master the 92 percent that's left.
That's exactly what Restoration Hardware, with its high-teens comparable-store numbers, is doing. RH has developed a hybrid approach to retail that seems very 21st century, kind of the way a Cezanne may have been to a Rembrandt, a breakthrough look at the art of retailing that is no longer constrained by the old model.

Don't sniff at this notion. It is not high minded. We know the mall has become a challenged place to shop. Some people, like Starbucks CEO Howard Schultz, say it is a fact of life because online shopping is easier and faster and often cheaper.
Friedman, on the other hand, says that perhaps it is just soulless. Who wants to go to windowless box that couldn't even sustain plant life and spend a lot of money in a totally dreary session? Who wants to go on the Web, where every retailer is created equal because of the size and flatness of the computer screen? Why not design stores that look and feel different than all others, that look and feel like an art gallery and a home. Why not have terrific-looking catalogs, even if some customers got more than they asked for -- or didn't even ask for -- when the tomes arrived.
I think Friedman is on to something. I think his vision and his desire to disrupt the model -- including even some of his own earlier stores -- are visionary and, yes, will be successful. Will the stock market give him a chance to build out the stores he needs? I think until this most recent quarter the jury was out.
Now it is back.
It says he has the time, the inclination, the vision, the smarts and the cash to pull it off.
He's certainly persuasive. Friedman went on the road recently to talk to buyers of a Restoration Hardware convertible bond. I always hate it when companies do these converts, because the buyers often turn right around and short the common, putting instant pressure on the stock. Not this time. The stock went higher after the convert. That's a sign that the convert buyers not only didn't short the stock but, most likely, they might have augmented their convert positions with common in the aftermarket.
To me that means stop betting against him, as so many hedge funds have, and start betting with him. His company is just starting its journey toward greatness, and right now the market capitalization is way too small for the story he has to tell, the vision he believes in and the execution capabilities he has demonstrated both here and at William-Sonoma (WSM), where he worked before he took this job in 2001. Even after those 17 pounds, I think the story has much further to fly. 
Jim Cramer's Action Alerts Plus: Check out this charitable trust portfolio for the stocks Cramer thinks could be winners.
More from TheStreet

This is a Public market and acting similar to a Public School.  Everyone gets an award regardless of performance.  Now we are back to leapfrogging sectors.  Fundamentals haven't mattered for years now yet Wall Streeters continue to prate on and on like due diligence really means something?  Some folks are just stuck in their same old performance and today there is no downside. As long as the money flows nothing matters and that to me is the rub.  A grade school stock market. Here's your baba.

  Jim first mentioned RH well over a year ago. Didn't push the issue like he did Liquid Liquidators. RH none the less had a nice move from mid $30 to mid $50 were it stagnated for a year. Was a good swing trader issue with 4 10% plus swings during the year. Taking off again this year. How far who knows. Good call Jim.

"I think...I think...I think...I think...To me that means stop betting against him..."

Not a single number about finances.  Not a single mention of durable competitive advantages.  Not a single mention of exact what's being sold and competitors.

To me that means there's not much thinking done here!

Are you sure you want to delete this comment?
DATA PROVIDERS
Copyright © 2014 Microsoft. All rights reserved.
Fundamental company data and historical chart data provided by Morningstar Inc. Real-time index quotes and delayed quotes supplied by Morningstar Inc. Quotes delayed by up to 15 minutes, except where indicated otherwise. Fund summary, fund performance and dividend data provided by Morningstar Inc. Analyst recommendations provided by Zacks Investment Research. StockScouter data provided by Verus Analytics. IPO data provided by Hoover's Inc. Index membership data provided by Morningstar Inc.
ABOUT
Top Stocks provides analysis about the most noteworthy stocks in the market each day, combining some of the best content from around the MSN Money site and the rest of the Web.
Contributors include professional investors and journalists affiliated with MSN Money.
Follow us on Twitter @topstocksmsn.