Rough weather chills corporate growth
Now is the winter of discontent for both the US economy and companies in several industries, as many profit forecasts have been revised downward. What will spring bring?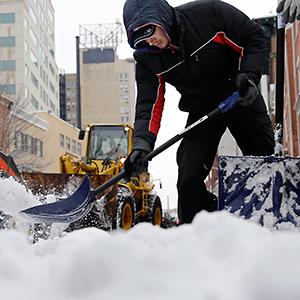 By Patti Domm, CNBC
The unrelenting winter weather that has chilled the economy also will likely freeze some corporate profit growth.
So far, the stock market has looked past the weather impacts on manufacturing, housing, consumer spending and even hiring.
That's because while economists see an impact on first-quarter growth -- now expected around 2 percent or lower -- they also foresee a spring back when the weather improves.
But what's not clear is whether the market will ignore the impact weather seems to be having on corporate profits.
"It's hard to say whether you're going to get increased volatility through it," said Bank of America (BAC) Merrill Lynch equity strategist Daniel Suzuki. "On the one hand, it's going to make the data a little more noisy, just like the economic data. On the other hand, no matter what happens, you could see investors looking through it."
S&P Capital IQ saw a rapid decline in profit forecasts for the first quarter, according to Christine Short, an S&P director. Short tracks forecasts for the S&P 500 ($INX) companies and expectations for first-quarter earnings have deteriorated dramatically in the past month.
On Jan. 2, consensus estimates were for a 5 percent increase in first-quarter profits. They are now expected to be up just a paltry 1.5 percent, and that number could fall further.
"I think that's kind of shocking when you look at last year, and we were expecting all four quarters (of 2014) to have double-digit growth," Short said. "I think it does have impact no matter what sector you look at."
All but one of the major S&P sectors were revised lower, led by consumer discretionary and materials. Industrial sector profits, which includes air freight, also saw a big decline. Short said the air freight subsector -- including FedEx (FDX), UPS (UPS), and C.H. Robinson (CHRW) -- was expected to see profit growth of 18.2 percent at the beginning of January, but that has been revised to 12.8 percent.
Thomson Reuters (TRI) sees a similar trend, though senior research analyst Greg Harrison points out that estimates are revised every quarter. This quarter, however, the only major sector to show improvement was utilities — clearly a beneficiary of cold weather. Thomson Reuters' forecast shows the estimate for first-quarter earnings for the S&P 500 has fallen from 7 percent at the beginning of December to 3.3 percent now.
Ten companies in the S&P consumer discretionary sector offered negative guidance for the first quarter, and two offered in-line guidance, according to Harrison. The discretionary sector, which is heavy on retail, is especially vulnerable to weather trends.
Wal-Mart (WMT) reports quarterly results Thursday and has already warned that the eight major storms between November and the end of January hurt sales. Other major retailers report in the next week, including Home Depot (HD) and Macy's (M).
Analysts are questioning the extent of weather impact or if there might be a different cause for the slowdown. Wal-Mart also warned its sales were hurt by a cutback in the national food stamps program.
Cheesecake Factory (CAKE) reported same-store sales up 0.9 percent in the fourth quarter, half of consensus, and said severe winter storms impacted business. But UBS (UBS) analysts said in a note that core trends at Cheesecake show a clear slowing beyond the weather.
Materials and industrials companies were also affected by storms that brought record amounts of snow -- the seventh snowiest year for New York and third snowiest ever for Philadelphia.
A search by Thomson Reuters found that materials companies Airgas (ARG), Praxair (PX) and Sherwin Williams (SHW) all complained about weather impact, as did industrial names -- United Parcel Service and Stanley Black & Decker (SWK).
Harrison points out that some companies besides utilities saw positive effects. For instance, Johnson Controls (JCI) had higher volumes in North America and said the weather could be a tailwind, and O'Reilly Automotive (ORLY) said the early and extreme cold in the Midwest helped its sales because of more parts failures.
Meanwhile, Group 1 Automotive (GPI) said Tuesday that 105 of its 118 stores have been impacted by hazardous driving conditions and road closures that have resulted in store closures or reduced traffic. It said the storm events resulted in the equivalent of 391 lost selling days for the quarter, or the equivalent of about a 9 percent loss in total available selling days through Feb. 16.
The utility sector is faring better. Utilities Wisconsin Energy (WEC) and Exelon (EXC) got boosts from cold weather, Harrison noted.
AGL Resources (GAS), the pipelines and gas utilities company, is one of the companies in the sweet spot to benefit. In a note last week, Citigroup (C) analysts said they were raising their estimates on the company based on its infrastructure investment program and colder than normal temperatures. They have a neutral rating on the stock but boosted the price target to $48.
Home builders have not yet seen first-quarter earnings estimates revised lower, and in fact estimates for the household durables group were raised slightly, from 8 percent to 8.2 percent, according to Short at S&P. But that could change. The National Association of Home Builders survey Tuesday showed a steep drop, from 56 to 46, the biggest one-month decline since the index was launched in 1985 and the first time since May that it has been below 50.
Companies in the business of transportation have been particularly challenged.
After its recent earnings report, C.H. Robinson said its margins were hurt by the weather.
"In the past, we've always believed that ... volume would come back after a period of time," CEO John Wiehoff said on a conference call.
"I don't know, in some of the January weather, whether that was true or not. It does feel like some of the worst weather days in the month of January did diminish volumes pretty significantly where there wasn't a corresponding rebound to it. So that's another thing that we'll study more over time, but it does feel like weather was a contributor to some of our challenges over the last couple of months," he said.
United Continental Holdings (UAL) also described bad weather on its earnings conference call, with Vice Chairman James Compton calling the subzero arctic blast in the first week of January "among the worst weather events in our history," resulting in 6,300 canceled flights. The airlines have canceled tens of thousands of flights this winter, and some of that lost revenue probably won't be recovered.
The rail industry is also likely to feel headwinds, with storms impacting freight volume.
"The weather could play an increasing role in shipper's inventory decisions given that retailers typically switch to spring merchandise in February," Citigroup rail analyst Christian Wetherbee said in a note. "However, shoppers may be reluctant to spend for warmer-weather items with winter still in full force across much of the country."
Bank of America Merrill Lynch analysts have been wary of consumer discretionary stocks for a while, and say more than weather may be to blame for soft sales.
"While some of this is due to the weather, we have noted that negative surprises from consumer-oriented companies have been trending higher over the last several quarters," they wrote in a note Tuesday.
"This quarter's results could mark the weakest 4Q (year-over-year) growth for discretionary since the crisis. While guidance has recently improved for staples, it has deteriorated for discretionary. We remain market weight staples and underweight discretionary," the note said.
Suzuki said it appears there has been a slowdown but that growth should pick up.
"From an academic standpoint, the impact of a single month or a couple of months of bad weather isn't huge in terms of the long-term earnings of a company, and it's less bad if you think about the different industries and sectors," he said. "Retail is probably going to get a little bounce back as the weather improves whereas in other areas it's lost for good, like restaurants."
More from CNBC
DATA PROVIDERS
Copyright © 2014 Microsoft. All rights reserved.
Fundamental company data and historical chart data provided by Morningstar Inc. Real-time index quotes and delayed quotes supplied by Morningstar Inc. Quotes delayed by up to 15 minutes, except where indicated otherwise. Fund summary, fund performance and dividend data provided by Morningstar Inc. Analyst recommendations provided by Zacks Investment Research. StockScouter data provided by Verus Analytics. IPO data provided by Hoover's Inc. Index membership data provided by Morningstar Inc.
ABOUT
Top Stocks provides analysis about the most noteworthy stocks in the market each day, combining some of the best content from around the MSN Money site and the rest of the Web.
Contributors include professional investors and journalists affiliated with MSN Money.
Follow us on Twitter @topstocksmsn.