Sears still plagued with problems
With revenue on a downward trajectory for the past half-decade and the company posting considerable losses recently, many wonder what assets Sears may unload next.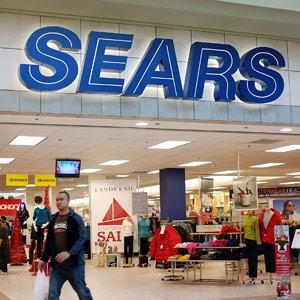 There are over 4,000 Sears and Kmart retail stores in the US and Canada, yet 
Sears 
(
SHLD
) still struggles to achieve profitability. Dwindling sales, bad management decisions and no clear attempts to improve branding strategies have led to major declines in the company's stock price. 
Most recently, Sears reported dismal Q1 earnings, posting a massive net loss of $2.63 per share, down from a profit of $1.78 per share in the prior year quarter. The steep slide far exceeded analysts' consensus estimate for a loss of $0.60 per share. Revenue dropped 9% to $8.5 billion, also missing analysts' expectations of $8.74 billion. While unfavorable weather was partly to blame for soft sales of spring seasonal merchandise, it fails to account for the overall weakness – especially in the beleaguered Kmart division.
Sears continues to present a dreary image: For Q1 2013, the company reported a year-on-year same-store sales decline of 3.6%, which means that there have been seven straight years of same-store sales declines. The only positive number was a 20% increase in online sales. 
The company has been working to better integrate its online channel and retail stores, and to leverage the millions of customers in its "Shop Your Way" loyalty program. "Shop Your Way" has generated more than 60% of the company's revenues in the last quarter, and on average the members in that program spent 18% more money in stores than non-members.
However, just a boost in online sales would not be enough for the company to stage a turnaround. The company took a $3 billion loss in fiscal year 2012, and is expected to lose considerable amounts at least through fiscal 2016. The company has been able to survive over the past few years mainly due to sales of real estate and other assets. Massive store closures, especially at Kmart, and tighter inventory controls have also helped. Yet Sears lacks the one thing it truly needs to bounce back: a viable plan to reverse seven consecutive years of declining same-store sales.
Based on 
Market IQ
's proprietary fundamental metrics, the company is bleeding red ink across the board. Sears is the worst performer in its peer group as seen on the quality-value chart below.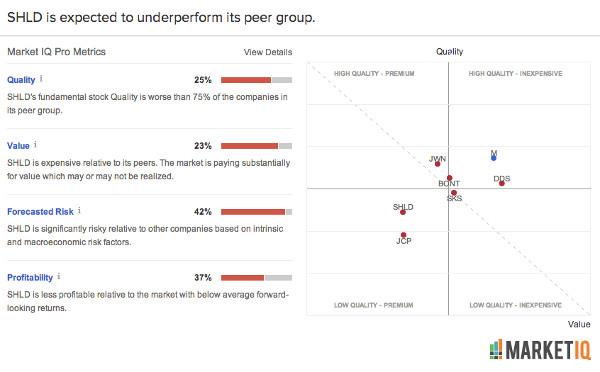 Sears' fundamental stock quality is worse than 75% of its peers. This is mainly due to weak revenue growth, decline in net income, poor profit margins, and weak financial standing relative to its peer group.
The department store chain has seen revenues fall from $9.3 billion in Q1 2012 to $8.5 billion in Q1 2013. This along with an increase in SGA costs has led to a reduction in the bottom line from a gain of $189 million in Q1 2012 to a loss of $279 million in Q1 2013.
Gross margins have declined from 27.7% in Q1 2012 to 25.5% in Q1 2013. Increased clearance markdowns and bad timing mainly drove a decline in gross margins when it came to vendor allowances – especially with closing stores that led to inventory clearances
The company is carrying a significant amount of debt, as well as substantial pension fund liabilities. Sears has an equity to debt ratio of 0.26, which is lower than the industry average of 0.67, indicating weak financial standing relative to its peer group. Additionally, interest coverage ratio of -0.83 is lower than the industry average of 3.11, indicating the firm's weak ability to meet its short-term obligations.
To add to the weak quality metrics, Market IQ's Valuation parameters suggest that the firm is overpriced (see chart below).
However, according to Sears Holdings' chairman Eddie Lampert, the company's real estate portfolio is easily worth more than $20 billion. Assuming that assets are worth $20 billion, then this literally means that the company is sitting on top of an unconventional gold mine, making current market capitalization of $4.5 billion a bargain.
In recent years, Sears has made a habit of spinning off its holdings to raise cash and ease investor concerns over liquidity. SHC Realty was launched in 2010 to conventionally market available properties in an attempt to create value for stockholders by selling and leasing them. In December 2011, Sears completed the spin-off of its Orchard Supply Hardware Stores chain.
In 2012, the company separated Sears's Outlet and Hometown and Hardware stores. Additionally, Sears completed a partial spin-off of its Canadian unit and sold 11 of its stores to mall operator 
General Growth Properties
 (
GGP
).
Earlier this year, Sears launched Seritage Realty Trust as a "nationwide developer of commercial real estate" to help oversee a Sears portfolio containing several properties.  Most recently, Sears launched a 
new business unit
, Ubiquity Critical Environments, with the mission of converting some of the closed Sears and Kmart stores into facilities for data warehousing, network co-location centers and business continuity operations. Ubiquity is also spearheading a new initiative to lease cell towers to be built at existing Sears facilities.
Sears has also suggested the company may divest itself of Lands' End, a higher-end apparel brand and e-commerce outlet that the company acquired in 2002, given its deteriorating financial performance. Other possibilities for sale are proprietary brands such as Kenmore and Craftsman.
Sears is stuck in the middle of an increasingly polarized department store market that has diverged into high-end and low-end spheres. As a mall-based mass merchant, Sears has failed to specify a niche and articulate the well-defined identity necessary to compete with high-end rivals like 
Nordstrom Inc. 
(
JWN
) and 
Saks Inc. 
(
SKS
). Additionally, its mall-heavy real estate portfolio has suffered -- as customers have flocked to stand-alone big boxes like 
Target Corp. 
(
TGT
), 
Wal-Mart Stores Inc. 
(
WMT
) and 
Costco Wholesale Corporation 
(
COST
), while its stores, starved of capital investment, often felt bedimmed.
Eddie Lampert, who has chosen to run it as a financial asset rather than as a retail business, has grossly mismanaged the chain. With revenue on a downward trajectory for the past half-decade and the company posting considerable losses recently, many wonder what assets the company may unload next. Slipping sales, questionable strategies and tight finances doesn't warrant investment in the retail behemoth unless the company turns profitable or at least shows signs of a turnaround. However, despite dismal fundamentals, the underlying or breakup value of Sears' real estate assets merits a substantially high valuation, which may make Sears a potentially good investment.
More from Minyanville

i  have said this and hundred times eddie you got to go you are no retailer, you need to get a experiance  retailer leave them alone ( no mico managing like i know you love to do this is why your failing) and maybe just maybe they NOT YOU can turn it around. dont run it as a financial asset IT AINT WORKING! common sense run it like a retailer thats what it is , why  couldnt you stick to your stupid hedge fund b. s. why did you have to screw up a great company ?!

Well we can see they don't read online comments from past customers as to why they are not shopping at Sears anymore.  If they would just listen to people, they are telling Sears exactly what is wrong, how they can change, what we are looking for in a store.  But they do not.  It's the usual idiocy of "if we just continue to cram what we want down peoples throats, they will eventually acquiesce to our demands."  Listen to the customers instead of stock holders, management, and the company might survive.  Don't listen and it's going to be nice to have known you.

Are you sure you want to delete this comment?
DATA PROVIDERS
Copyright © 2014 Microsoft. All rights reserved.
Fundamental company data and historical chart data provided by Morningstar Inc. Real-time index quotes and delayed quotes supplied by Morningstar Inc. Quotes delayed by up to 15 minutes, except where indicated otherwise. Fund summary, fund performance and dividend data provided by Morningstar Inc. Analyst recommendations provided by Zacks Investment Research. StockScouter data provided by Verus Analytics. IPO data provided by Hoover's Inc. Index membership data provided by Morningstar Inc.
ABOUT
Top Stocks provides analysis about the most noteworthy stocks in the market each day, combining some of the best content from around the MSN Money site and the rest of the Web.
Contributors include professional investors and journalists affiliated with MSN Money.
Follow us on Twitter @topstocksmsn.