Sell stock pick: McDonald's
The fast food giant is coping with a cost squeeze and is looking to raise cash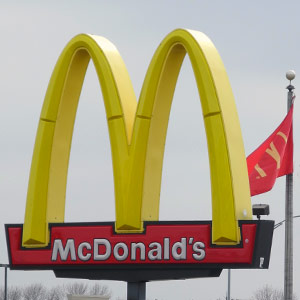 It looks like McDonald's (MCD) is facing a big price/cost squeeze. The latest evidence is the chain's test of a new Dollar Menu that would include items selling for as much as $5, and simmering discontent among franchisees -- who say that that company is increasing the fees that it charges them in an effort to bolster the parent company's bottom line.
It's hard for any company to raise prices in the current non-inflationary environment. But it's especially hard right now for operators of fast food restaurants, given the intense price competition in a very crowded marketplace.

McDonald's sales growth in recent quarters has been driven by the success of its Dollar Menu, so raising prices in that segment is a big deal for the company. In addition, push-back from franchisees -- who say they can't afford to refurbish their stores, given higher charges from McDonald's -- hits at one of McDonald's key advantages in its market, its ability to refresh stores more frequently than competitors.

A McDonald's refresh at $600,000 on average, according to the company, costs substantially more than a remodel at Burger King (BKW) at $300,000 or Wendy's (WEN) at $375,000 for the least expensive version. McDonald's restaurants average $2.5 million in annual sales.
I don't think those trends are fatal in the long run, but they do present significant short-term headwinds for the stock. I'm looking to raise some more cash in case a volatile September and October creates some bargains -- and longer term to put to work in emerging markets if I can see something that looks like a bottom.
So I'm selling McDonald's out of my Jubak's Picks portfolio. As of the close on Friday, I have a 7.1% gain on these shares since I added them to that portfolio in May 2012. The company will pay its most recent quarterly dividend -- the stock shows a current yield of 3.2% -- on Sept. 17 to shareholders of record on Sept. 3.
The new Dollar Menu -- to be called the "Dollar Menu and More" -- has been under test in five U.S. markets. One test includes $1, $2, and $5 items; the other has $1, $1.79, and $4.99 offerings.
Isn't this just a price increase? Absolutely. But McDonald's has run into the brute force rules of economics. Yes, the Dollar Menu increases traffic at its restaurants -- but the prices on that menu mean that extra traffic doesn't generate much in the way of margins. That's especially true for franchisees that pay fees to McDonald's rather than collecting them.

That arrangement lets McDonald's make money, even if franchise owners are seeing their margins cut to the bone and beyond. According to notes that Bloomberg saw from a meeting of franchisees, some franchisees are paying as much as 12% of store revenue in rent. That's an increase from a historical rate near 8.5%. Revenue to McDonald's from franchised stores, which includes rent and royalties, increased an average of 8% annually over the past five years, according to Bloomberg. Total revenue at the company grew by an average annual 4%.
McDonald's and its franchisees have been through this battle before. In the mid-1990s, for example, franchisees protested the company was opening too many restaurants near existing franchise operations and cannibalizing their sales. In response McDonald's slowed its rate of domestic expansion.
I expect that that the company will work through these latest difficulties on the cost and franchise fronts. I just think it's going to take a while, and during that time I expect that I can find better opportunities.

Full disclosure: I don't own shares of any of the companies mentioned in this post in my personal portfolio. When in 2010 I started the mutual fund I manage, Jubak Global Equity Fund, I liquidated all my individual stock holdings and put the money into the fund. The fund did own shares of McDonald's as of the end of June. For a complete list of the fund's holdings as of the end of June see the fund's portfolio.
MSN Money on Twitter and Facebook
Like us on Facebook: MSN Money and Top Stocks
Follow us on Twitter: @msn_money and @topstocksmsn

Personally, I'd wait until the new Mighty Wings come out on Sept 24th, 2013. The move seems to make sense as the popularity of chicken wings continue to increase, 2 of the 5 top growing restaurants in the U.S. sell wings. All prudence considered, it IS possible these won't be a great hit as it seems they lack variety. As I understand it, they will only offer breaded versions and McD's will be charging  just under a buck a wing ($.89 to $.996 per wing, depending on size of order), price-wise comparable with Buffalo Wild Wings and Wingstop, but quality comparisons may show this not to be a good deal. Wingstop charges $.69 to $.85 per wing, and has reputable quality. Perhaps the novelty will result in a sales spike, but if the quality doesn't meet expectations it will be a short lived spike. If the quality is good, the sales may add a positive contribution to sales for a longer period, but the question will remain, can they really compete with the established wing restaurants.
"Gee, imagine how tough it will be if they are forced to start paying their workers a non sub-human wage.."
I don't think people are going to pay anything for anything at a place that makes greedy people richer while keeping the workforce impoverished and indentured... McDonalds Isn't My Kind Of Place... A Crap Crap Crappy Place That Indentures The Human Race...
Are you sure you want to delete this comment?
DATA PROVIDERS
Copyright © 2014 Microsoft. All rights reserved.
Fundamental company data and historical chart data provided by Morningstar Inc. Real-time index quotes and delayed quotes supplied by Morningstar Inc. Quotes delayed by up to 15 minutes, except where indicated otherwise. Fund summary, fund performance and dividend data provided by Morningstar Inc. Analyst recommendations provided by Zacks Investment Research. StockScouter data provided by Verus Analytics. IPO data provided by Hoover's Inc. Index membership data provided by Morningstar Inc.
ABOUT
Top Stocks provides analysis about the most noteworthy stocks in the market each day, combining some of the best content from around the MSN Money site and the rest of the Web.
Contributors include professional investors and journalists affiliated with MSN Money.
Follow us on Twitter @topstocksmsn.