Shares of Botox maker explode on takeover talk
An activist investor and corporate acquirer may be teaming up to make an offer for Allergan.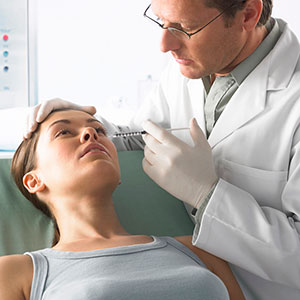 By David Benoit, Dana Mattioli and Jonathan D. Rockoff,
The Wall Street Journal
William Ackman and Valeant Pharmaceuticals International (VRX) are teaming up to try to buy wrinkle-treatment Botox maker Allergan (AGN), according to people familiar with the matter, in a unorthodox alliance between an activist investor and corporate acquirer.

Ackman's Pershing Square Capital Management LP has built a nearly 10 percent stake in Allergan, according to people familiar with the matter, worth about $4 billion and representing his biggest investment ever, the people said.
The two companies, both midsize in the pharmaceutical industry, have market capitalizations of more than $40 billion. Any offer for Allergan would likely come with a premium above $116 a share, the price Allergan traded at before Pershing Square began rapidly building its stake, said one of the people.
The stock last traded at that price around April 10. On Monday, shares closed up 6 percent at $142. Shares of both stocks jumped in after-hours trading on Monday, with Allergan up 20 percent to $170.55 while Valeant rose 10 percent to $138.10.
The offer would likely be a combination of cash and stock, the person said, and Pershing Square would maintain a stake in the combined company.
The extent of any discussions between Valeant and Allergan, of Irvine, Calif., was unclear. However, one of the people said the tag-team pursuit would be unsolicited.
Valeant hasn't determined the size of its offer but expects to use about $15 billion in cash at this point, according to a federal filing. The company has lined up investment banks Barclays PLC and Royal Bank of Canada for financing, the filing said.
The strange bedfellows of Valeant and Pershing Square came together after Ackman in February approached Valeant, a serial acquirer, and suggested he would look to help the Canadian company do a deal, the person said. Allergan as the target was Valeant's idea, the person said. Pershing Square started buying the stock shortly thereafter, the person said.
Activists generally take stakes in companies and then push for financial or operational change in a bid to boost the share price.
Typically an activist who wants to see a company get sold takes a stake and then agitates management to embark on a sale process. By teaming with Valeant, Ackman essentially eliminated a step, finding a willing buyer for a target.
For Valeant, led by Michael Pearson, aligning with Ackman gives the company a nearly 10 percent head start in getting Allergan shareholders on its side. Plus, Ackman has experience running hostile corporate campaigns.
Still, the alliance represents an unusual crack in a typically sturdy wall between activists and companies. While companies are showing greater reception to activist approaches in recent years, in general corporate America views activist investors as adversaries, not allies.
A deal would combine two midsize pharmaceutical companies who compete against each other in the global eye-care and cosmetic treatment markets.
Allergan is best known for its cosmetic products, such as the anti-wrinkle treatment Botox, breast implants and a product that increases the length of eyelashes. It also sells prescription drugs treating eye conditions like glaucoma and conjunctivitis. It has been facing the threat of competition for key products like its Restasis dry-eye drug, one of its top-selling products.
Last year, Allergan reported $6.3 billion in revenue. Valeant, of Laval, Quebec, notched $5.8 billion in 2013 revenue.
Valeant also sells a variety of eye-care and aesthetic products, many acquired as part of its purchases of Bausch & Lomb and Medicis Pharmaceutical Corp. in recent years.
With Valeant's growth fueled by acquisitions, some investors and deal makers say the stock is hard to understand.
Pearson, Valeant chief executive and chairman and an Eagle Scout, has said he likes the eye-treatment market because it is global and because governments and private health insurers are willing to pay for the treatments. He has also said he likes the market for cosmetic-treatment products, because patients are willing to pay out of pocket.
In competition with Allergan, Valeant sells its own version of a botulinum toxin wrinkle treatment, called Dysport. And Valeant has been developing competitors for Allergan's dry eye and other treatments.
Pearson said earlier this year that he wants Valeant to be among the top five pharmaceutical companies in the world by the end of 2016.
A former McKinsey & Co. consultant, Pearson has adopted a strategy of buying companies and eliminating much of the research and development costs while selling the products through Valeant's existing sales force, say people familiar with the matter. He has also taken advantage of the lower tax rates accorded companies based in certain countries overseas.
"We spend less than 5 percent of our revenues on research and development. Instead, our innovation comes from acquiring companies and products that are already approved and in the market, so we avoid the risk associated with R&D," said Mr. Pearson in a 2012 interview with The Wall Street Journal.
Valeant's hunger for deals has sometimes meant going hostile. In 2011, Valeant made a $5.7 billion bid for Cephalon, which rejected the offer. Cephalon was later bought by Teva Pharmaceutical Industries (TEVA) for $6.8 billion. In 2012, Valeant bid for ISTA Pharmaceuticals, before withdrawing the offer and then watching Bausch & Lomb buy the company.
Valeant was also in talks to buy Actavis PLC for more than $13 billion last year, but those talks fell apart, people familiar with the matter have said.
Pearson took the helm of Valeant in 2008 after a 23-year career at McKinsey where he worked alongside CEOs on turnarounds, acquisitions and strategy. A key backer was hedge fund ValueAct Capital, which wrote to investors in November 2008 that "extraordinary value could be created not from a traditional strategy of high-risk R&D bets but rather from a focus on operational excellence, cost control and asset divestitures."
—Liz Hoffman contributed to this article.
More from The Wall Street Journal
Are you sure you want to delete this comment?
DATA PROVIDERS
Copyright © 2014 Microsoft. All rights reserved.
Fundamental company data and historical chart data provided by Morningstar Inc. Real-time index quotes and delayed quotes supplied by Morningstar Inc. Quotes delayed by up to 15 minutes, except where indicated otherwise. Fund summary, fund performance and dividend data provided by Morningstar Inc. Analyst recommendations provided by Zacks Investment Research. StockScouter data provided by Verus Analytics. IPO data provided by Hoover's Inc. Index membership data provided by Morningstar Inc.
ABOUT
Top Stocks provides analysis about the most noteworthy stocks in the market each day, combining some of the best content from around the MSN Money site and the rest of the Web.
Contributors include professional investors and journalists affiliated with MSN Money.
Follow us on Twitter @topstocksmsn.