Shoppers skip the cereal, soda and detergent
Makers of consumer staples are resorting to aggressive discounts as Americans struggle to open their wallets.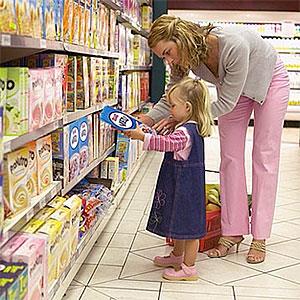 By Serena Ng,
The Wall Street Journal
Makers of consumer staples are resorting to aggressive discounts to overcome an unexpectedly persistent problem: Their industry is barely growing.

For decades, Americans' purchases of basics like laundry soap and toothpaste roughly kept pace with the rate of growth in the overall economy. But that rule of thumb no longer applies, which is bad news for billion-dollar brands like Tide and Colgate.
For the past three years running, unit sales of consumer products have been largely flat, according to market research firm Nielsen.
Many segments are affected by changing preferences, habits and spending priorities. People are eating less cereal and drinking less soda. Razorblade sales are down as many men shave less or grow beards. Pre-measured laundry soap capsules and higher-efficiency machines require less detergent. And more people are choosing freshly prepared food over packaged fare.
Procter & Gamble (PG), Georgia Pacific Corp., Henkel (HELKF) and other companies have responded with a blitz of deals and coupons in conjunction with retailers. Indeed, over a third of packaged food and household products are now sold with discounts, as retailers and manufacturers struggle to get people to open their wallets. In some categories, such as soda, toilet paper and potato chips, more than 50 percent of consumers' purchases include discounts, said Gary Stibel, chief executive of the New England Consulting Group, a marketing consulting firm.
"When we see some of the promotional pricing out there, it's pretty clear someone has lost their mind," said Bill Schmitz, a Deutsche Bank analyst who follows companies that sell beverages, household and beauty products.
At Target (TGT) stores, shoppers recently could get a $5 gift card for purchases of five Febreze air-freshener products, a discount of more than 30 percent for a $15 purchase of the P&G brand. This week, the chain is giving a $10 gift card to customers who spend $30 on Angel Soft or Quilted Northern toilet paper, made by Georgia Pacific.
Drugstore chains CVS (CVS) and Rite Aid (RAD) last month touted a buy-one, get-two offer for Purex laundry detergent. Henkel, which makes Purex, also distributed coupons for $1.50 off purchases of two bottles. By combining both offers, shoppers could pay a little more than $8 for six jugs of detergent, or $1.35 per 50 oz. bottle, according to Christie Hardcastle, who runs a website that tracks consumer deals.
At Walgreens (WAG) Colgate Optic White toothpaste was on sale for $3 last month, and shoppers could apply a $1.50 coupon to get it at half that price, and also receive a $2 store coupon for their next purchase.
Some manufacturers, like Chuch & Dwight (CHD), bemoan the trend, and worry that the discounts will train consumers to wait for the sale price.
"Price wars don't help growth and are not good for the industry," said Jim Craigie, chief executive of Church & Dwight, which owns the Arm & Hammer brands and produces other household products. "They are the easiest things to start, and the hardest to finish."
P&G and Henkel declined to comment, and Georgia Pacific had no immediate comment. Colgate-Palmolive Co. didn't respond to requests for comment.
Sales of many essentials have suffered in the wake of the financial crisis. Consumers cut spending and shifted to cheaper store brands. The average American spent $2,515 on packaged consumer goods last year, up just 0.6 percent from 2012, according to Nielsen. The previous year, the increase was 2 percent, due largely to inflation.
Americans now devote about 10.8 percent of their personal expenditures to packaged consumer goods, down from 11.2 percent in 2000 and 13.7 percent in 1990, according to Ali Dibadj of Bernstein Research, who examined data from the U.S. Bureau of Economic Analysis.
"It's still a tough time for the average American," said Church & Dwight's Craigie. "There's nothing wrong with the industry. You just have an economy that's stagnant and people are having to trade down."
To be sure, not all categories in the roughly $770 billion-a-year industry are stagnant or shrinking. Sales of things like pet food, energy drinks, and Greek yogurt are seeing growth.
Discounts are in the standard tool kit for consumer-products makers. Still, the current level of activity is particularly high. All told, some 33.7 percent of consumer packaged goods -- from soda and razors to shampoo, shaving cream and paper towels -- were sold on promotion in the 12 months through February 2014, according to data from Nielsen. That's the highest level since the U.S. recession ended in mid-2009. The numbers exclude alcohol, tobacco, fruits and vegetables.
The problem for makers of household basics is that consumers are devoting a shrinking share of their wallets to packaged goods as other costs of living rise more sharply, such as health care and education.
Prices of consumer goods last year rose by 1.1 percent, on average, in part because retailers -- wary of moderating commodity prices -- were reluctant to let manufacturers raise prices as much as in previous years.
Shoppers are visiting stores less often, partly because of the Internet. Unemployment remains high, meaning pennies are pinched. The U.S. population is aging, and research shows older people tend to consume and spend less. Americans, meanwhile, have been feeling more strains on their wallet from last year's expiration of the payroll tax break. 
And even some cash-strapped consumers would rather spend money on their cellphone bills than shell out more money for everyday items.
Stacia Braun, a fourth-grade teacher from Shumway, Ill., recently forked out $30 for toothpaste, makeup, candy and dozens of other everyday items that would have added up to $200 without various discounts and coupons.
"I never pay full price for a lot of things," said the 39-year-old mother of three, who said she often finds generous deals at a Walgreens store 13 miles from her home.
The discounts may give some brands a temporary boost, but they aren't reversing the industry's malaise and they erode the value of sales that do happen. Sales of household products grew just 0.6 percent in 2013 in dollar terms, below the 1.9 percent growth in U.S. GDP and well below last year's 4.2 percent growth in retail sales. Dollar sales of laundry detergent and razors actually fell, according to Nielsen's data.
Packaged-goods makers typically try to raise prices by 2 percent to 3 percent each year, and more if raw-materials costs have risen, said Krishnakumar Davey, a managing director at market research firm IRI.
Last year, however, 98 product categories out of 309 tracked by IRI recorded price decreases, up from 57 in 2012. Shoppers on average paid less for shaving lotions, fragrances, peanut butter, laundry detergent, pasta and mayonnaise.
Price cuts and discounts can be used effectively to encourage consumers to try a new product, or buy something on impulse, said Doug Bennett, who analyzes companies' promotional strategies at Nielsen. Now, however, they may just be training shoppers to hold out for deals.
DATA PROVIDERS
Copyright © 2014 Microsoft. All rights reserved.
Fundamental company data and historical chart data provided by Morningstar Inc. Real-time index quotes and delayed quotes supplied by Morningstar Inc. Quotes delayed by up to 15 minutes, except where indicated otherwise. Fund summary, fund performance and dividend data provided by Morningstar Inc. Analyst recommendations provided by Zacks Investment Research. StockScouter data provided by Verus Analytics. IPO data provided by Hoover's Inc. Index membership data provided by Morningstar Inc.
ABOUT
Top Stocks provides analysis about the most noteworthy stocks in the market each day, combining some of the best content from around the MSN Money site and the rest of the Web.
Contributors include professional investors and journalists affiliated with MSN Money.
Follow us on Twitter @topstocksmsn.