Small-cap stocks run into big doubts
The category is seeing less enthusiasm from investors than any other.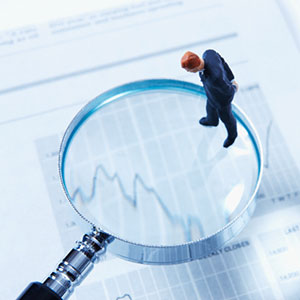 By Dan Strumpf,
The Wall Street Journal
Small-company shares' summer swoon deepened Monday, underscoring investor concern about valuations.

The Russell 2000 ($TOMX) index of smaller companies, typically those with market values below $1 billion, dropped 0.4 percent Monday, outpacing a 0.3 percent decline in the Dow Jones Industrial Average ($INDU) and a 0.2 percent slide in the  Standard & Poor's 500 Index ($INX).
Monday's drop comes as smaller shares are enduring a second downdraft this year. So far, the Russell is alone among major U.S. stock indexes in losing ground in 2014, falling 1.5 percent compared with the S&P's 6.9 percent advance.
The retreat hasn't quieted the calls by bearish analysts that the Russell index, comprising companies ranging from drug developer Idenix Pharmaceuticals (IDIX) to media company A.H. Belo (AHC) and wireless-technology company ParkerVision (PRKR) appear overvalued, judging by prices as a multiple of earnings for the latest year.
Analysts at Goldman Sachs (GS) on Monday called the small caps "expensive both in absolute terms and relative to large-cap stocks." Goldman said it expects the Russell to rise 4 percent over the next year, compared with 6 percent for the S&P 500.
Some analysts see a caution flag for the broader market in the small-cap downturn. The fates of small companies typically depend more closely on the performance of the U.S. economy than those of big multinational firms. Some analysts warn that a pullback in small-cap shares, widely perceived as riskier, could spread to other assets after a long period of steady asset-price appreciation.
At the same time, many investors are concerned about what they call a complacent market mind-set, as the largest indexes have moved steadily higher this year despite mixed economic data. Last week, Federal Reserve Chairwoman Janet Yellen took the unusual step of singling out small-company social-media and biotechnology stocks as "substantially stretched" in a report accompanying her congressional testimony.
Brian Singer, portfolio manager of the $773 million William Blair Macro Allocation Fund, said he has held a short bet on the small-cap sector since last November. He said small-cap stocks typically don't have the flexibility that larger companies do to weather hiccups in the broader economy.
"If there's turbulence, the small caps tend to do poorly," he said. "Larger-cap stocks tend to be more global in nature."
Bob Phillips, managing principal at Spectrum Management Group, which manages about $500 million out of Indianapolis, said small caps are "clearly expensive, and they were selling off before Janet Yellen even said anything. The safer place to be invested at this stage in the game" is larger-company stocks.
Mr. Phillips said that starting in March he has trimmed his holdings of a fund that tracks small-cap stocks, shortly after small shares began their first big pullback of the year. That decline in the Russell 2000 exceeded 9 percent at its nadir.
The index then bounced, hitting a recent high of 1208.15 early this month. That was before the current pullback from that peak, which has hit 5 percent, following Ms. Yellen's remarks last Tuesday.
The swings in the Russell contrast with the slow grind higher in larger shares. This year, the Russell 2000 index has moved 1 percent or more 46 times, compared with 18 times in the S&P 500.
Shares of small companies enjoyed a banner year in 2013 as investors placed big bets on a brisk U.S. recovery. Last year, the Russell 2000 soared 37 percent, handily beating the 30 percent rally in the S&P 500.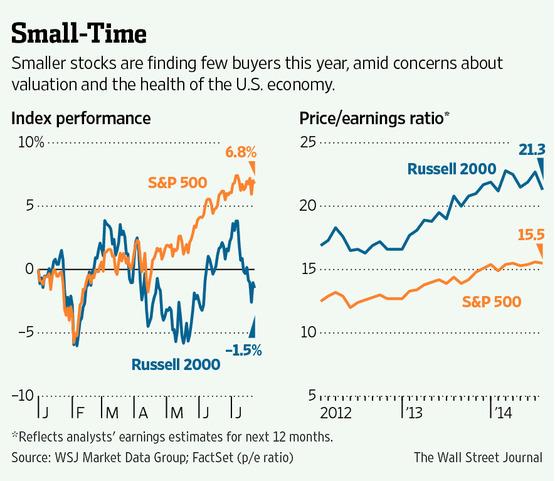 Michael Farr, president of Farr, Miller & Washington, which manages about $1.1 billion, said that in January he trimmed a stake in Illumina (ILMN), a biotechnology company that was considered a small-cap stock when he purchased it. The stock almost doubled in price last year, giving the stock an outsize position in Mr. Farr's portfolio.
"The small caps have done fabulously well for a long time," he said. "We're really trying to protect against the downside."
Investors often assign a higher price to small shares because they tend to trade on potential rather than proven growth. But many have become more sensitive to stocks' price tags this year, as shares have risen broadly and bargains have become harder to come by.
The Russell 2000 index now trades at 21.3 times the next 12 months' earnings, according to FactSet, compared with 15.5 times for the S&P 500.
To be sure, some investors say they continue to find value in shares of small companies. Jason Kotik, senior investment manager at Aberdeen Asset Management, which manages $541 billion, said he is still buying small-cap stocks but is paying closer attention to their prices and their underlying business metrics.
He said he recently bought shares of Emergent BioSolutions (EBS), a small pharmaceutical company that is down 1.7 percent this year. The stock was whipsawed earlier in the year by volatility in biotechnology stocks, but he said he expects the company to see strong growth of its own based on potential expansion of a government contract.
He also recently bought shares of waste-management company Progressive Waste Solutions (BIN), in part because the stock trades at a reasonable price because it didn't participate fully in last year's surge, he said. "We're still able to find ideas, but you have to pay a little bit more attention" to prices and earnings, Mr. Kotik said.
More from The Wall Street Journal
QE delivered a death blow to anything and everything below the bar set by old and too big. There are all kinds of stories creeping quietly around the obvious... big killed us and we cannot recover or progress until QE is stopped, assets bear their own risk and enough people victimized by a bunch of low class false elite alumni stop taking $8/hourly employment. 
If there is a glass ceiling, it has no tangible talent above it. Simply stopping indenture labor wipes them out. Small Caps are importers. There isn't enough money in circulation to support them and they are too small to get direct funding from corrupt banks (Fed members). 
Cash out. Invest beyond the range and scope of organized financial tyranny or you lose everything.
Are you sure you want to delete this comment?
DATA PROVIDERS
Copyright © 2014 Microsoft. All rights reserved.
Fundamental company data and historical chart data provided by Morningstar Inc. Real-time index quotes and delayed quotes supplied by Morningstar Inc. Quotes delayed by up to 15 minutes, except where indicated otherwise. Fund summary, fund performance and dividend data provided by Morningstar Inc. Analyst recommendations provided by Zacks Investment Research. StockScouter data provided by Verus Analytics. IPO data provided by Hoover's Inc. Index membership data provided by Morningstar Inc.
ABOUT
Top Stocks provides analysis about the most noteworthy stocks in the market each day, combining some of the best content from around the MSN Money site and the rest of the Web.
Contributors include professional investors and journalists affiliated with MSN Money.
Follow us on Twitter @topstocksmsn.