Stock pick: Yamana Gold
It's too early to buy for anything except a trade, but the company is doing what a gold miner should be doing right now.
It's early in the transition of gold mining companies to the lower price of gold, but I think we can already stake out a few of the important differences among the mining companies.
On this scorecard, I think Yamana Gold (AUY) is a good example of what you should be looking for in the sector, even if it may still be a little early in the transition to buy anything. (If you disagree with me on timing, I'd start with a stock such as Yamana. Yamana is a member of my long-term Jubak Picks 50 portfolio. And I do think Yamana is a good trading vehicle for this market in gold.)
First: Write downs. This is an obvious difference and all things else being equal, you'd prefer a company with less in write downs (such as Yamana) to one with more in write downs (such as
Barrick Gold
(
ABX
). But the absolute size of the write down is actually less important than the details. A write down is just a paper expression of the fall in the price of gold if a company is simply writing down the value of current reserves. These write downs will go back into the company accounts when gold prices rise. They are, however, important in a more lasting way -- if they express a more permanent impairment of assets either through a sale or a closing or abandonment of a project.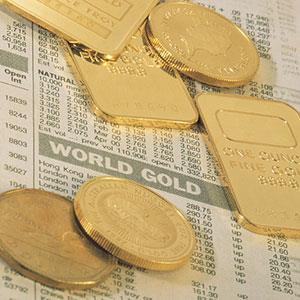 Second: How aggressively the miner is moving to reduce costs. Costs in the industry will come down by themselves as contracts for mining services and the like get renewed at lower prices because of the falling price of gold. Waiting for that to happen is a very passive approach. What you'd like to see here is a company attack costs now because, with the price of gold low, every bit of cost reduction is important to cash flows and a company's need for financing and its ability to maintain outlays such as dividends. To give you a benchmark on the aggressive side, all-in sustaining costs at Yamana Gold fell to $950 an ounce in the second quarter, a drop of $64 an ounce or 6%. The company sees all-in sustaining costs falling to $850 an ounce in 2014.
Third: How willing the company is to sacrifice a bit of current earnings in order to reap (potentially) higher returns when gold prices climb again. Yamana Gold reported second quarter earnings per share of 7 cents, 4 cents a share below Wall Street estimates. Revenue dropped 19.6% to $430.5 million versus the $486 million analyst consensus. The obvious cause was the fall in the price of gold, but like all gold miners right now Yamana had a decision to make on how much to increase production and sales to make up for lower prices.

The company did increase gold sales to 233,714 ounces in the quarter, but that was a relatively modest boost from the 223,279 ounces sold in the second quarter of 2012. Companies that decide to sell less gold now so they can sell more gold later are likely to take a short-term hit to their share price. (Yamana took a big hit Thursday on that earnings miss, falling 7.33%, or 77 cents a share.) If you have a slightly more long-term view, however, that drop in share price today means you are able to buy tomorrow's production (at tomorrow's price) at a lower cost.
Fourth: You would like to see a pipeline of new mines -- with projected costs at the low end of the scale -- ready to come into initial production in the next year or so with a reasonable production ramp taking full production out into 2014 or 2015. Projects that are further out than that have higher execution risks -- the future is indeed uncertain. In the second half of 2013 Yamana has three new mines that will be ramping to full production by the end of the year. That will give Yamana a big bump in production in the second half of 2013 -- about a 30% increase from the first half with full 2013 production 13% above that for 2012. I think that's a favorable production profile with a good trade-off between higher uncertainty if the ramp were further away and the likelihood of higher gold prices if the ramp were further out. Looking out a little further, with all operating mines in full production, Yamana projects production 30% higher in 2015 from 2012.
Fifth: The fate of dividends in the sector is a useful indicator of a company's read on cash flows. I like it that Yamana has said that it feels its current dividend of 26 cents a share is sustainable.

Full disclosure: I don't own shares of any of the companies mentioned in this post in my personal portfolio. When in 2010 I started the mutual fund I manage, Jubak Global Equity Fund, I liquidated all my individual stock holdings and put the money into the fund. The fund may or may not now own positions in any stock mentioned in this post. The fund did own shares of Yamana Gold as of the end of June. For a full list of the stocks in the fund as of the end of June see the fund's portfolio.
MSN Money on Twitter and Facebook
Like us on Facebook: MSN Money and Top Stocks
Follow us on Twitter: @msn_money and @topstocksmsn
I honestly thought this week's Jubak article would be about the Trifecta of Gloom about to knock over our Kool Aid Stand. Elections in Europe aren't going to favor pro-Central Bank candidates. China has got to put down the Opium Pipe and grasp that if it doesn't divorce globalists and go after an internal customer that uses and discards tons of that cheap crap, every nation stuck with warehouses of it will need to ship it back in order to jump start indigenous economies to survive. Naturally, we will react to Russia granting Snowden asylum with some sort of baloney sanction. The fact is- of the B.R.I.C. nations, Russia is the only customer, the rest are garbage makers who don't reciprocate to create any balanced trade. Brazil tries, but unless it joins Uruguay and legalizes marijuana to discombobulate the drug cartels dominating their commerce and currency, Brazilians will continue to not plant roots or be loyal to the indigenous industry attempting substance without American interference. This has been a bad experiment in globalization that solely benefits wealth and not about balanced trade, economics with substance or anything at all to do with integrity. The bookmakers are leaning heavily toward BUST in a big way and no matter how many days we have like yesterday-- where every Index in the World gets Central Bank Funny Money... it still dilutes the Main Streets and without local vitality... there will never be sustainability.

VL, Distraction is best during the shift.
Yes we do have a Gold & Silver corner in which we keep track of the ongoing manipulation and the primary dealer vaults that have been ramsacked and emptied to the east.
But the ongoing shenanigans all tie together nicely!
From the Msn Refugee Board 2 / The Decoy 409 POST
Is this the Center Ring Under the BIG Top CIRCUS this so called math numbers and stacking odds of them and so called pay off from?

Aug. 1,2013 - Job Cuts On Pace to Fall Below 1997 Levels

That would seem to be really great NEWS for the sheeple along with the string puppet workers of.

July 1, 1997 267,743,595

July 4, 2012 313,933,954

Those numbers above are the US population for respective years dated.

Let's add another or 11,500,000
(courtesy of :11 Million and Growing: Breaking Down the Number of Undocumented Immigrants in the US).

And let's total that,

= 325,433,954

Then we can have a look at,

This statistic shows the unadjusted number of full-time employees in the United States. In line with the definition of the BLS, full-time workers are persons who usually work 35 hours or more per week. In June 2013, about 117.4 million people were employed on a full-time basis.

Monthly percentage of change in real average hourly earnings for all employees June 2012 to June 2013
Those numbers brought to you by the BLS.
meanwhile,

Why we were just beaming over the 455,000 in part-time creation reported and previous to,

July 5,2013 - The Government's Numbers Are A Complete Farce - Part Time Jobs +322k, Full-time down 240k

[Please note: the S&P 500 futures have plunged 26 pts from their intra-day high, the Dow briefly went red after opening up over 100 points. This fact confirms my analysis below]



Well dr. Paul Craig Roberts is calling for a 11 MILLION on the see ya later list in a few short months ahead and that will be a nice party coinciding with the snap cuts to the food stampers that has materialized into almost 53 MILLION now. And what's this,

July 25,2013 - Under Obamacare, "75 percent of small businesses now say they are going to be forced to either fire workers or cut their hours."
source: Tampa bay Times Politifact.com



This is the greatest Sham WoW in HISTORY currently being performed.
Correct, Decoy 409... nice post!
Let's also not forget that yesterday- Central Banks worldwide pumped Billions to Trillions into the various stock markets to lift all shifty business platforms (all Indices rose yesterday without global news in correlation). Today, they are down. What? Bernanke's "plot" is to print regular paydays for agents of our decay? It's TERRORISM, not finance. it's TYRANNY not commerce or investment activity. Close the banks, end the Federal Reserve, get RID of Wall Street.  
So what you are saying, Jim, is that this miner is operating in a correct mode for it's type of business. Too bad it is a gold mining operation because gold is dysfunctional to the needs to the type of society we are heading into-- a broken one that requires fundamentals, not new spires for manipulation. With more than two-thirds of capable and able people blockaded by a  smaller group of administrators and financial tyranny, stocks aren't the best things in your portfolio. Livestock is, stalks of celery, stockings and Birkenstocks are... but certificates backed by fake money are not.   
V_L See your comment about food livestock. Did you hear the latest, that Monsanto has acquired Blackwater now xe as an essentially private army to protect the "Company and its assets "as it goes from country to to country distributing its GMO cash crop. It seems the word is out and crowds or now "on to them" and they are burning destroying the seeds before damage is done.So now Globalist Monsatan needs a" private army" We will see  if this becomes a trend .Wondered if you had any thoughts on this
Are you sure you want to delete this comment?
DATA PROVIDERS
Copyright © 2014 Microsoft. All rights reserved.
Fundamental company data and historical chart data provided by Morningstar Inc. Real-time index quotes and delayed quotes supplied by Morningstar Inc. Quotes delayed by up to 15 minutes, except where indicated otherwise. Fund summary, fund performance and dividend data provided by Morningstar Inc. Analyst recommendations provided by Zacks Investment Research. StockScouter data provided by Verus Analytics. IPO data provided by Hoover's Inc. Index membership data provided by Morningstar Inc.
ABOUT
Top Stocks provides analysis about the most noteworthy stocks in the market each day, combining some of the best content from around the MSN Money site and the rest of the Web.
Contributors include professional investors and journalists affiliated with MSN Money.
Follow us on Twitter @topstocksmsn.