Stock showdown: Home Depot vs. Lowe's
Both home improvement retailers are beating Street estimates, but 1 stands out from the other.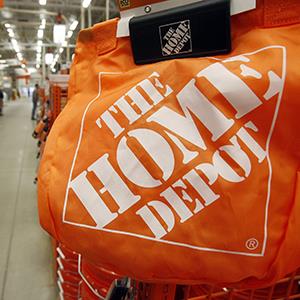 By Dan Burrows
Lowe's (LOW) and Home Depot (HD) reported earnings this week, and business did pick up as promised after a cold start to spring.

But that still doesn't make make either stock a slam-dunk buy.
Spring is the most important part of the year for home improvement retailers, so weak first-quarter results -- hurt by unseasonably cold weather -- was not a good way to get the stocks moving in a down year.
Happily for anyone holding Home Depot or Lowe's stock, sales picked up in the second quarter, as did profits . . . but serious headwinds still remain.

Higher interest rates are a drag on the housing market. Joblessness, job insecurity and wages that don't keep up with inflation are also hurting traffic to Home Depot and Lowe's. No wonder HD and LOW have been losers and laggards for almost all of 2014 so far.
If you're looking for a broader bet on housing, you might own both Home Depot and Lowe's, since they'll be lifted by the same changes for the better in the economy. But if you had to chose one to bet on the home improvement sector, which looks like the better buy?
Let's take a look:
Home Depot

Home Depot was in negative territory for most of the year-to-date until anticipation for some better-than-expected​ earnings lifted shares dramatically the last couple of weeks. Indeed, as recently as Aug. 7, HD stock was down 2 percent for the year-to-date, lagging the Standard & Poor's 500 Index ($INX) by 6 percentage points. After posting quarterly results Tuesday, HD has gained 8 percent on the year to match the broader market.
Traffic bounced back sharply after a slow and rainy start to the spring season, and sales came roaring back, boosted by higher ticket (and higher margin) items like major appliances and water heaters. As a result, sales easily topped Wall Street estimates, and earnings per share beat forecasts by 8 cents per share. That's a big beat.
Most important for anyone holding Home Depot stock, the company raised its full-year outlook, helped by strength in single-family home construction and growth in applications for building permits.
Business is looking up for Home Depot, and shares still look reasonably priced, going for 17 times next year's earnings on a long-term growth forecast of 16. The dividend yield of 2.3 percent adds some incremental upside.
So, how does the competition stack up?

Lowe's
Lowe's sold off sharply Wednesday after a cut to its revenue forecast more than offset good feelings over better-than-expected​ revenue and earnings. That's especially disappointing for anyone holding Lowe's stock because it was just starting to gain some serious momentum.
Heck, before the earnings release, the stock was up 4.5 percent for the year-to-date and had gained 9 percent in just the last month.
Like Home Deport, Lowe's bounced back after a slow start to spring and managed to pick up most of those deferred sales later in the quarter. But "most" is the operative word, since Lowe's wasn't able to stand by its full-year revenue forecast on track.
For the most recent quarter, earnings beat Street expectations by 2 cents per share -- a comfortable margin. And sales came in at $16.6 billion versus a Wall Street forecast for $16.57 billion. The rest of the year won't be as strong as once thought, and now the stock is paying the price. The company cut its full-year revenue growth target to 4.5 percent from 5 percent.
Like Home Depot, Lowe's is reasonably priced, going for 16 times forward earnings with a 16 percent long-term growth forecast. The dividend -- good for a yield of 2 percent -- likewise adds some nice incremental upside.

Verdict
Both Home Depot and Lowe's are longtime market-beaters delivering serious outperformance over pretty much any time frame you care to chart. That said, the market has favored Home Depot over Lowe's by a wide margin for more than 10 years, and there's little reason to see that sentiment changing anytime soon.
As a business and a stock, Home Depot has been outperforming Lowe's for so long that the latter will have to string together several quarters of much better performance to change the Street's mind. That means an unbroken string of beat-and-raise earnings reports with all the bells and whistles of robust same-store sales gains and margin expansion.
In short, Lowe's needs to wow the Street.
Until then, you can expect the outperformance of Home Depot's business and stock to persist. With other things like valuation and dividends being essentially equal, Home Depot is a better buy than Lowe's.
More from InvestorPlace
As of this writing, Dan Burrows did not hold a position in any of the aforementioned securities.

I was a big Home Depot fan until a few days ago when I went to purchase a hot water heater.  I was then informed that Home Depot has once again changed the Veterans discount to only include those the retired or that were disabled. Now I have no difficulty accepting that disabled veterans deserve all the breaks that they can get but is my over 9 years of service so much less valuable that I don't get the 10% that I used to get?  Well I'll be taking my business to Lowe's from now on, this being the third time that Home depot has changed the rules on Veterans discounts.
I'm hoping the rest of the veterans will join with me in moving their business too.

I too am confused about how Home Depot handles veterans discounts.  It depends on who you ask at the store and who is ringing up your order.  As I was told by a Home Depot manager about 5 years ago, the veterans discount was originally intended as a good will gesture for active duty troops who, at the time, were serving in Iraq and Afghanistan.  However there was some discretion allowed for the store managers to grant the discount to other veterans.
I am a veteran of the Viet Nam war, and let me tell you, we didn't get any "goodies" while we were serving or afterwards.
I quit asking for the veterans discount in my trips to both Home Depot and Lowes.  It is humiliating to show proof of your service and get turned down for a discount while all the people in line can hear the conversation and they are staring at you like you were asking for something you don't deserve..  I am proud of my service and I don't think it is too much to ask for Home Depot to extend the discount to all veterans

there are still business opportunities for each Lowes and Home Depot they have only just become trying to step into:  home contractor.
each readily provide names of people to install tile, stoves, doors, windows, but not provide a contractor to handle room or home renovations covering simple construction. 
we just started a home renovation job that entails leveling a patio floor to match the house floor (for tile) and re-frame the wall for upgraded doors and windows.  Lowes couldn't orchestrate the details of all the different "people" to do this job.  "contractors" we interviewed had prices that varied from $10,000 to $50,000 for the simple job.  we finally picked the contractor for $10k to do the job.  2 guys, 2 weeks.  simple! 
if either of these companies bother to step into this market they will see serious money.  we contacted lowes and while they claim to handle home renovation. ours was "too complex" for them to handle.  ~ factually they don't know how to level a floor or do simple framing for doors.  they only INSTALL doors or INSTALL tile or INSTALL windows. 
Are you sure you want to delete this comment?
DATA PROVIDERS
Copyright © 2014 Microsoft. All rights reserved.
Fundamental company data and historical chart data provided by Morningstar Inc. Real-time index quotes and delayed quotes supplied by Morningstar Inc. Quotes delayed by up to 15 minutes, except where indicated otherwise. Fund summary, fund performance and dividend data provided by Morningstar Inc. Analyst recommendations provided by Zacks Investment Research. StockScouter data provided by Verus Analytics. IPO data provided by Hoover's Inc. Index membership data provided by Morningstar Inc.
ABOUT
Top Stocks provides analysis about the most noteworthy stocks in the market each day, combining some of the best content from around the MSN Money site and the rest of the Web.
Contributors include professional investors and journalists affiliated with MSN Money.
Follow us on Twitter @topstocksmsn.