Teamsters protest 6-minute bathroom rule
A Chicago faucet company penalizes workers who spend more than the allotted minutes in the washroom outside their normal breaks.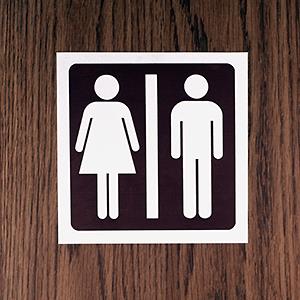 By Amy Langfield,
CNBC
If you work at WaterSaver Faucet Co.,  when you gotta go, you might not want to go.

The Chicago company installed a new system that monitors bathroom breaks and penalizes employees who spend more than six minutes a day in the washroom outside their normal breaks.
"The HR woman literally goes through every person's bathroom use and either hands out a reward or discipline," said Nick Kreitman, an attorney for Teamsters Local 743, which represents 80 workers at the plant, which coincidentally manufactures taps and other sink fixtures.
Employees who don't use extra breaks get a dollar a day while others who exceed more than one hour in a 10-day period will get a warning, which can lead to termination, he said.

In December, the union-represented employees had to start swiping their badges to gain access to the washrooms. By March, 19 were disciplined for excessive use, Kreitman said. A 12-page rule list given to employees is also pretty strict about how to take care of your personal business at the company.
"Place all toilet paper in the toilet and make sure that the toilet is completely flushed," it states. Employees are also told to place paper towels in the trash, refrain from "malicious gossip" and not to "make derogatory or inflammatory comments about the company."

The bathroom-monitoring part of the policy was put in place only four days after the union requested paid sick days for its members, Kreitman said. Currently the workers are employed under a month-to-month extension of their current contract, making $11 to $16 an hour, he said. While they do get vacation days and some medical coverage, no sick days are allowed. The 7.5 hour work day includes 30 minutes for lunch, a 10-minute morning break, a 15-minute afternoon break and five minutes of cleanup time.

In an email to CNBC, a company spokesperson disputed several of the Teamsters' numbers. The average hourly rate for the union employees is $14, ranging from $12 to over $17. Also, "the comment from the union regarding the monitoring starting after the requested sick days is totally and completely false," the spokesperson said.
In a statement sent to CNBC on Wednesday, company president and owner Steven Kersten called the union version of events "a media issue in an apparent effort to influence current negotiations on a new contract."

His statement did not address whether bathroom monitoring is taking place, and he declined to answer specific questions about the policy.

"We understand that employees need to use the washroom outside of scheduled break times. Any person may go to the washroom at any time they need," he said in the statement, which touted its "generally stable union relations" with the Teamsters over the past 40 years.

"It should be noted that union leadership previously had agreed to a policy regarding washroom use, and even suggested language for it," he said.

Kersten told The Chicago Tribune last week that excessive bathroom breaks amounted to 120 hours of lost productivity in May.
"Regardless of the legality, should a company be regulating this kind of thing?" asked Wendy Patrick, an attorney who also teaches business ethics at San Diego State University in California. The case in Chicago, she said, is an example of the type of rule that might be legally permissible but not ethically desirable. And beyond that, the company may be opening itself up for a disability claim if a worker has a medical condition that requires multiple restroom breaks.

"When nature calls, you have less control over that," she said.

The Teamsters have filed a complaint with the National Labor Relations Board over the bathroom discipline process and they continue to negotiate a new contract with WaterSaver Faucet and its sister company across the street, Guardian Equipment.
So far, the bathroom rules only apply to the 80 union employees at WaterSaver who work on the production line, but not the 60 at Guardian, Kreitman said. (A company spokesperson said there are 90 union workers at WaterSaver and 30 at Guardian.)The swipe card rule only applies to the union members.

"Ha, I'd like to see them try to require an engineer swipe his badge to use the bathroom," Kreitman said.
More from CNBC
DATA PROVIDERS
Copyright © 2014 Microsoft. All rights reserved.
Fundamental company data and historical chart data provided by Morningstar Inc. Real-time index quotes and delayed quotes supplied by Morningstar Inc. Quotes delayed by up to 15 minutes, except where indicated otherwise. Fund summary, fund performance and dividend data provided by Morningstar Inc. Analyst recommendations provided by Zacks Investment Research. StockScouter data provided by Verus Analytics. IPO data provided by Hoover's Inc. Index membership data provided by Morningstar Inc.
ABOUT
Top Stocks provides analysis about the most noteworthy stocks in the market each day, combining some of the best content from around the MSN Money site and the rest of the Web.
Contributors include professional investors and journalists affiliated with MSN Money.
Follow us on Twitter @topstocksmsn.