Tesla's future is now
Investors are no longer worried about the company's profitability. Now it's about just how profitable it can be.

By Chris Ciaccia
The thesis on Tesla Motors (TSLA) changed again last night. Now, it's no longer whether the electric car manufacturer can be profitable -- it's just how profitable it can be.
Tesla, led by CEO Elon Musk, earned 5 cents a share during its second quarter, generating $405 million in sales (TheStreet). The Model S continues to blow past the wildest expectations, as global deliveries of the car surged to 5,150 units for the quarter. In contrast, analysts were expecting a loss of 17 cents a share on $383.4 million in revenue for the second quarter.
Not only is the company now profitable (albeit on a non-GAAP basis) gross margins continued to tick up. For the quarter, gross margins were 22%, 13% when you exclude Zero Emmissions Vehicles (ZEV) credits. The company has said its goal is 25%, and CEO Elon Musk noted the company is confident about getting there. "So, obviously, on average between Q3 and Q4, we need to do six points per quarter, so we need to make as quite as big an improvement as we did Q1, Q2, but obviously, so significant hill to climb and huge amount of work, but we feel pretty confident about the 25% number," Musk said on the conference call. "And, it's important to note that we have visibility into these numbers more than ahead of time."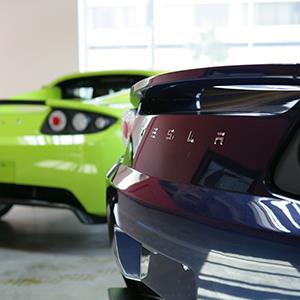 Not only is Tesla profitable for the second time in its history, as the Model S continues to be supply constrained, Tesla is taking market share from all manufacturers, not just premium sedans. Both Musk and CFO Deepak Ahuja noted Tesla's customers are coming from Toyota Motors' (TM) Prius, the Mercedes E-Class, the Toyota Highlander, Volkswagen Jetta, Honda Motors' (HMC) Civic and Odyssey and the BMW 5 Series, to name a few.
It's important to note that Tesla is not just taking share from premium sedans. People who never thought they would be purchasing a $70,000+ sedan are moving towards the company's products. This affects all automakers, including American behemoths such as Ford Motors (F) and General Motors Motors (GM).
Clearly, the U.S. mass market manufacturers should fear Tesla, as should BMW, with its own electric offering, the BMW i3 (TheStreet).
"Well, I am glad to see that BMW is bringing electric car to market," Musk said on the conference call, taking a shot at the car. "That's cool. I think there is room to improve on the i3 and I hope that they do."
His comments were followed by 10 or 15 seconds of laughter not only from Musk himself, but the analysts on the call. To me, that shows Musk is extremely confident, albeit humble, that Tesla's addressable market is bigger than anyone thought.
Tesla has been able to do something very few automakers have been able to do: capture the minds, and now wallets, of a huge portion of the American public. That's part of the reason shares are up 296% year-to-date. There is an incredible amount of hype surrounding the company, and Tesla has managed to surpass that hype.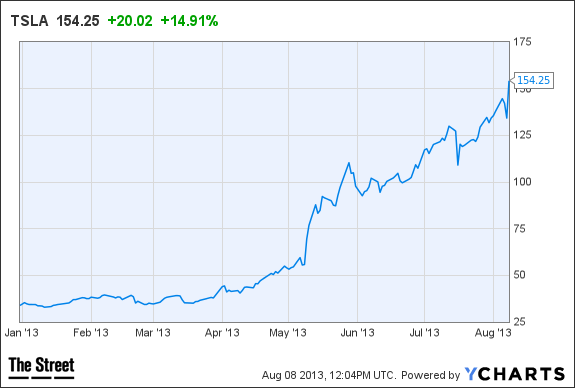 Deutsche Bank analyst Dan Galves, who recently upgraded the stock, noted Tesla is proving electric vehicles are here to stay (TheStreet). "We continue to believe Tesla is proving out the inherent advantages of EV's, has largely solved the range disadvantage, and has visibility to cost-parity vs Internal Combustion competition on the Gen3 vehicle," Galves wrote in his note.
Though the company left 2013 global delivery estimates at 21,000 units, Tesla really talked up the fact it could deliver as many as 40,000 units by late 2014. That is mostly Model S units, with some Model X thrown in, as the SUV will be available late 2014. Demand, not only in North America but also Europe and Asia, is exceptional for the car. Musk noted China is a "huge market," and it will start to become prevalent in the latter half of 2013, as Tesla becomes firmly entrenched in the country.
Tesla fired on all cylinders (pun intended) this quarter, Morgan Stanley analyst Adam Jonas wrote in a note, "Despite expectations that continue to rise nearly as fast as the share price, Tesla seems to have found a way to deliver yet again," he said.
With the Model S supply constrained (both Musk and Ahuja noted on the call some of Tesla's suppliers cannot ramp up production fast enough), the Model X coming in late 2014, and the third-generation vehicle just starting to get executive attention, it's clear that Tesla's path to profitability is now paved not with asphalt, but with Superchargers and battery cells.
Tesla's results indicate the thesis is not just about the electric car market anymore, but rather the car market as a whole. Now, it's up to the company to show just how profitable it can be. Judging by recent results, Tesla is poised to step on the gas faster than anyone imagined.
More from TheStreet.com
DATA PROVIDERS
Copyright © 2014 Microsoft. All rights reserved.
Fundamental company data and historical chart data provided by Morningstar Inc. Real-time index quotes and delayed quotes supplied by Morningstar Inc. Quotes delayed by up to 15 minutes, except where indicated otherwise. Fund summary, fund performance and dividend data provided by Morningstar Inc. Analyst recommendations provided by Zacks Investment Research. StockScouter data provided by Verus Analytics. IPO data provided by Hoover's Inc. Index membership data provided by Morningstar Inc.
ABOUT
Top Stocks provides analysis about the most noteworthy stocks in the market each day, combining some of the best content from around the MSN Money site and the rest of the Web.
Contributors include professional investors and journalists affiliated with MSN Money.
Follow us on Twitter @topstocksmsn.