Tesla's run of excellence continues
The carmaker's Model S receives the highest safety award from the US government.
Tesla Motors' (TSLA) string of positive press doesn't stop just in the private sector, it travels all the way to Washington.
Late Monday, the National Highway Traffic Safety Administration (NHTSA) awarded the Tesla Model S a 5-star safety rating in every subcategory, a rating that just 1% of all federally tested cars achieve. In a press release, the NHTSA noted that although it doesn't publish ratings above 5, the Model S managed to get a 5.4 rating in overall Vehicle Safety Score (VSS), a new record.
Perhaps even more incredible than the Model S achieving off-the-chart records in safety is the fact that the roof is so strong -- four additional fully loaded Model S vehicles could be placed on top of the car before the roof caved in.
According to the release, "Of note, during validation of Model S roof crush protection at an independent commercial facility, the testing machine failed at just above 4 g's. While the exact number is uncertain due to Model S breaking the testing machine, what this means is that at least four additional fully loaded Model S vehicles could be placed on top of an owner's car without the roof caving in. This is achieved primarily through a center (B) pillar reinforcement attached via aerospace grade bolts."
And more incredible still, the lithium-ion battery that powers the Model S and the Tesla Roadster has never caught fire -- despite several high-impact crashes.
The press release from the NHTSA is just the latest in a string of positive reports for Tesla, as it continues to reshape the electric car market and automotive sales in general. Earlier this year, Consumer Reports gave the Model S the highest score ever for a car it has tested. Consumers are responding as the company continues to sell more Model S cars than it can make. These announcements have helped the stock, which is up another 2% Tuesday on the back of the NHTSA press release.
In the second quarter, CEO Elon Musk noted that Tesla was still supply-constrained, despite having delivered 5,150 Model S units (TheStreet). For the second time in its history, Tesla was profitable, earning 5 cents a share on $405 million in sales.
The Model S continues to blow past the wildest expectations of industry observers. If there were any safety concerns that potential buyers had before buying the car, they are likely alleviated from this analysis. Tesla, perhaps unlike any company in technology and certainly automotive, has managed to exceed expectations time and time again and is reshaping the electric car market one Model S at a time.
That's certainly being seen in the stock, which has had a tremendous run since the start of the year.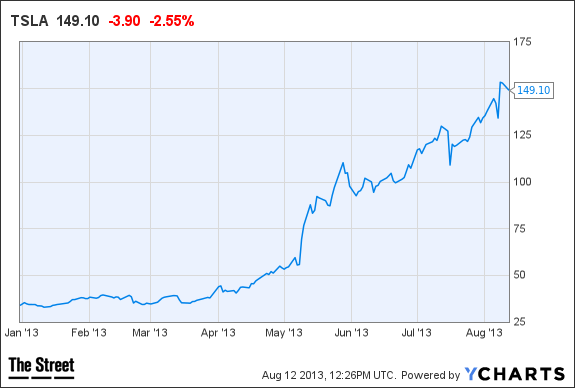 Tesla has seen incredible demand for its Model S (TheStreet). Now its customers can be assured they are buying a car that not only looks and performs incredibly well, but also is the safest one out there.
More from TheStreet.com

You gopers just amaze me what will move this country forward new tec or old tec, these car are the beginning, I'm sure the horseless carriage was dump on by horse owners, and we know how that turned out lol,  also we must move forward other wise we will be run over by the rest of the world, in five years time the price of electric car will tumble and there range will increase with more charging station or battery chancing stations, and the country will burn less oil making us in depended from imported oil... The only reason you hate this is, because Obama is for it!! so grow up were working for the future of America. clean air, and Oil independence and research on better battery for the future... and new tec. that uses less energy.. it a win, win for America.. but the republican don't care about that. they just want to make more profits for there oil producing buddy's and screw the future, they can only see to the next election and how to win, and gouging ALL of US at the PUMP... someone born now will be driving an electric car when there 25. there electricity all around us we need to figure out a way to harness it and all the republicans want to do IS DRILL baby DRILL..... we need oil but we can also save some for the future....we need to keep the wheels greased in the future..          

The Tesla Roadster base model costs $63,000.  The fast one costs $109,000.  Not exactly a car priced for the middle class yet every one sold gets a $7,500 federal tax credit as well as state tax credits ($2,500 in California and $4,000 in Illinois).  Basically, the middle class taxpayer subsidizing rich liberals who want to feel good about what they drive.

Not going to argue the tax policy or credits....But I still don't understand valuation in the Company.
What happens when tax credits go away....And/or
They reach a saturation point of vehicles bought.
They are what I call overpriced for the performance you receive..
May sound like sour grapes, because I don't own one nor any of their Stock..
Don't need to...So I don't care.

hehe the gov't gives Tesla a failed green energy car a safety award hahaha!!!! have there been so many of them built and in accidents with 100% survival rates for them to give this phony award?? heheh of course the gov't is the obama regime speaking of FAILED regimes, sooooo laughable,

he libs only the rich can afford this riDICulosly expensive car...what you got to say 'bout that little fact huh? you vermin...you vial morose wastes of human life!....

anyway....that goes 55min on one charge so better just go 'round the block cuz you can't drive inter-stately with this electric tinker toy...well, you can but you'd better bulk up first cuz you'll be pushing the fckin' thing home!!

Are you sure you want to delete this comment?
DATA PROVIDERS
Copyright © 2014 Microsoft. All rights reserved.
Fundamental company data and historical chart data provided by Morningstar Inc. Real-time index quotes and delayed quotes supplied by Morningstar Inc. Quotes delayed by up to 15 minutes, except where indicated otherwise. Fund summary, fund performance and dividend data provided by Morningstar Inc. Analyst recommendations provided by Zacks Investment Research. StockScouter data provided by Verus Analytics. IPO data provided by Hoover's Inc. Index membership data provided by Morningstar Inc.
ABOUT
Top Stocks provides analysis about the most noteworthy stocks in the market each day, combining some of the best content from around the MSN Money site and the rest of the Web.
Contributors include professional investors and journalists affiliated with MSN Money.
Follow us on Twitter @topstocksmsn.