Texas to pay $10,000 for each Toyota job
It's 'the biggest win we've had in a decade,' Gov. Rick Perry says. 'We've got a few problems,' California Gov. Jerry Brown says.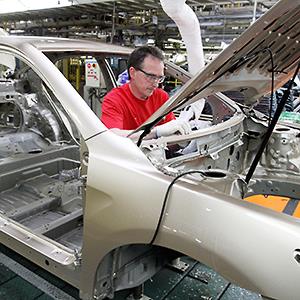 By Mike Ramsey and Joseph B. White,
The Wall Street Journal
Toyota Motor
(
TM
) is starting a multiyear overhaul of its North American operations, consolidating several units at new headquarters in Plano, Texas, that will house 4,000 employees now spread across separate marketing, manufacturing and finance locations.

The moves disclosed on Monday will be the most significant changes in decades to the way the world's largest auto maker does business in its single biggest market. 
The decision also has political and economic repercussions for the states of California, which will lose as many as 3,000 jobs, and Texas, which will gain roughly 4,000 jobs.
Jim Lentz, chief executive of Toyota's North American operations, said the decision to consolidate in the Dallas suburb stemmed from conversations he had with Toyota CEO Akio Toyoda about a year ago, soon after Lentz got his current job.
Toyota's current sales and marketing unit headquarters in Torrance, Calif., was too far from the auto maker's factories in Kentucky, Indiana, Mississippi and Texas and from its engineering center in Ann Arbor, Mich., Lentz said. Erlanger, Ky., where Toyota's North American manufacturing operations are now based, was too small, he said.
Toyota narrowed its preferred locations to Denver, Atlanta and Charlotte, N.C., before choosing the Dallas-Plano area, a person familiar with the matter said. Real-estate firm Jones Lang LaSalle (JLL) handled the search.
"We weren't pursued by Texas," Lentz said. "It isn't a Texas versus California discussion."
California's business climate and costs of living have become sensitive topics in the state, especially in light of Texas Gov. Rick Perry's efforts to woo employers from the Golden State with promises of lighter regulation and lower taxes.
Japanese auto maker Nissan Motor moved its U.S. headquarters to Nashville, Tenn., from California in 2006. Some high-level Honda Motor (HMC) employees left the state last year for Ohio. Honda said the company had no plans to move its U.S. sales and marketing headquarters out of the Los Angeles area.
Texas offered Toyota $40 million to move, part of a Texas Enterprise Fund incentive program run out of the governor's office. At $10,000 a job, it was one of the largest incentives handed out in the decade-old program and cost more per job created than any other large award. Last year, Texas spent about $6,800 to lure each of 1,700 Chevron (CVX) positions to Houston and $5,800 for each of 3,600 Apple (AAPL) jobs shifted to Austin.
"It is the biggest win we've had in a decade," Perry said in an interview. "Ten years of tax, regulatory, legal and educational policies have now put Texas at the top of the heap."
California Gov. Jerry Brown didn't address the Toyota decision specifically but took note of criticism directed at the state. "We've got a few problems, we have lots of little burdens and regulations and taxes, but smart people figure out how to make it" in the state, he said at an event in Lancaster, Calif., with Chinese electric-vehicle maker BYD Co. 
In response to Toyota's relocation, the state's economic development office said "dozens of businesses big and small," including auto makers, have expanded in the state.
The reorganization is part of a larger effort by Toyota to cut costs and run its North American business as a cohesive operation. Until last year, its manufacturing, sales and marketing, and research and engineering were distinct units with their own headquarters and top executives.
Toyota's U.S. sales unit has been based in Southern California since 1957. The auto maker has expanded its operations in the area to include product planning, vehicle design, consumer finance and logistics. The auto maker also has a small manufacturing operation in Long Beach, Calif. Toyota's design studio and several other small functions will remain in California, keeping its total workforce at 2,300.
"I don't think it is a big secret that outside of the IT and entertainment industry, that California is too much of an overregulated, high-cost place of doing business," said Sean McAlinden, chief economist for the Center for Automotive Research in Ann Arbor. "But it's not just about insulting California. [Toyota] had too many different organizations operating at the same time not operating as the same entity."
Executives will start moving from Toyota's sales center in Torrance and its manufacturing offices in Erlanger as soon as July to leased properties in the Dallas suburb while a facility is constructed. The bulk of the transfers won't take place until the new headquarters is finished around the end of 2016 or early 2017. Toyota said its financial services operations will move to Plano in 2017.
In all, about 3,000 workers from California and 1,000 from Kentucky will transfer to Texas. Some 250 purchasing employees will be shifted to Michigan from Kentucky. Employees from the company's corporate office in New York also will move to Texas.
A challenge for Toyota will be avoiding a brain drain. Nissan retained just 32 percent of its workforce when it relocated from the Los Angeles area to Franklin, Tenn., outside Nashville. Many more employees returned to California after a few years, said Larry Dominique, who was Nissan's chief of U.S. product planning at the time and now is president of Automotive Lease Guide.
"When you lose centuries of institutional knowledge, that can have a negative impact on the overall brand," he said. "The positive side is that you can shave off the old [and] bring in new talent and thinking."
Toyota's Lentz said the company is determined to retain current employees. The company is offering company-paid trips to Texas or Michigan, and relocation packages to anyone who wants to move.
—Russell Gold and Alejandro Lazo contributed to this article.
More from The Wall Street Journal
DATA PROVIDERS
Copyright © 2014 Microsoft. All rights reserved.
Fundamental company data and historical chart data provided by Morningstar Inc. Real-time index quotes and delayed quotes supplied by Morningstar Inc. Quotes delayed by up to 15 minutes, except where indicated otherwise. Fund summary, fund performance and dividend data provided by Morningstar Inc. Analyst recommendations provided by Zacks Investment Research. StockScouter data provided by Verus Analytics. IPO data provided by Hoover's Inc. Index membership data provided by Morningstar Inc.
ABOUT
Top Stocks provides analysis about the most noteworthy stocks in the market each day, combining some of the best content from around the MSN Money site and the rest of the Web.
Contributors include professional investors and journalists affiliated with MSN Money.
Follow us on Twitter @topstocksmsn.