The best way to profit from the rebuilding of America
The federal government is ready to pour hundreds of billions of dollars into this often overlooked but urgently needed infrastructure fix.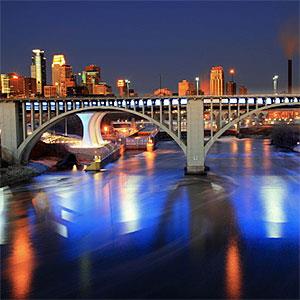 By David Goodboy
I have a friend who suffers from a peculiar phobia. It's so bad that her fear keeps her from driving many places.
She will drive a hundred miles in the wrong direction to avoid coming face-to-face with the cause of her fear, a cause that many drivers face on a daily basis. Her fear can be hard on her social life, because she's unwilling to drive to many activities outside her neighborhood.
Believe it or not, my friend has a high-powered corporate job and is very successful, despite her unusual phobia. For a long time, I saw her fear as irrational -- but after doing some research for this article, I am starting to understand it, irrational as it may seem to me.
Not only does my friend's fear make some sense, it has led to my discovery of a trillion-dollar investment opportunity.
My friend's fear is known as gephyrophobia: the fear of bridges. My friend, who has no fear of flying or other irrational worries, is deathly afraid of driving across any bridge because of the possibility it may collapse.
Before researching this article, I was under the impression that bridges never collapse. Boy, was I wrong! According to Barry LePatner, author of "Too Big To Fall," there have been 600 bridge failures in the United States since 1989. 
There are about 18,000 "fracture-critical" bridges -- those with characteristics that make them especially susceptible to collapse -- in the U.S. that were built between the 1950s and the late '70s as part of the interstate highway system. In addition, there are more than 66,000 structurally deficient bridges and nearly 85,000 functionally obsolete bridges in the U.S. and Puerto Rico.
These numbers not only told me that my friend's fear has some basis in fact, they alerted me to the sorry state of the infrastructure of the United States. Infrastructure refers to bridges, roads, and other physical structures required for the smooth functioning of society. Consulting group McKinsey Global Institute estimates the United States has a 1% shortfall in infrastructure spending compared with its GDP.
One percent may not sound like much, but it works out to $160 billion per year. McKinsey estimated the cost of a five-year project to rebuild U.S. infrastructure at about $1 trillion. 
President Barack Obama has a plan to deal with the U.S. infrastructure problem. This plan consists of a set of proposals to generate money for the massive construction projects by using tax breaks and loans to stimulate private investment. 
While we are still a long way from addressing all the infrastructure issues, Obama has made some progress. The most recent annual infrastructure report card from the American Society of Civil Engineers recently upgraded U.S. infrastructure from a D to a D-plus. The organization gave credit to Obama's plan to increase private investment for the improvement.
One of the smartest ways in which investors can profit from the rebuilding of America is with infrastructure mutual funds. The most important thing to know is that, although these funds are increasing their assets, they haven't caught on yet with the investing public.
According to Morningstar, the 12 mutual funds with infrastructure as their focus have attracted just over $1 billion this year through April 30. Compared this amount with just under $750 million in all of 2012 and over $365 million in 2011, you can clearly see the dramatic capital inflow increase. 
It's just not the United States that needs infrastructure improvement. My favorite investment in the infrastructure arena is the
DWS RREEF Global Infrastructure Fund
(
TOLSX
). This fund requires a minimum investment of $2,500 and ranks as low risk, high return relative to its category. As you can see from this Morningstar chart, TOLSX has outperformed the benchmarks since 2009. 
The fund boasts over $2 billion in assets invested in about 43% U.S. based infrastructure stocks and around 55% in non U.S. based infrastructure stocks. I like this mix, as the fund stands to continue to benefit from the Obama-sparked infrastructure improvement projects in the U.S. -- while internationally hedged against potential U.S. political and economic issues. The fund's top holdings:
TOLSX has returned over 7% this year. Its best quarter to date was a stellar 17%-plus return during the third quarter of 2010. 

Risks to consider:
This fund is considered low-risk, so the primary risk factor is stock market fluctuations. In addition, concentration in the infrastructure sector may cause losses due to global economic slowdowns and political risks. The fund also has a turnover rate of more than 170%. This active trading poses the risk of higher fees and costs passed along to the investor.

Action to take:
As you can see on the chart, the price has fallen into my value buy zone. I like this fund right now with a 12-month price target of $15. 

David Goodboy does not personally hold positions in any securities mentioned in this article.
StreetAuthority LLC does not hold positions in any securities mentioned in this article.
More from StreetAuthority
DATA PROVIDERS
Copyright © 2014 Microsoft. All rights reserved.
Fundamental company data and historical chart data provided by Morningstar Inc. Real-time index quotes and delayed quotes supplied by Morningstar Inc. Quotes delayed by up to 15 minutes, except where indicated otherwise. Fund summary, fund performance and dividend data provided by Morningstar Inc. Analyst recommendations provided by Zacks Investment Research. StockScouter data provided by Verus Analytics. IPO data provided by Hoover's Inc. Index membership data provided by Morningstar Inc.
ABOUT
Top Stocks provides analysis about the most noteworthy stocks in the market each day, combining some of the best content from around the MSN Money site and the rest of the Web.
Contributors include professional investors and journalists affiliated with MSN Money.
Follow us on Twitter @topstocksmsn.