The Fed's challenge: How to avoid frightening markets
The central bank will describe its plans for the next few months on Wednesday. The odds favor a bland announcement, which should cheer investors.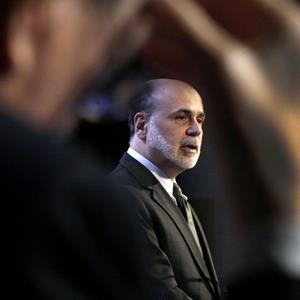 Updated: 1:25 p.m. ET, Wednesday
It's a big day for the economy on Wednesday: A big Federal Reserve meeting, which generates lots of interest, ends in the afternoon.
The Fed announcement comes after the government this morning released its first estimate of second-quarter economic growth, which was a bit better than expected. A second report estimated the private sector created 200,000 jobs in July, also more than expected. 
The market has been a bit volatile ahead of the Fed, with a strong rally fading. At 1:25 p.m. ET, the
Dow Jones industrials
(
$INDU
) were up 15 points to 15,536 after rising 114 points to a new intraday high of 15,634. The
Standard & Poor's 500 Index
(
$INX
) was up 4 points to 1,690; the index had been up as many as 11 points. The
Nasdaq Composite Index
(
$COMPX
) had added 13 points to 3,630 after rising as many as 32 points.


Facebook
(
FB
) briefly topped $38, the
price it fetched in its initial public offering
in May 2012.
Whether the rally will be sustained after the Fed's 2 p.m. ET announcement is unclear. It is possible investors around the world will look at the statement and conclude that the bigger decisions -- on how to end its program of buying up to $85 billion a month in bonds -- are still in process.
How and when the Fed ends its bond-buying program, known mostly as quantitative easing or QE, is one of the critical moments for the central bank. Since the 2008 financial crisis, the Fed has made billions of dollars available to be lent in this country and elsewhere. The goal was first to help stabilize matters after the panic, and then to seed economic growth.
The Fed succeeded in stabilizing financial markets in 2009, but economic recovery has been slow and frustrating.
Moreover, when Fed Chairman Ben Bernanke (pictured above) started to talk about winding down the bond-buying, markets panicked. The S&P 500 dropped 5.8% between May 21 and June 24. The index is up 7.2% since.
The yield on the 10-year Treasury note rose from 1.631% to 2.725% between May 2 and July 5 before stabilizing. It climbed to as high as 2.7% early Wednesday but dropped back to 2.67%, up from 2.6% on Tuesday.
The bond yield rose on the
better-than-expected​
report on gross domestic product and the ADP Employment Index, which noted those 200,000 private-sector jobs. Professional and business services added 49,000 jobs. Construction expanded by 22,000, the report said.
Many traders have assumed that ending QE meant the Fed would quickly start to boost interest rates, and rising rates are bad for stocks and bonds. Bernanke and other Fed officials repeatedly said in May and early June that ending bond buying does not mean the Fed plans to raise the target on its key rate, the federal funds rate. That's now at 0% to 0.25%, and the Fed does not expect to raise its until maybe 2015.
The Fed could try to communicate on Wednesday more details on the changes that are coming -- and hope it doesn't set off a second panic. Many Fed watchers believe the Fed won't say much of anything, in part because of the panic worries.
More important, the gross domestic product report is likely to show annualized growth of 2% at best in the second quarter; the economy appeared to soften during those three months.
Unless the July report of the Chicago Purchasing Managers, also due Wednesday, surprises with growth catalysts we don't see now, inflation worries will be minimized.
Plus, Bernanke isn't scheduled to hold a new conference until the September meeting, and he may want to stay reticent ahead of his expected announcement that he's leaving office.
This, then, is the conventional wisdom: The Fed statement will probably note that the economy has been growing moderately. Jobs have been expanding at a rate of 200,000 a month since 2012. It will note that household spending and business investment has been growing, too. Not at a wild pace, to be sure. The Fed doesn't see much inflation, notwithstanding the 12% increase in home prices over the last year or the 10% rise in retail gasoline prices this year.
It doesn't see much food-price inflation, either. Indeed, corn prices are down a third this year, and soybean prices have fallen nearly 15%. Wheat prices have fallen nearly 16%.
True, gasoline prices are higher, but they've been falling over the last week or so.
Crude oil
(
-CL
) has started to drift lower.
Gold
(
-GC
) may be up 8.2% in July, but gold is still down 21% for the year.
But the unemployment rate is still high at 7.6%. There are millions who can't find work or earn enough to be able to live on just one salary. So, the Fed is going to say it will continue its bond buying in its current form at least until September. If the economy shows weakness in that time, the bond buying will continue.
More from Top Stocks
DATA PROVIDERS
Copyright © 2014 Microsoft. All rights reserved.
Fundamental company data and historical chart data provided by Morningstar Inc. Real-time index quotes and delayed quotes supplied by Morningstar Inc. Quotes delayed by up to 15 minutes, except where indicated otherwise. Fund summary, fund performance and dividend data provided by Morningstar Inc. Analyst recommendations provided by Zacks Investment Research. StockScouter data provided by Verus Analytics. IPO data provided by Hoover's Inc. Index membership data provided by Morningstar Inc.
ABOUT
Top Stocks provides analysis about the most noteworthy stocks in the market each day, combining some of the best content from around the MSN Money site and the rest of the Web.
Contributors include professional investors and journalists affiliated with MSN Money.
Follow us on Twitter @topstocksmsn.